Exciting offenses led by young, burgeoning superstar quarterbacks have grabbed the headlines six weeks into the NFL season. But almost across the board, quarterback play is trending up, and there are a number of players throughout the league whose play is deserving of a closer look. One such player, who is beginning to find himself in the MVP conversation, is Los Angeles Chargers' quarterback Philip Rivers.

The Chargers, now sitting at 4-2 following a decisive win over the Cleveland Browns, have put together one of the league's top offenses, ranking fifth in both points scored and PFF's team offense grades. Once again leading the way has been Rivers, who is lighting up the box score with career-best marks in passer rating (115.1), yards per attempt (8.8), touchdown rate (7.7%) and interception rate (1.5%), all of which are among the NFL's best in 2018.
Our play-by-play grading backs up Rivers' hot start to the season. His 85.5 grade ranks seventh, his best since 2013, putting the 36-year-old back on an upswing after seeing his grade decline every year from 2014 to 2016.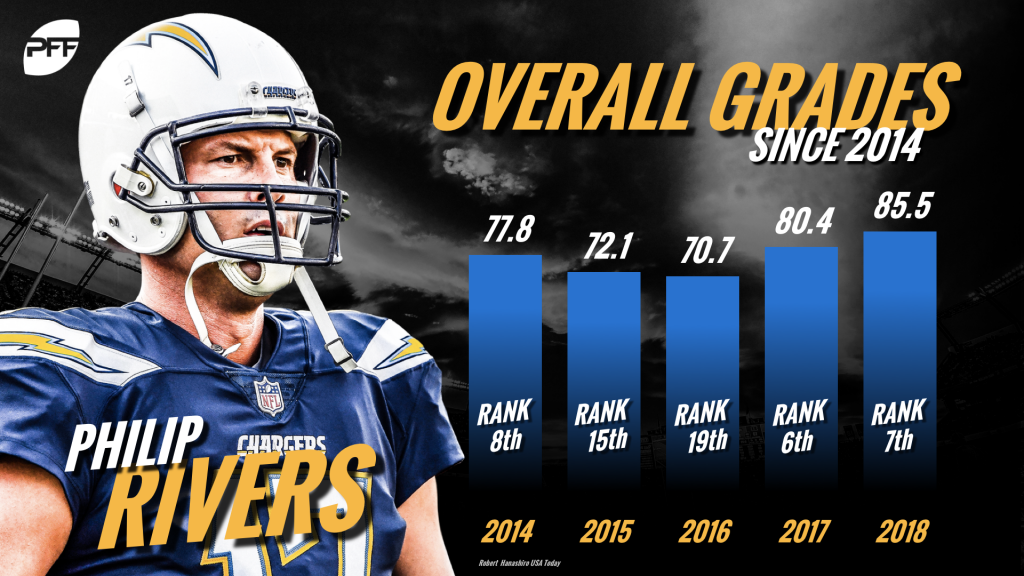 Rivers is doing a fantastic job taking care of the football, something that was increasingly an issue over the past four seasons. Only Aaron Rodgers has fewer turnover-worthy plays than Rivers (3) among qualifying passers. Most impressively, Rivers isn't making poor decisions even when under duress. He's yet to commit a turnover-worthy play under pressure this season, something only Rodgers and Drew Brees can also claim, which has helped propel him to a 78.1 under-pressure grade that ranks second.
Play action and play under pressure have been key to a hot start for Rivers pic.twitter.com/XhwRKbDOrp

— David Neumann (@PFF_David) October 16, 2018
The play above is an example of many things that have contributed to Rivers' success this season. With San Francisco 49ers defensive linemen Arik Armstead turning the corner and starting to close in, Rivers slides up to space in the pocket and makes an on-the-money throw to Mike Williams in tight coverage on the crossing route.
Several other elements of this play are also worth noting and indicative of the Chargers' offensive success. For starters, Rivers has been absolutely deadly when using play action, leading the NFL with a 96.4 grade and perfect 158.3 passer rating. Only Jared Goff has more big-time throws when utilizing a play fake than Rivers' five, and Goff has done so on 49 more play-action dropbacks. Week after week, the Chargers are able to dip into the play-action well for big plays offensively.
Compressed formations, jet motion, play action – all common threads among many of the NFL's best offenses. Chargers getting big plays pretty much every week off this. pic.twitter.com/veDgw6fRZI

— David Neumann (@PFF_David) October 16, 2018
The condensed splits by the receivers and use of jet motion on play action featured on some the plays above are staples of some of the league's best offensive minds (looking at you, Sean McVay and Kyle Shanahan) and are rapidly spreading throughout the league. Moving receivers closer to the formation can have several benefits, but chief among them is being able to take advantage of predictable looks from defenses. Many defenses respond by playing their cornerbacks with outside leverage to help against the additional space that now exists toward the sideline, leaving them at an inherent disadvantage on the in-breaking routes being utilized by teams like the Chargers. Toss in the play action to help draw the underneath defenders toward the line of scrimmage, the jet motion to stretch them horizontally, route concepts to put the safety in a bind, and you can see why defenses around the league are struggling to come up with answers.
The other thing you might notice about the clips above is how well placed those passes are. Rivers has been the fourth-most accurate passer this season based on our ball-location charting and the most accurate when throwing to receivers with at least a step of separation. The ability to consistently put the ball in the right place has benefits beyond connecting on the deep ball, as well (though that's obviously the most fun). Good ball location underneath leads to more yards after the catch. When you pair that with a talented group of playmakers like the Chargers have, you have a recipe for easy yards to help keep the chains moving. On accurate throws to receivers with at least a step of separation, 69.8% of the yardage generated by the Chargers has come after the catch, indicating that when Rivers is doing his job (finding open receivers and delivering the ball accurately), his supporting cast is making the most of those opportunities.
Rivers has also been super accurate this year, which combined with the Chargers talented supporting cast, lets them turn routine underneath passes into first downs when everything is covered downfield. pic.twitter.com/j14hnARg62

— David Neumann (@PFF_David) October 16, 2018
Several of those plays look like the sample above. Even when the downfield options are covered, Rivers has been able to accurately deliver passes underneath to his talented running back duo, Melvin Gordon III and Austin Ekeler, allowing them to create some easy yards for the Chargers' offense. These are plays that will often go overlooked, and while alone they're certainly not enough to sustain an offense, they're incredibly helpful in moving the chains and keeping the offense on schedule when you have other pieces in place.
Asking your quarterback to do nothing but make difficult downfield throws every time he drops back is malpractice in today's age of offensive creativity and willingness to break free from the boring constraints that have long plagued NFL offenses. The best offenses are able to pair schematic advantages to get receivers open and create some easy yardage with quarterbacks who can also make those tough throws in the critical situations when you need them most. So far, that's what we've been seeing with Rivers and the Chargers.
If you're looking for reasons to be concerned, his 20th-ranked grade (80.1) from a clean pocket isn't ideal, as that tends to be the strongest indicator of future performance whereas play under pressure and when using play action aren't as stable. Considering 65.3% of his dropbacks have come from a clean pocket this season, that's really the primary reason Rivers doesn't rank higher than seventh in our quarterback grading so far. The good news is that his grade from a clean pocket over the prior five seasons is 92.0 (10th), so there's a solid chance we see him move closer to his established level of play as the season goes on.
While he may not be the MVP frontrunner, Rivers deserves mention when discussing the NFL's best quarterbacks this season. Rivers is playing his best football of the past five years, and the Chargers have legitimately looked like one of the best teams in the NFL. Whether that will continue over the final 10 games remains to be seen — we are talking about the Chargers after all.