Seattle Seahawks 26, Philadelphia Eagles 15
Here are the top-graded players and biggest takeaways from the Seahawks 26-15 win over the Eagles:

Quarterback grade: Russell Wilson, 82.8
Play action passing gives Wilson time
Russell Wilson's 2.97 average time to throw Sunday was one of his highest of the season despite facing one of the best defensive line's in the NFL. How, you ask? Through the extensive use of play action and rollouts. Wilson executed a run fake on 11 of his 32 dropbacks (the highest rate in the NFL so far this week) and went six-of-11 for 105 yards on those plays. With an obviously overmatched offensive line that still allowed pressure on 43.8 percent of their dropbacks, it was a necessary game-planning effort from Darrell Bevell.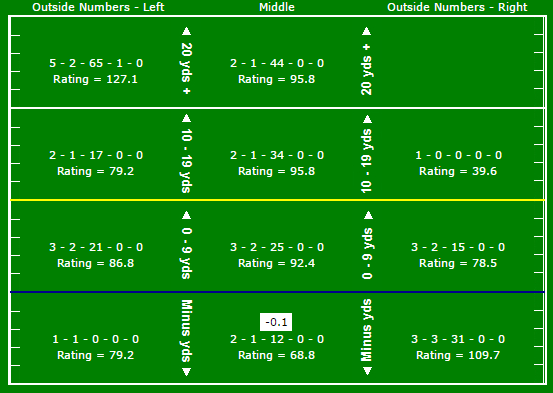 Top offensive grades:
C Justin Britt, 80.2
WR Doug Baldwin, 80.0
LG Mark Glowinski, 77.2
TE Jimmy Graham, 75.2
WR Tyler Lockett, 73.6
Running game returns before injuries strike
The Seahawks worked a heavy dose of the zone running game early against the Eagles and the results were positive. Seattle rotated between inside zone, mid-zone, and opposite zone and saw some success with each. C.J. Prosise's first two carries of the game were both inside zone runs that showcased exceptional vision as he took both all the way to the backside. The first went for eight yards while the second was the gamebreaking 72-yard touchdown scamper. He broke three tackles on four touches before going down with an injury. Rawls was solid in his stead, greeted with far fewer holes than the rookie, but still creating some nice runs. 47 of Rawls' 57 yards came after contact.
Top defensive grades:
S Kam Chancellor, 84.7
LB Bobby Wagner, 82.3
CB Richard Sherman, 79.6
LB Brock Coyle, 79.4
DE Cliff Avril, 77.2
Usual suspects come up huge for Seahawks defense
It was a big game for Chancellor, who was all over the field in coverage. He allowed just two catches for 11 yards, and had a big interception. Even his touchdown that he allowed was tough, as he wrapped up Zach Ertz immediately, it was just an excellent reach to the endzone by Ertz. Richard Sherman was unbelievable, allowing just one catch on four targets for 19 yards and had an interception in which he ran a better route and made a better catch than any Eagles receiver did all game. One thing that was big for the Seahawks as a unit was, as usual, their sure tackling. On the day they missed just two tackles as a unit.

Quarterback grade: Carson Wentz, 48.5 overall
Wentz's strong finish wasn't enough
Wentz had some nice throws on the Eagles' final two drives but up until that point he was struggling. He certainly wasn't helped by his receivers' four drops, but he also made some very poor decisions and throws. He particularly had difficulty when under pressure, where he completed just two-of-eight passes for 25 yards and an interception. The Seahawks did a good job of taking away the deep ball and forcing Wentz to check down, as he completed just one deep throw for 26 yards on five attempts on throws over 20 yards downfield.

Top offensive grades:
C Jason Kelce, 83.6
LG Allen Barbre, 77.3
RG Brandon Brooks, 77.1
RT Halapoulivaati Vaitai, 76.7
TE Zach Ertz, 74.3
Strong offensive line play is a good sign going forward for Eagles
Against a very strong Seahawks defense, the Eagles offensive line played a very strong game. Despite having to pass block for 47 dropbacks, the Eagles only allowed pressure on 10 of those plays. Only one of those pressure plays resulted in a sack. They were also strong in the run game as well, as the four players listed above all finished with run block grades above 70.0. The only offensive lineman who really struggled was longtime LT Jason Peters (53.6) who had a tough day all around for the Eagles.
Top defensive grades:
DE Brandon Graham, 86.7
LB Jordan Hicks, 85.7
DT Fletcher Cox, 85.2
CB Leodis McKelvin, 83.4
CB Nolan Carroll, 81.1
Big plays drown defense
The 72-yard run kicked things off, but it was the normally solid pass defense that continually let the Eagles down. They allowed passes of 44, 35, 34 and 30 yards on the day that continued to flip the field position in favor of Seattle. The biggest culprit was Jalen Mills who yielded four-six targets for 103 yards including three catches of 20+ yards. He would also miss two tackles and hasn't graded above average for a game since Week 1.
PFF Game-Ball Winner: Seahawks QB Russell Wilson
PFF's player grading process includes multiple reviews, which may change the grade initially published in order to increase its accuracy. Learn more about how we grade and access grades for every player through each week of the NFL season by subscribing to Player Grades.