The excitement of the NFL free agency for 2018 has come and gone, and while there are still deals to be had, the headline players have now all signed and the excitement is continuing to build towards the 2018 NFL Draft. That doesn't mean we can't look ahead to next offseason though, with a whole host of players currently set to hit the market in 2019.
Not all of these players will reach the open market and all will be key candidates for the franchise tag should they not agree new deals with their current teams, but it's fun to see who could be the headline players next offseason. So with that in mind, here are our top 10 players currently slated to hit free agency, in alphabetical order.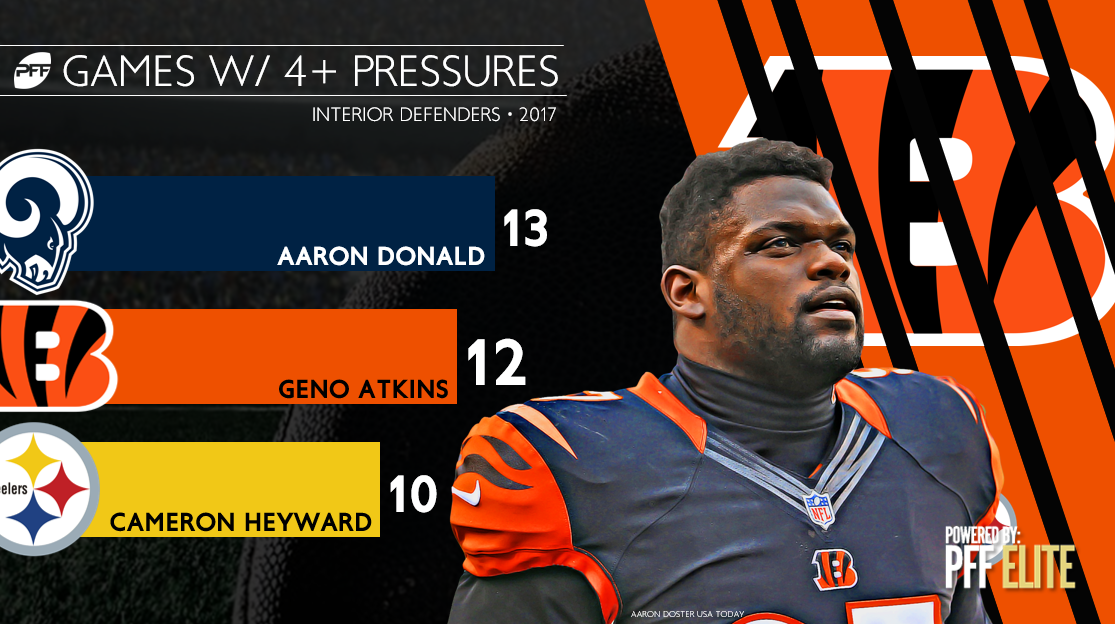 When all is said and done, we're probably not going to appreciate just how good Atkins has been since entering the NFL in 2010 because he has played during the prime of Donald and J.J. Watt. Our second-highest graded player on the defensive interior in 2017, Atkins has graded lower than 86.0 just twice in his career, once as a rookie in 2010, and the other coming back from injury in 2014. With 70 total pressures in 2017, he should still be highly sought after next offseason.
The big question over the past few days is whether or not the New York Giants will look to trade their star wide receiver this offseason, and all of those questions make it more likely that he won't be on the team in 2019. Beckham has had his ups and downs in New York, but was sorely missed by the Giants offense in 2017, and ranks fifth among wide receivers with 61 missed tackles forced on receptions since 2013.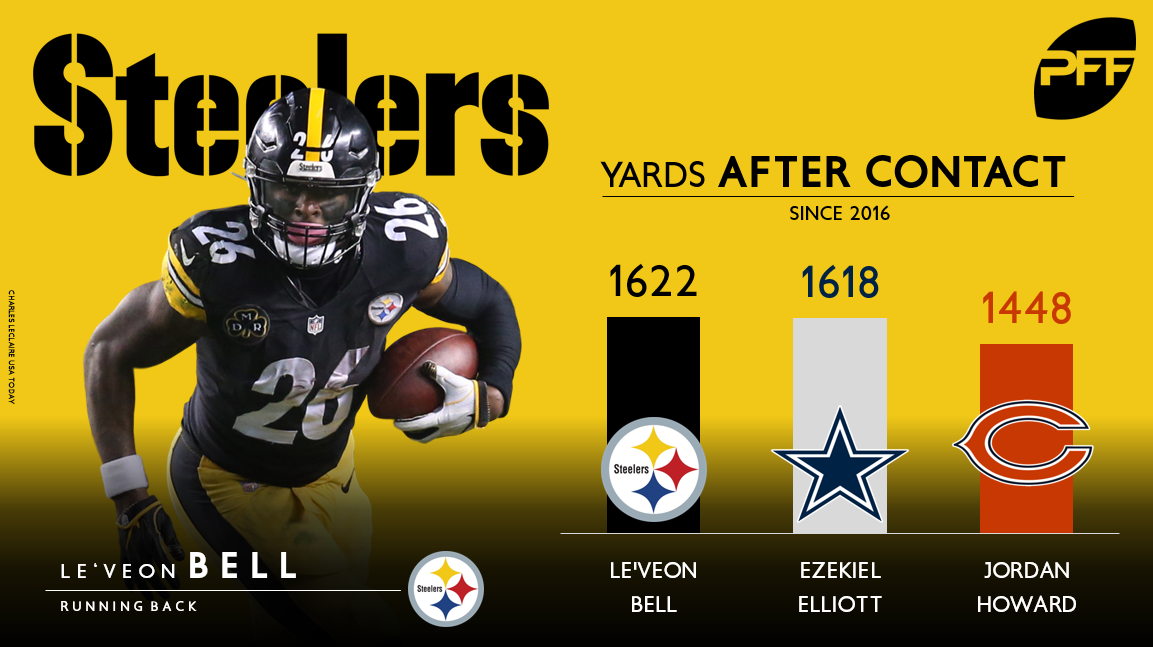 Bell has been tagged as the Steelers franchise player for the second year in a row, but in today's NFL, a running back with his ability as a receiver, both out of the backfield and moving around into the slot and out wide, he will still be highly sought after in 2019. Since arriving in the NFL in 2013, Bell has forced 235 missed tackles on 1,635 touches on offense.
The Los Angeles Rams cannot afford to let Donald hit free agency, and really the big question at this point is whether or not he will see a new deal, or if he'll wind up being franchise tagged in 2019. Donald's elite level of play, grading at 99.3, 98.5 and 99.7 over the past three seasons, warrants consideration for quarterback money. His dominance as a pass-rusher, racking up 41 sacks, 67 hits and 199 hurries over the past four seasons, make him the best player in football right now.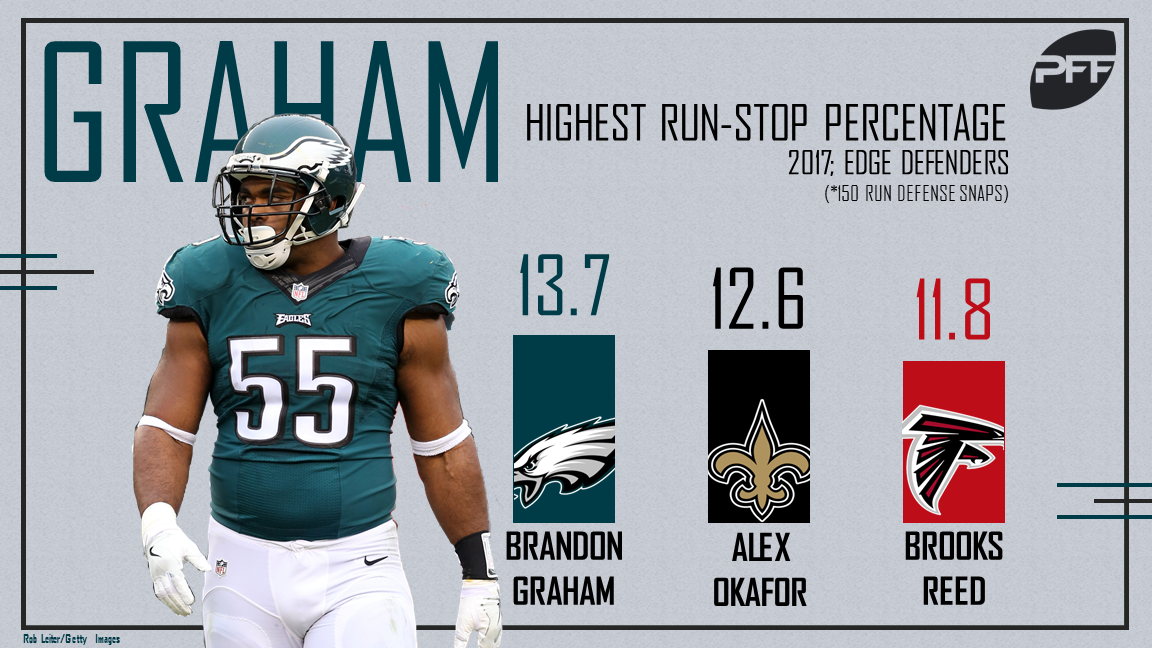 For years, Brandon Graham was labelled as somewhat of a draft bust because despite being the 13th overall selection in the 2010 NFL Draft, Graham had never finished a season with more than seven sacks heading into 2017. His overall pressure numbers were among the best in the league though, so it made sense that a big sack year would happen at some point. That came last season, with 11 sacks in the regular season and one in the Super Bowl that led to a key fumble. Heading into 2018, he has racked up 386 total pressures since entering the NFL, and that production is not easy to find.
2019 looks to be a weak free agency class on the offensive line, but the two headline players look set to cash in, and it wouldn't be a shock to see Lewan as the NFL's highest paid offensive tackle at some point over the next year. Since entering the NFL in 2014, Lewan has allowed 87 total pressures, including 20 sacks, and has graded at 80.1 or higher in each of the past three seasons.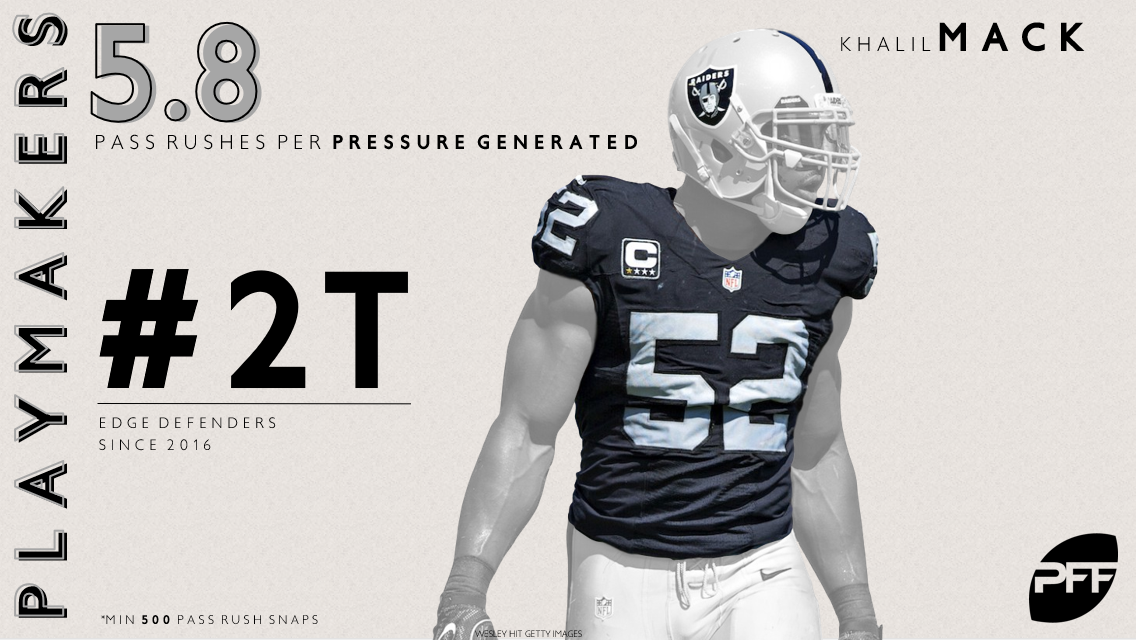 Another defensive star from the 2014 NFL Draft, Mack brings four seasons of ridiculous production, racking 42 sacks, 42 hits and 229 hurries since entering the NFL. He isn't just a premier pass-rusher though, dominating against the run and finishing the 2017 season as tied for the second-highest run-defense grade among edge defenders, trailing only Denver Broncos star Von Miller. Should Mack hit free agency, he and Donald would likely content for the most sought after defensive players on the market.
The other headline player on the offensive line, Zack Martin is set to cash in before mid-March next year. Andrew Norwell became the NFL's highest paid guard with the Jacksonville Jaguars this offseason, and Martin has delivered an even higher level of play over the past four seasons. With PFF grades ranging from 85.9 as a rookie, to 92.2 last year, Martin's floor is a high level guard, while his ceiling is arguable the best offensive lineman in football.
The chances of Matt Ryan hitting the open market in 2019 ranks somewhere between slim and none, but if he were to hit the market, he would be even more coveted than Kirk Cousins was this offseason. Ryan has just two seasons where he has produced a PFF grade of lower than 83.0, and has graded at 87.5 or higher in each of the past four seasons. It shocks a lot of people that he was our second-highest graded signal-caller in 2017, but anyone who has read our QB Annual will know that he suffered from the worst interception luck of any quarterback in the NFL.
Like Beckham Jr., Thomas has been subject to trade rumors this offseason and, right now, all signs point to him not being with the Seattle Seahawks this time next year. While Thomas will be 29 next offseason, safeties with his range are so rare in today's NFL, and with PFF grades of 85.0 or higher in all but three of his seasons in the NFL, he would be a great addition to any defense in 2019.