Welcome to the Week 5 recap discussing PFF's highest-graded defensive backs in college football. Let's take a stroll around the nation into the stats behind the best cornerbacks and safeties through five weeks of action.

Cornerbacks
1. Jaden Davis, Oklahoma – 90.5 Overall Grade
Davis defends his Week 4 crown as the nation's highest-graded cornerback, the first time a corner has held onto the number one spot in back-to-back weeks this season. He was up to his usual lockdown tendencies against Texas Tech in Week 5, where he was targeted once in 15 cover snaps and did not allow a catch. Davis is not just a one-trick pony either – his 83.5 run-defense grade ranks 10th among all FBS cornerbacks.
2. Jeffrey Okudah, Ohio State – 89.0 Overall Grade
PFF's Michael Renner just selected Jeffrey Okudah as his top cornerback prospect for the 2020 NFL Draft, which is impeccable timing for Okudah's debut on this list. He had a dominating performance vs. Nebraska (90.6 overall grade) with two interceptions, one where sticky coverage allowed him to anticipate the route, and another where he slipped but somehow hauled in a tipped pass while lying on the ground. For the season, throws into Okudah's coverage are generating a paltry 39.1 passer rating — just sneaking under the 39.6 rating a quarterback would receive for spiking the football into the ground.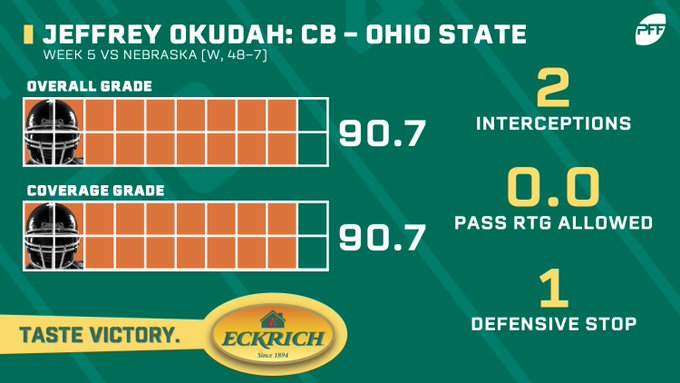 3. Derek Stingley Jr., LSU – 86.2 Overall Grade
With LSU coming off a bye and gearing up for a home game vs. Utah State, we look back to what we said last week about Stingley Jr.:
Attacking Stingley Jr. in coverage is quite challenging — he leads the nation with nine pass breakups and is allowing just a 38.1% catch rate on 21 targets. Stingley Jr. put together his best performance of the season in Week 3 against Vanderbilt (88.2 weekly PFF grade, third), where he was targeted in coverage nine times and broke up four passes while picking off another.
4. Patrick Surtain II, Alabama – 85.1 Overall Grade
Surtain II is the only cornerback to remain on our highest-graded cornerback list through each of the first five weeks. Last week against Ole Miss, Surtain II was on the field for a season-high 84 snaps and allowed just one catch on four targets for 32 yards. Opposing offenses should beware Surtain II when he lines up in the slot (35% of snaps), where his 0.39 yards per cover snap ranks fifth in the nation.
5. Travion Banks, Miami Ohio – 84.5 Overall Grade
Banks makes his first appearance on this list despite Miami Ohio being idle last week. In a tough test vs. Ohio State's talented receiving corps in Week 4, Banks saw four targets and allowed three catches for 19 yards. For the season, he has allowed just four catches for 24 yards with only five yards after the catch. He also has three pass breakups and one interception, which equals the entire number of catches he has allowed all season. Banks is used all over the field — 39% wide corner, 23% in the slot, 20% in the box, 18% free safety.
Safeties
1. Eric Lee Jr., Nebraska – 90.1 Overall Grade
Lee Jr. has been PFF's top-ranked safety each of the first five weeks. He returned to the field last week after sitting out Week 4, but only played 15 defensive snaps and allowed one catch for seven yards. Look for Lee's snap count to rise if he can maintain his strong play. Lee currently boasts a 90.5 coverage grade, and we will keep an eye on this moving forward – I mentioned this back in the Week 2 edition of this column, as Derwin James was the last time a safety recorded a coverage grade above 91.5.
2. J.R. Reed, Georgia – 89.0 Overall Grade
Georgia is coming off a bye week and will face off against former defensive coordinator Jeremy Pruitt and the Tennessee Volunteers. We look back to what we said last week about Reed:
Reed debuts on this list courtesy of a standout performance (90.3 PFF grade, third among safeties) in Georgia's electrifying victory over Notre Dame. In 50 cover snaps, Reed was targeted four times in coverage and allowed one catch for eight yards, while recording two pass breakups. He also stymied a promising Notre Dame drive in the fourth quarter by picking off a pass with a full-extension dive on the sidelines.
3. Jordan Fuller, Ohio State – 88.2 Overall Grade
Fuller is another Buckeye with a big-time pedigree to debut on our list this week. His coverage stats are ridiculous; he has allowed three catches for a total of negative four yards, yielding a ridiculous -0.03 yards per cover snap, tops in the nation as the only safety to have a negative mark per coverage snap.
4. Collin Wilder, Wisconsin – 85.9 Overall Grade
Wilder played a season-high 53 snaps against Northwestern and showed well in coverage, seeing three targets and recording two pass breakups. Making plays on the football is nothing new for Wilder – his four pass breakups are second-most among all safeties, and he is allowing just a 36% catch rate and a 43.8 passer rating on 11 targets. Watch out for Wilder on the rare occasion where he blitzes — he has two quarterback pressures on three pass rushes.
5. Ceneca Espinoza Jr., Liberty – 85.9 Overall Grade
Espinoza Jr. may rank fifth on our highest-graded safety list, but his 91.2 coverage grade is tops in the nation among all defenders, regardless of position. He has seen 11 targets this season while allowing seven catches for just 38 yards and a measly 29.9 passer rating. In addition to lockdown coverage, Espinoza Jr. contributes as a pass-rusher with seven quarterback pressures (third-most among safeties) and in the run game with 13 defensive stops (15th).