With the passing of NFL Week 9, we've now reached the point of the season when every team has at least eight games tallied. With that span of grades and data in our system, here's a look at the top performers at every position so far this season.
Mideseason offense
Quarterback: Tom Brady, New England Patriots, 96.4
Tom Brady has only played in four games, but the level he has been at in those four outings has been so ridiculous that he had to make the first-team spot. Brady's passer rating when kept clean has been 143.4 since his return, and every single game has seen him post a passer rating of 124.0 or better. He has the league's best adjusted completion percentage of 87.4 percent—7 percent clear of the field. If we were limiting this team to players that have featured in every game, Matt Ryan has been the best-performing QB this season, but Brady has been near perfect in the games he has played.
Second Team: Matt Ryan, Atlanta Falcons, 90.8
Running back: Ezekiel Elliott, Dallas Cowboys, 82.8
Rookie Ezekiel Elliott is aided by having the best offensive line in the game paving the way for his success, but he has shown the ability to make things happen on his own and gain valuable yards after contact. Elliott has strong grades in every facet of the game, including pass blocking, which has allowed him to be on the field for almost 400 snaps and surrender just three QB hurries over the season.
Second Team: David Johnson, Arizona Cardinals, 80.4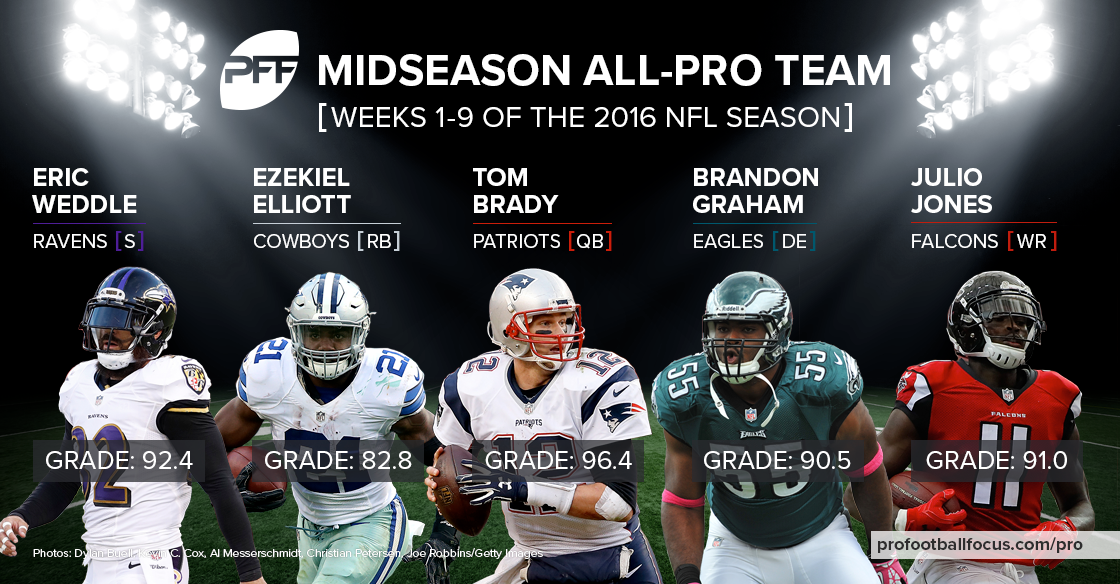 Wide receiver: Julio Jones, Atlanta Falcons, 91.0
Julio Jones has been the league's most dominant wideout, and the 300-yard destruction of the Carolina Panthers was a good example of what happens when you try and cover him with just one guy. He already has 970 receiving yards, is averaging over 6 yards per reception after the catch, and Matt Ryan's passer rating when throwing in his direction this season is 120.2, despite throwing a pair of picks when aiming his way.
Wide receiver: A.J. Green, Cincinnati Bengals, 90.3
If there's any receiver chasing Jones, it's A.J. Green, whose form for the Bengals this season has been spectacular. Green is having the best-year of his career and trails only Jones in terms of receiving yardage, with 896 yards on 59 receptions from 84 targets. He has the league's second-best yards per route run figure, at 2.94, again trailing only Jones.
Slot receiver: Doug Baldwin, Seattle Seahawks, 86.4
Doug Baldwin is so much more than a slot receiver, but from that position, he has been a huge weapon for Seattle. From the slot, he has the league's second-highest catch rate, at 82.5 percent, and has made a series of spectacular receptions over the season, including one-handed grabs and diving receptions deep down the field. Baldwin is a complete receiver, and extremely effective from the slot.
Second Team: Mike Evans, Tampa Bay Buccaneers, 88.6; Amari Cooper, Oakland Raiders, 83.2; Cole Beasley, Dallas Cowboys, 85.4
Tight end: Greg Olsen, Carolina Panthers, 91.5
Just holding off the charge of Rob Gronkowski since the Patriots' top tight end returned to the field, Greg Olsen has once again been the Carolina Panthers' best receiving weapon. He has 45 receptions and 673 receiving yards, which isn't just the most among tight ends through Week 9, but is just 4 yards shy of being the sixth-best mark in the entire league at any position. Olsen is a dynamic receiving weapon that has radically improved his blocking this season—the only real issue we had with his 2015 campaign.
Second Team: Rob Gronkowski, New England Patriots, 91.2
Fullback: Kyle Juszczyk, Baltimore Ravens, 84.0
Fullback is a position that is barely used by most teams, but we felt it only right to recognize the few that do still fill the role. Only one fullback league-wide has more than 200 snaps this season, and he just so happens to have been arguably the best, too: Baltimore's Kyle Juszczyk.
Second Team: Aaron Ripkowski, Green Bay Packers, 84.5
Left tackle: Trent Williams, Washington Redskins, 91.5
Trent Williams is about to serve a four-game suspension for a violation of the NFL's substance abuse policy, so there are question marks about his season even if the violation was reportedly confusion over a missed test. On the field, though, Williams has been back to his dominant best. He has allowed just 10 total pressures in eight games, and been a run-blocking force.
Second Team: Andrew Whitworth, Cincinnati Bengals, 89.9
Left guard: Justin Pugh, New York Giants, 87.8
The Giants may have been okay with Justin Pugh playing right tackle, but they have an All-Pro player on their hands when he plays left guard. Pugh has built on his performance there from a year ago, and through the first half of the season, has yet to allow a sack, and has been the league's best run blocker at the position, even though the Giants' run production would never show it.
Second Team: Kelechi Osemele, Oakland Raiders, 85.7
Center: Matt Paradis, Denver Broncos, 88.0
The development of Matt Paradis has been one of the stories of the season when it comes to offensive-line play. Paradis has surrendered a sack and six total QB pressures, but has been a force as a run blocker within those Denver zone plays, consistently executing his assignment and opening lanes.
Second Team: Travis Frederick, Dallas Cowboys, 87.0
Right guard: Marshal Yanda, Baltimore Ravens, 87.6
Marshal Yanda has missed some time, but when he has been on the field, he has been as good as ever, allowing just four total pressures and no sacks or hits on his QB. Yanda's run blocking hasn't been quite as dominant as it has been in the past—yet. Look for him to kick things up a notch in that regard down the stretch for the Ravens.
Second Team: Zack Martin, Dallas Cowboys, 85.7
Right tackle: Zach Strief, New Orleans Saints, 86.8
Zach Strief is one of the league's more underrated players, and though he hasn't had the monster games of other right tackles this season, he also hasn't struggled with anybody—and he's faced a legitimate slate of pass-rushers to his side. Strief has allowed just one sack on the season, and just one game in which he surrendered more than two total QB pressures.
Second Team: Morgan Moses, Washington Redskins, 83.4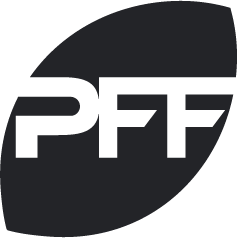 PFF 2016 Midseason Awards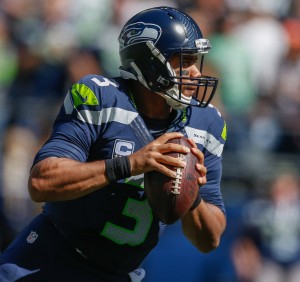 Senior Analyst Sam Monson names Pro Football Focus' midseason MVP, DPOY, OPOY, ROY, and more.
Click to view winners

Midseason defense
Edge defender: Brandon Graham, Philadelphia Eagles, 90.5
Other players have recorded more sacks than Brandon Graham, which seems to be a trend in his career, but the Eagles' defensive end has generated a monstrous amount of QB pressures—45 total on the season—and played the run well, despite playing significantly fewer snaps than the only players with more pressures.
Edge defender: Von Miller, Denver Broncos, 90.1
Khalil Mack has been a beast over the past two games, but Von Miller has been dominating all season long, and has 48 total pressures and a pair of batted passes to his name, not to mention game-defining plays like the forced fumble on Andrew Luck that effectively won the Broncos the game in Week 2.
Second Team: Khalil Mack, Oakland Raiders, 90.3; Chandler Jones, Arizona Cardinals, 87.3
Defensive interior: Aaron Donald, Los Angeles Rams, 95.6
There is no better player in the league than Aaron Donald, whose consistent dominance is remarkable. Donald is second in the entire league with 47 total pressures, despite lining up inside where pressure is harder to come by on almost every snap. He is setting a J.J. Watt-level pace, and only the relative paucity of sacks would belie that fact.
Defensive interior: Calais Campbell, Arizona Cardinals, 88.3
Calais Campbell is quietly having arguably the best season of his career. He only has two sacks, but has recorded 24 total QB pressures and has taken over entire games, such as the Week 7 Sunday Night Football encounter with the Seattle Seahawks. Campbell is as disruptive of an interior force as you will find in the league outside of Aaron Donald this season.
Second Team: Fletcher Cox, Philadelphia Eagles, 86.2; Ndamukong Suh, Miami Dolphins, 85.7
Nose tackle: Danny Shelton, Cleveland Browns, 82.6
Nose tackle may be a dying position, but there are still enough of them out there to warrant recognition on the PFF Midseason All-Pro team, and the best this year has been Cleveland's Danny Shelton. Shelton has begun to show the promise that his college career demonstrated, leading all defensive interior players with 30 stops on the season; he's also been a force against the run.
Second Team: Linval Joseph, Minnesota Vikings, 82.7
Linebacker: Jerrell Freeman, Chicago Bears, 92.1
One of the signings of the offseason, Jerrell Freeman has continued his excellent play from a year ago, even if he has changed exactly what he is excelling at. Last season, Freeman's run defense was outstanding, but this year, his best play has come against the pass, where he has made a habit of tackling receivers after short gains and putting the offense behind the eight-ball.
Linebacker: Luke Kuechly, Carolina Panthers, 90.8
Luke Kuechly remains the class of the league at linebacker, even if he hasn't quite managed to keep the top grade at the position so far this year. The Panthers' defense has been a shadow of itself all season, but Kuechly is one player that has maintained excellent play while others around him flounder. Kuechly has solid grades in every facet of the game PFF measures, including discipline, where he has yet to record a penalty this season.
Second Team: K.J. Wright, Seattle Seahawks, 90.2; Zach Brown, Buffalo Bills, 89.3
Cornerback: Aqib Talib, Denver Broncos, 90.8
Aqib Talib has always shown the ability to shut down elite receivers, but it typically never lasted for a long time, and his overall play was boom-or-bust. This season, though, he has been nearly flawless, and QBs throwing into his coverage still have a lower passer rating (37.0) than if they simply threw the ball into the ground every snaps (39.6)
Cornerback: Terence Newman, Minnesota Vikings, 86.8
What Terence Newman is doing at 38 years old is unprecedented in the PFF era of grading (since 2006). He isn't just still a viable starter, but he has been a shutdown player for the Vikings, allowing an average of just 7.9 yards per reception (best in the NFL) and fewer than 50 percent of passes thrown his way to be caught. This in the same season that Jets CB Darrelle Revis—seven years younger than Newman—is slowing down to the point that he is regularly beaten.
Slot cornerback: Chris Harris Jr., Denver Broncos, 85.4
Chris Harris Jr. has been arguably the league's best slot corner for years, made more impactful by the fact that he also plays outside for Denver. This season hasn't been the best year of his career, but he has still been playing at an extremely high level, allowing only 53.1 percent of the passes thrown his way to be caught, for under 10 yards per reception.
Second Team: A.J. Bouye, Houston Texans, 91.3; Malcolm Butler, New England Patriots, 86.7; Dominique Rodgers-Cromartie, New York Giants, 85.2
Safety: Eric Weddle, Baltimore Ravens, 92.4
A new defense has done little to dampen the impact of Eric Weddle, who has been one of the best safeties in the game for pretty much his entire career. He once again leads PFF's safety rankings this season, and has been an impact player against both the run and pass for the Ravens.
Safety: Tony Jefferson, Arizona Cardinals, 89.9
There are other safeties with better coverage grades and numbers this season, but what Tony Jefferson has done against the run demands a space on this team. He has by far the best grade against the run among safeties, and his 22 defensive stops are second to Landon Collins at the position on 61 fewer snaps (a full game).
Second Team: Devin McCourty, New England Patriots, 86.2; Harrison Smith, Minnesota Vikings, 87.6
Midseason special teams
Punter: Marquette King, Oakland Raiders
He's received a lot of attention for his big personality, but it's been his performance that puts Marquette King at the top of our punter grades midway through the year. King recorded the single-highest-graded game we've even seen from a punter against the Baltimore Ravens in Week 4, and has averaged 41.5 net yards per punt in 2016.
Second Team: Pat McAfee, Indianapolis Colts
Kicker: Justin Tucker, Baltimore Ravens
We have two kickers who are perfect on the year so far, with Tucker and Adam Vinatieri both not missing a kick yet this season. Going 20-for-20, Tucker has been comfortable from anywhere on the field, going four-for-four on kicks of 50 yards and longer. Really at this point, all that separates him from Vinatieri is that he is a good kick-off kicker too, but that's what gives him the nod here.
Second Team: Adam Vinatieri, Indianapolis Colts
Special teamer: Eric Murray, Kansas City Chiefs
The Chiefs have generally had one or two standouts each year on special teams since we began grading, and this year is no different. Active on the punt team, punt-return team, kick-coverage team, kick-return team, and field-goal-blocking units, Eric Murray has made four tackles this year. Beyond tackles, though, it's his ability to set up and defeat blocks that has pushed him to the top of our grading.
Second Team: Patrick Chung, New England Patriots
Return specialist: Tyreek Hill, Kansas City
Tyreek Hill has yet to find the end zone, but has been consistently solid on kick returns, averaging 23.5 yards per kick return. It's as a punt returner where he has really stood out, though, leading all punt returners with at least 15 punt returns with an average of 17.3 yards per return.
Second Team: Jalen Richard, Oakland Raiders