The Baltimore Ravens are coming off a season that saw them finish with their worst record under head coach John Harbaugh after having to deal with numerous injuries. Few teams in the past have seen their starting quarterback, top running back, No. 1 wide receiver and left tackle all miss significant time so it's not surprising that they missed the playoffs.
With quarterback Joe Flacco back under center for the season opener this year, the Ravens will be anxious to right the wrongs of last season and get back into contention in a tough AFC North.
[More: Be sure to check out PFF's ranking of all 32 NFL QB situations, offensive lines, running back units, receiving corps, secondaries, and defensive front-sevens. Catch up on all the team previews here.]
Flacco was struggling even before his injury
Quarterbacks: 25th
Coming back from injury is one problem for quarterback Joe Flacco — he himself has admitted that he's not sure how he'll react when he takes that first hit — but it's not the only one. Flacco's career has been dogged by inconsistency. On one hand he took over the playoffs when he led the team to the Super Bowl, but on the other hand he wasn't playing well last year even before the injury. He struggled under pressure, completing just 48.7 percent of his passes when pressure got there and throwing four touchdowns to eight interceptions. Flacco needs to be healthy for the Ravens to succeed in 2016, but he also need to be better than he was at the start of 2015.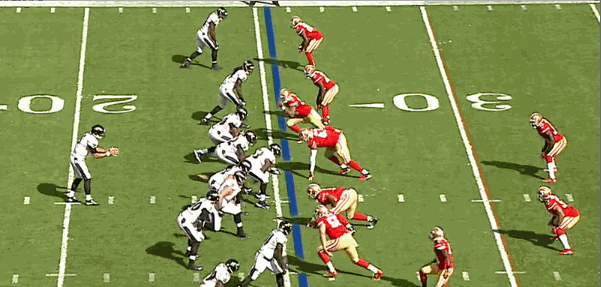 Rookie Kenneth Dixon could make a statement
Running backs: 19th
The Ravens have a pretty big stable of running backs, but no clear star. That might be enough to get them through the season and a by-committee approach might be the best option but if there is one player who could really surprise it'd be Kenneth Dixon. A fourth-round draft pick, Dixon was our second-ranked running back in this draft class, 47th overall, due to his ability to cut away from opposing defenses and make an impact as a receiver too. In the very least, he should be a good third-down option if Justin Forsett remains the starter on his return from injury.
Boom or bust?
Receiving corps: 12th
The most boom-or-bust group on the roster, and probably even within the NFL, the Ravens wide receivers have the potential to be a deep and formidable group if key players are fit and able to contribute, but they could just as easily be in trouble if they aren't able to. Steve Smith in particular will be interesting to watch, given his age and the Achilles injury he suffered, many people won't be expecting him to return to form, but before the injury last season he was still playing fantastically well, forcing 12 missed tackles on 46 receptions. Tight end is even deeper with the returning Dennis Pitta the biggest question mark, but with Ben Watson, Maxx Williams and Crockett Gilmore there, it's not a position where they will struggle.
(PFF Fantasy Insight: There is plenty of uncertainty surrounding the Baltimore receiving corps, making Kamar Aiken one of Dan Schneier's most important AFC North fantasy players to watch in training camp. In his Ravens depth-chart look, Jeff Ratcliffe ran through the situation for all four potentially useful Baltimore wide receivers. Right now, Smith is the highest-ranked Baltimore WR in our staff consensus rankings at No. 48, but he, Aiken, Mike Wallace and Breshad Perriman are all within 20 spots.)
Can the O-line deliver?
Offensive line: 13th
Once one of the very best in the NFL, the Ravens offensive line now has several question marks within the unit. Marshal Yanda is still the best guard in football, with his 92.5 overall grade the top at his position in 2015. However, next to him at right tackle, Ricky Wagner needs to bounce back from a disappointing 2015 season and get back to the level he was at in 2014, where he graded higher than any other right tackle in the league. Rookie Ronnie Stanley starts at left tackle, and while we liked him heading into the draft, plenty of rookies at the position have seen struggles in their first year in the league.
Can Suggs bounce back from injury?
Front-seven: 19th
Like most of the Ravens roster, there are several question marks here as well. With Terrell Suggs out last year the Ravens registered pressure on just 36.2 percent of third-down plays, and one has to question how well he can recover from a second achilles injury. Elvis Dumervil is still a very good pass rusher, but he's never really impressed as a run defender and is better-suited for a more pass rush-focussed role. Young players in the front seven like Timmy Jernigan and C.J. Mosely had impressive rookie seasons, but failed to build upon them in 2015, so the development of those two could be key to this unit improving.
Uncertainty extends to secondary
Secondary: 24th
If you haven't quite guessed the theme here, it's the uncertainty that hurts the Ravens once again. Jimmy Smith has all the potential in the world, and he's shown flashes of being one of the best cornerbacks in the league at points. Injuries have hurt him and slowed him down though, and after allowing six receiving touchdowns in his coverage through the first four seasons of his career, he allowed six in 2015 alone. If Lardarius Webb's move to safety goes well then the Ravens could have a good safety pair for the first time since Ed Reed was on the roster, after signing former San Diego Chargers standout Eric Weddle.