In the recently concluded 2019 version of the PFF50, Von Miller finished 11th while Khalil Mack finished eighth. Together, they were the top two edge defenders on the list, beating out the likes of Cameron Jordan, Calais Campbell and J.J. Watt.
When deciding who ranked higher on the list between Mack and Miller, it came down to splitting hairs. Nothing shows that quite like their overall grades since Mack entered the league in 2014. Over those five years, Mack has an overall grade of 93.5 and Miller has an overall grade of…93.5. Those two grades are tied for first at the position — a clear tier above the next closest player (Campbell, 92.1). As neither player has edged out the other in terms of overall grade, why then, did Mack get the nod as our top-ranked edge defender heading into next season?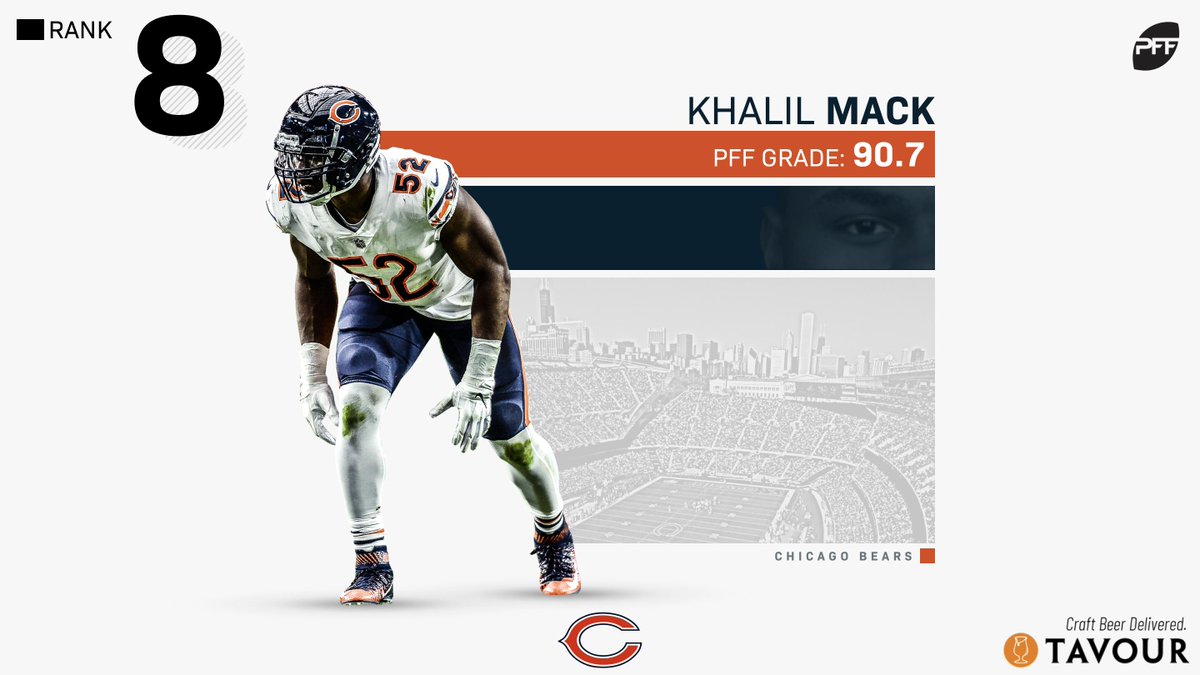 Foremost, Mack is a slightly more complete player than Miller when it comes to defending the run. Yes, run defense is significantly less important than an edge rusher's ability to disrupt the quarterback, but with so little difference between the players, everything gets put under the magnifying glass. Since entering the league, Mack has yet to record a run-defense grade below 87.0. In fact, his lowest grade in run defense came last season with the Chicago Bears (87.4).
The best display of this is total defensive stops – otherwise known as tackles that result in a "win" for the defense based on down and distance. Mack has dominated this statistic among his peers, notching 241 total defensive stops, which is nearly 40 more than Miller, who occupies second place at the edge position (204 total stops).
That isn't to say that Miller doesn't defend the run well, because he has graded at an elite level in run defense, finishing third behind only Campbell and Mack since 2014. He just doesn't have quite the consistency that Mack has in that area.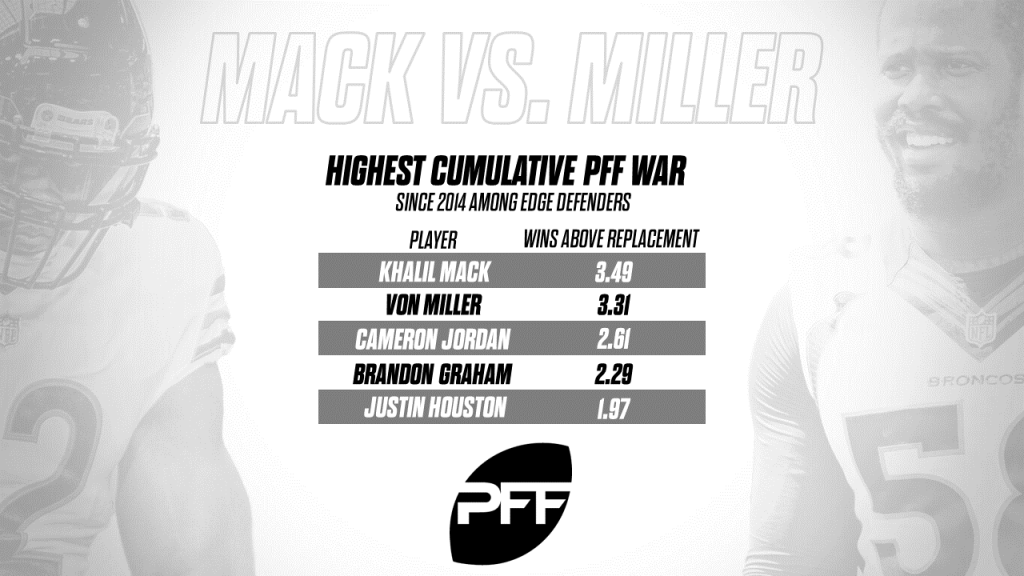 Another reason that Mack ended up a few spots higher on the list was that he comes out of the last five seasons as a slightly more valuable player in terms of PFF WAR, or wins above replacement. Among all edge defenders, Mack has amassed 3.49 wins above replacement while Miller has picked up 3.31. They are head and shoulders above all other edge defenders – Jordan (2.61) and Brandon Graham (2.29) are the only other players at the position above 2.0 — but Mack narrowly gets the nod as the more valuable player.
Any team would love to have either player. Both Mack and Miller are nightmares for opposing offensive coordinators, and they're among the very best in the NFL, regardless of position. That being said, one of them had to come out on top in the PFF50. Mack earned that distinction given his consistently elite play as both a pass-rusher and a run defender, along with his edge in PFF WAR.