In a little over 12 months, Oakland Raiders OLB Khalil Mack has cost Denver two wins pretty much on his own, and the Broncos don't appear to be learning their lesson from those encounters.
In his two most recent games against Denver, Mack has racked up an impressive seven sacks, two hits, 10 hurries, and nine defensive stops. He rushed the passer 86 times over those two games, meaning he got pressure once every 4.5 pass-rushes, and that doesn't even include plays where he beat his man, but the ball came out before it could develop into a pressure.
On Sunday night, Mack beat Broncos RT Donald Stephenson alone 13 times in pass protection. Stephenson was only pass blocking 42 times in the game, and two-thirds of those plays saw the ball come out in 2.5 seconds or less. Essentially, he was a glorified traffic cone that Mack simply had to navigate around before closing on the QB for pressure.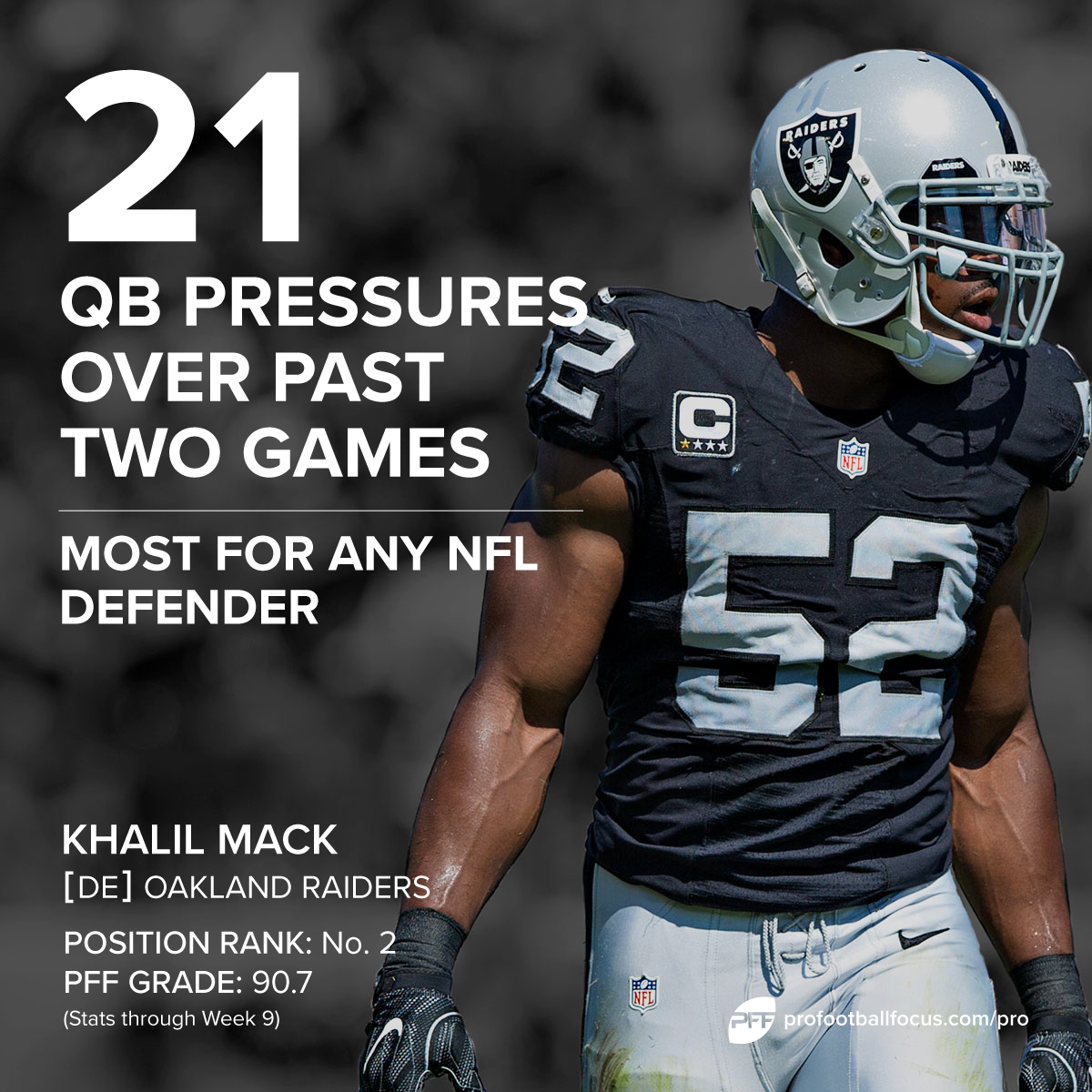 That doesn't even factor in the plays in which Stephenson had help from a schematic standpoint—either the line sliding his way or a second body in the form of a back or tight end staying in to pass block on his side.
The biggest issue, though, is how little help the team gave him—actually less than average this season. Having seen what Mack can do firsthand last season, the Broncos should have been over-prepared to dedicate additional resources to shutting him down this time, not the reverse.
Mack in 2016 has split his time far more evenly between the left and right side of the defensive line than he did a year ago when he played almost exclusively on the left side, going up against right tackles. Denver may have been struggling with the idea of dedicating extra blocking help to deal with him every snap, regardless of which side of the line he appeared on—effectively allowing him to dictate formations, even plays, simply by where he lined up—but they shouldn't have.
Going up against such an easy target, Mack reverted back to his 2015 alignment—beating up on Stephenson from the defense's left side, lining up on the other end of the line just once in 50 snaps.
This was very much a game-changing aspect of Sunday Night Football. When kept clean in the pocket, Broncos QB Trevor Siemian had a passer rating of 110.6, a solid PFF grade, and completed 61.1 percent of his passes for 9.4 yards per attempt. Had Denver kept him upright for even most of the game, they would have been far better situated to win.
Trevor Siemian versus the Denver Broncos in Week 9

But they left Mack to terrorize Stephenson, and so Siemian was actually pressured on more snaps (21) than he was kept clean (18). On those snaps, his passer rating dropped more than 50.0 points, to 53.4; his completion percentage dropped to a miserable 36.8 percent, and his average fell to just 6.0 yards per attempt (and that doesn't factor in the yardage lost to sacks).
Mack has now recorded two monster games back to back, vaulting him back to the No. 2 spot in PFF's grades among all edge defenders (Week 9 grade review process pending; Eagles DE Brandon Graham is No. 1) after a comparatively lackluster start to the 2016 season by his standards.
He now has 47 total pressures on the year, just two behind Von Miller and Aaron Donald for the league lead. 21 of those 47 have come in the last two weeks, as well as almost a third of his defensive stops. For most of this season, Mack had been merely a good player, but not the game-changer we saw in 2015. Last week against the Bucs, the Broncos should have seen the warning that the player that single-handedly wrecked their game in Week 14 of last season was still very much there; instead, they allowed him to do the same thing to them once again.
Mack is one of a select few players capable of completely destroying a game plan, especially if he is going up against a sub-par pass blocker, which he was this week. Stephenson now has a overall grade of 29.8, which is worse than every other tackle in the league outside of Minnesota's T.J. Clemmings, and one of the worst single-season marks we have ever given to a tackle in the past decade of grading.
Denver still has to face Khalil Mack and the Raiders again this season, and is now trailing Oakland by a game in the race for the AFC West crown, so it could be a crucial encounter. They have now allowed Mack to take two wins from them in the past year, and need to learn the lesson and prevent him from doing the same thing for a third time running.