The Indianapolis Colts entered the free agency period this offseason as one of the teams expected to make the biggest splash when all was said and done. They brought in a couple of guys who should step in immediately as key contributors and starters — they signed Devin Funchess to a one-year deal and brought in Justin Houston on a two-year contract that we believe will be a steal — but the majority of their action consisted of locking up a few of their key contributors from last season to multi-year extensions.
Guys like Mark Glowinski and Pierre Desir might not have the same name recognition as other players around the league, but both performed well in their first stretch of extended action for Indianapolis in 2018. Recognizing that, the Colts extended multi-year offers in the hopes of securing talented players on deals that end up being viewed as team-friendly. With the recent extension given to the former undrafted free agent out of Valdosta State — Kenny Moore II — the Colts are employing a similar philosophy.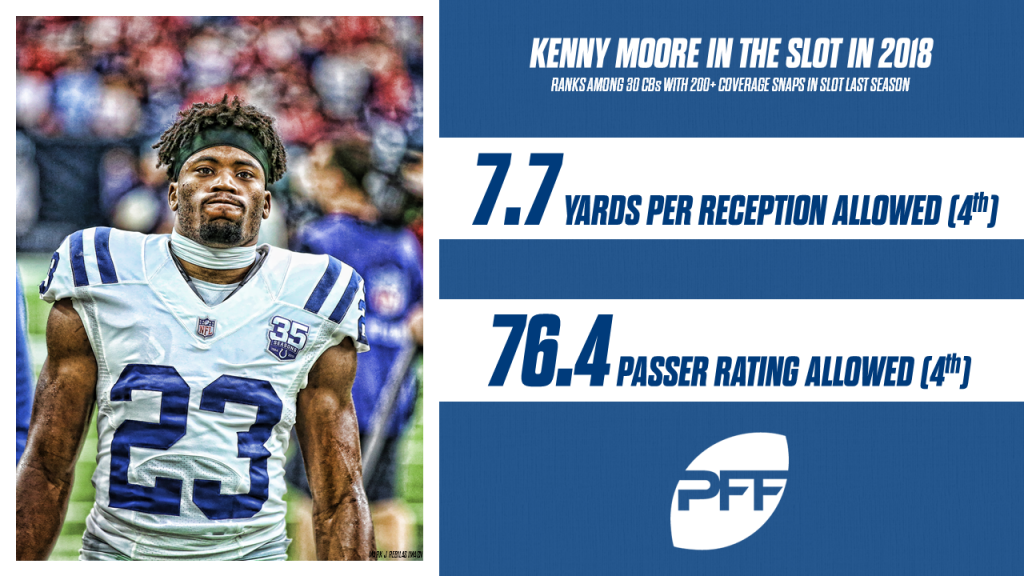 After carving out a role late in the season with the Colts' defense in 2017, Moore entered the 2018 season as a starter on the defense, primarily manning the slot. In that larger role, a young Moore showed improvement. His overall grade rose from 65.9 in just 384 snaps in his rookie season to 69.1 last year, ranking 48th among 112 qualifying cornerbacks across the league. That overall grade doesn't paint the whole story, though.
Moore was a slot specialist for the Colts, playing 690 of his 1,063 defensive snaps from the slot over the course of the regular season and postseason, and it was in the slot where he excelled. When lined up in those slot positions, Moore's overall grade jumped to 75.2 which ranked 13th among 42 qualifying cornerbacks. Looking at his coverage numbers in the slot, it's easy to see why his grade fared better there.
Thirty players saw at least 200 coverage snaps in the slot over the regular season. Among those players, Moore's yards per reception figure of 7.7 and his passer rating allowed of 76.4 both ranked fourth-best. As senior analyst Mike Renner detailed towards the end of last season, the Colts utilized a zone-heavy bend-but-don't-break scheme where corners could read and react on plays happening in front of them. That's precisely what Moore did, racking up 18 coverage stops. Those 18 stops were the fourth-most of any cornerback in the league.
That read-and-react ability shone through in another area as well — the run game. Moore's run-defense grade of 79.4 ranked 21st out of the 112 qualifiers at cornerback, and no cornerback had more run stops than his 41 when you include the postseason. When asked to diagnose plays in front of him and come up to limit damage, there were few better than Moore. It's a skill the Colts have seemingly coveted in recent additions, and with the defensive scheme we saw from them last season, it makes sense why.
As you would expect, though, given the discrepancy between his overall grade and his slot grade, Moore did not fare well when he was split out wide. In 125 coverage snaps outside, Moore was targeted 28 times and allowed 16 receptions for 178 yards, 11 first downs and one touchdown. On the surface, those numbers don't appear all that bad, but looking further, nine of the 12 incompletions were either dropped or off-target. In all, his coverage grade outside fell to just 47.0, well below his mark in the slot.
Moore should expect to see most of his work from the slot in 2019, and it is there where he has already shown the ability to be an above-average starter in the NFL. The Colts have made a concerted effort this offseason to lock up their guys, and Kenny Moore was the next in line to get his payday in what appears to be another smart decision by Chris Ballard and company.