With any free agency period ahead of the NFL draft, teams under new tutelage are destined to shop current assets on their inherited teams, or at least it happens once a year. This year's version is the Arizona Cardinals who, despite stating otherwise, have rumors circulating that they are not only shopping last year's first-round pick in QB Josh Rosen but that they also seem to have several teams interested.
Rosen was selected with the 10th overall pick of the 2018 NFL Draft and while he had one game in which he graded over 66.8 during his rookie campaign, his debut season could be seen as nothing less than disappointing. New head coach Kliff Kingsbury has ties to Kyler Murray through at least one avenue, and that's not even going as far back as when he stated he'd draft Murray at No. 1 overall during the middle of last year's Texas Tech season when he was at the helm of the Red Raiders.
[For a detailed look at Kyler Murray and his prospects, snag a copy of PFF's 2019 NFL Draft Guide with an edge or elite subscription today!]
While the Cardinals will do whatever they so please in the upcoming draft as they are technically on the clock with the first overall selection, we shift gears and look at it from the other angle. What would potential teams who are suiting Josh Rosen receive in exchange? What are the benefits and what are the potential pitfalls at obtaining the second-year quarterback?
As mentioned prior, Rosen did manage a game grade over 66.8 just once in 2018, a Week 4 game against Seattle. It should be noted that this game did take place with Earl Thomas in the lineup for the Seahawks and a basically healthy unit, so there is some good to glean from Rosen's first year.
He didn't light up the stat sheet either in that game, however, so looking at the general box score wouldn't quite cut it. Rosen completed 15-of-27 passes for just 180 yards, but it was his general safe nature with the football that kept the Cardinals in the game with the perennial NFC West power. He fared well both under pressure and from a clean pocket against Seattle, the former being something he had to deal with often behind a struggling offensive line in the desert. He limited mistakes and graded positively on 26.6% of his dropbacks and finished the game with a season-high grade of 87.1 overall. He did enough to keep his team in the game but was outdone by a roster on the other side that just outmanned his own.
However, this further explains our pre-draft evaluation of Rosen in which we stated he was extremely volatile and his future team would have to ride the highs with the lows, and that's just what his potential suitor will have to do if the Cardinals were to trade him. The unfortunate part for Arizona in all of this is that Rosen's value is likely way lower than where they drafted him after he produced some extremely low lows in his rookie season. In fact, among quarterbacks who took a minimum of 25 snaps in a specific week in 2018, Rosen put forth four of the league's 40 lowest-graded outings.
He's joined on that list with Ryan Tannehill and Blake Bortles, who each also put up four of the league's 40 worst outings at quarterback. Not quite elite company.
In all fairness to Rosen, he was under a fair amount of pressure, not only figuratively as the 10th overall pick and the potential franchise quarterback in Arizona, but quite literally, as 40.4% of his dropbacks were under duress, the fifth-highest figure in the league. It clearly affected him as well as he limped to just a 38.1 passer rating on pressured pass attempts, a figure worse than if he had thrown the ball away every time pressure was recorded.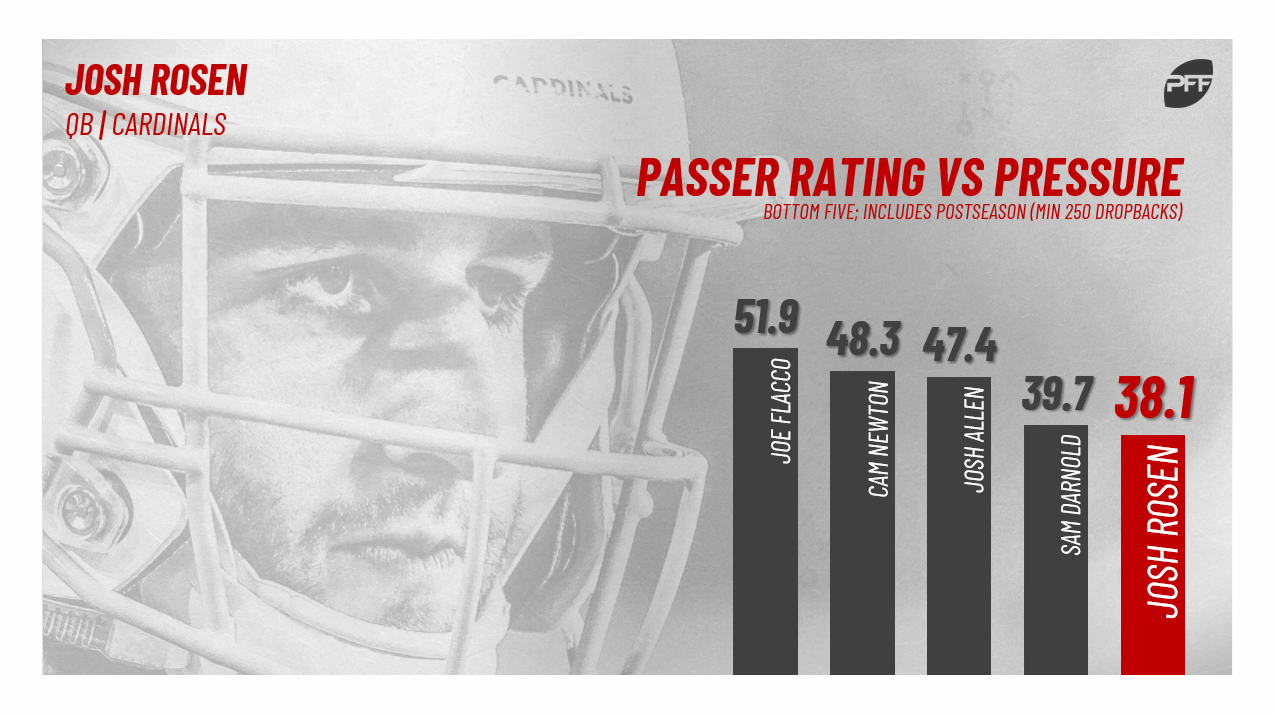 Either the Cardinals or Rosen's new team should take stock in the fact that passer rating in and of itself but especially under pressure is a terrible statistic to look at when looking at year-to-year production, and he should produce numbers in an upward trend, or at least closer to the mean next season. But his abilities under pressure last season certainly hurt his value as his one-year sample size leaves little to the imagination.
A team willing to give up a rumored second-round draft selection may have the hope of being able to turn around Rosen and his career, hoping that the league's second-lowest-graded quarterback from a clean pocket can benefit from a change of scenery. Unfortunately, we've seen in the past that our grades from a clean pocket are one of the most consistent metrics on a year-to-year basis in terms of future success, or in this case, failure.
In Rosen and his potential new team's sake, here's hoping he can buck that trend.