The 6-foot, 233-pound Jay Ajayi, a talented back with desirable size, speed and athleticism, is heading to the Injured Reserve with a season-ending knee injury. Trade rumors for big names (i.e. LeSean McCoy, Le'Veon Bell) have surfaced in wake of the Ajayi's torn ACL, but the truth remains, Ajayi bears a label that doesn't require a drastic roster move, one most NFL backs currently own: replaceable.
Through Week 5, Ajayi averaged 4.08 yards per touch across 50 touches (45 attempts + 5 receptions), which ranks 51st among the 65 NFL running backs with at least 20 touches so far this season. He also ranked T-26th in forced missed tackles per touch (0.180), 29th in yards after contact per attempt (2.67) and 26th in PFF's elusive rating (48.0). As such, his ability to create or add yards beyond what Philadelphia's stout offensive line provided via its run-blocking efforts was far from the league's best.
Only 65% of Ajayi's 184 rushing yards came after contact on the year, which ranks 30th among the 58 backs with at least 20 carries in Weeks 1-5. When contacted at or behind the line of scrimmage (17 total attempts), he mustered just 11 yards (0.65 yards per carry), which ranks 48th among the same group of backs. In turn, a whopping 77.2 percent of his total rushing yards – five percent above the league average – came on runs where he wasn't contacted within two yards of the line of scrimmage.
Ajayi's five receptions for 20 yards in 2018 don't leap off the page, either. He ranked 62nd in yards per route run (0.35) among the 65 backs with at least 30 snaps in route through Week 5. In fact, he was one of just two running backs with at least 50 snaps in route who averaged fewer than 0.40 yards per route run; the other 44 backs all averaged above the 0.40 mark.
Adding salt in already open wounds, Ajayi's negative effect on the passing game carried over into his pass protection, as he allowed two pressures on the 10 snaps he was asked to stay in to pass block this season.
Compared to Ajayi's in-house replacements, Wendell Smallwood and Corey Clement with a dash of rookie Notre Dame product Josh Adams, compensating for the loss of Ajayi won't be difficult.
Smallwood and Clement's 70 combined touches this season have amounted to 432 total yards, which is good for a 6.17 yards per touch figure that would rank inside the top-15 among qualifiers if the duo was indeed one back. Trending a step ahead of Clement, Smallwood leads the tandem with 7.02 yards per touch and a forced missed tackle rate of 0.229, ranking seventh and 18th, respectively.
In the passing game, Smallwood and Clement are leaps and bounds ahead of Ajayi, as the duo has averaged a respectable 1.27 yards per route run across 134 routes and allowed just one pressure in their 11 combined pass-block snaps.
Smallwood, perhaps the better of the two all around, has risen above the concerns often tied to smaller backs. Though it's happened just seven times this season, Smallwood has averaged a league-high 3.86 yards per carry when contacted at or behind the line of scrimmage in 2018. He also ranks 10th overall in yards after contact per attempt (3.12) among backs with at least 25 carries on the season.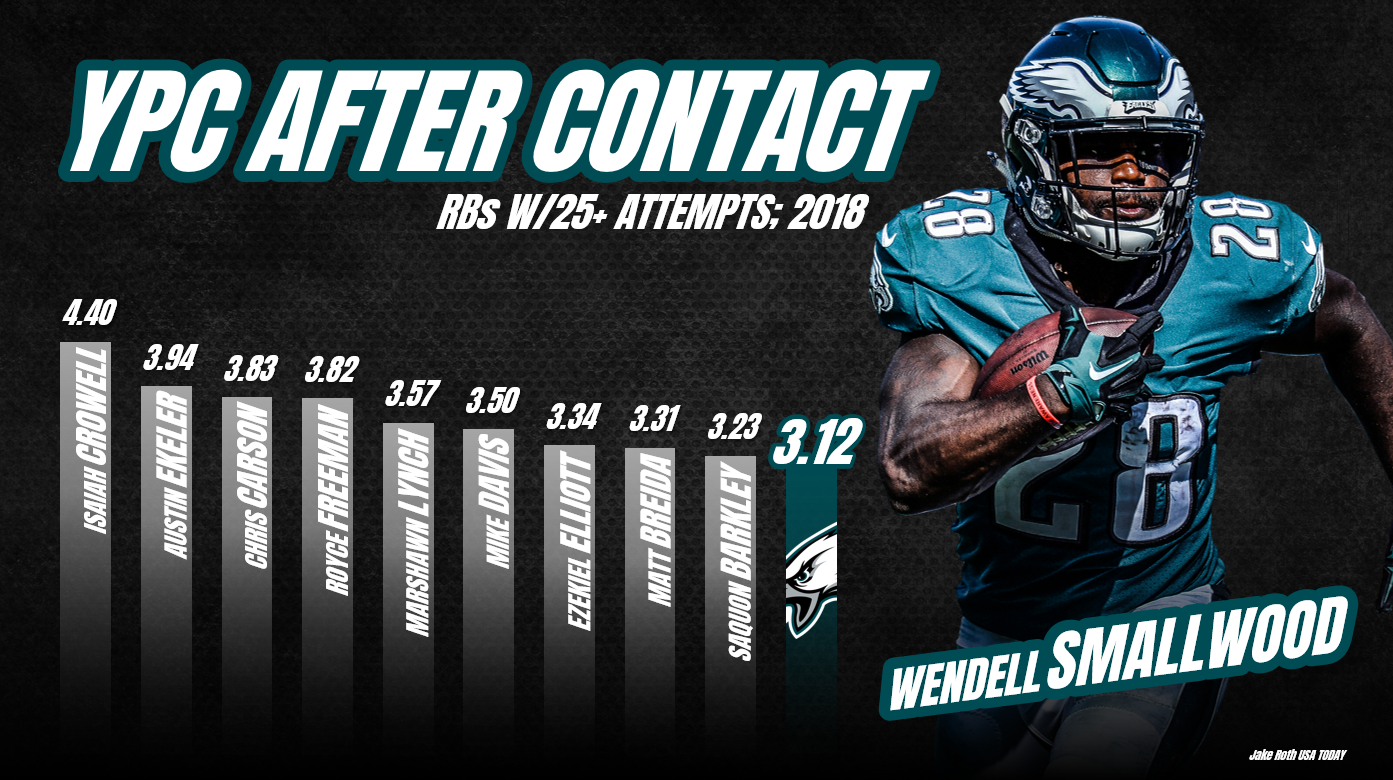 Adams, who has just seven carries for 29 yards and one first down so far this season, is a high-upside wild card in the situation playing behind Smallwood and Clement.
Among the 60 running backs with 20-plus attempts in the preseason, Adams finished with the 14th-highest rushing grade (68.8) and ranked T-19th in yards after contact per attempt (2.78) with six forced missed tackles. The 6-foot-2, 225-pounder was a bruiser at Notre Dame and can easily step in as the Eagles' short-yardage back if they deem the role necessary.
Starting the play one or two yards before the line of gain on third or fourth down, Philadelphia has elected to run the ball on 70.6 percent or 12 of the 17 times. Ajayi has accounted for just two of the 12 carries and picked up a first down on only one of his opportunities. Smallwood and Clement, however, gained first downs on all five of their combined opportunities.
Adding Bell and his paycheck to the Eagles' payroll would cost the team dearly both from a financial and draft capital perspective, as it's unlikely his current contract is renegotiated, and the Pittsburgh Steelers won't send him away for anything less than a second-round pick. Vying for McCoy and his return to the City of Brotherly Love also isn't the answer, as McCoy is pulling in a pretty penny as the league's fifth highest-paid back in 2018 and ranks among the league's worst elusive rating (22.2) through Week 5.
In short, Ajayi wasn't a famed short-yardage back, an efficient pass-catcher or among the league's best creating yards through contact in the first five weeks of the season, nor was he even much better – if at all – than the men behind now slated to start in his place. And an outside hire doesn't make the situation any better, either.