Jadeveon Clowney is pretty close to realizing his potential just at the right time for the Houston Texans. He was the best player on the field in the Wild Card game against Oakland (a field that included Khalil Mack), and since Week 10 of the season he has been one of the game's most dominant edge defenders.
As a draft prospect, Clowney was an athletic freak, which many expected would quickly turn him into one of the game's most dominant pass-rushers, but there is more to rushing the passer than raw athleticism, and even now when he is enjoying his best form, pass rush is the weakest area of his game.
Against Oakland, with a huge advantage over stand-in left tackle Menelik Watson, he had just four hurries, with no sacks or knockdowns of the QB, but every other area saw him look like a dominant force.
Oakland began the game with a game plan of short passing to try and take the pressure off rookie QB Connor Cook, but the first-time Watson was unable to get Clowney on the ground with his cut block and he batted the ball down, and the second time they didn't try to block him at all, allowing him to read it, adjust, bat it out of the air and intercept it himself before a desperation tackle from Latavius Murray saved a touchdown.
Clowney has become the kind of player that changes game plans, or at the very least alters how you execute them. The Raiders could have run the second of those quick screens against most edge defenders in the NFL and not had too much of a concern, but Clowney was able to read it quickly, and make a rare athletic play to not just impact the play, or kill it, but punish the Raiders for even trying.
Clowney has also become one of the game's best players against the run. The Raiders ran an end around at one point in the game and while Amari Cooper was forced a little deep into the backfield on the play by some penetration up front, Clowney was able to come across from the backside defensive end spot and cut him off for what would have been a minimal gain on the play.
Watch Clowney on this end around. This is abnormal and straight freaky ability! pic.twitter.com/hNb5qWKxde

— Sam Monson (@PFF_Sam) January 8, 2017
This is a play that looks relatively insignificant at first glance. He "just" takes a good angle and shows some nice speed, but that backside defensive end practically never influences an end around going away from him like that. At best, he becomes the player that cleans up after it's bottled up play side and forced back inside after a delay. Clowney beat his man near instantly and so badly he was able to take an extremely tight angle down the line and then use his speed to match Cooper.
The run game is where Clowney has been dominant this season, and he has the No. 3 PFF grade against the run among all edge defenders at 89.5, trailing only Michael Bennett and Von Miller this year.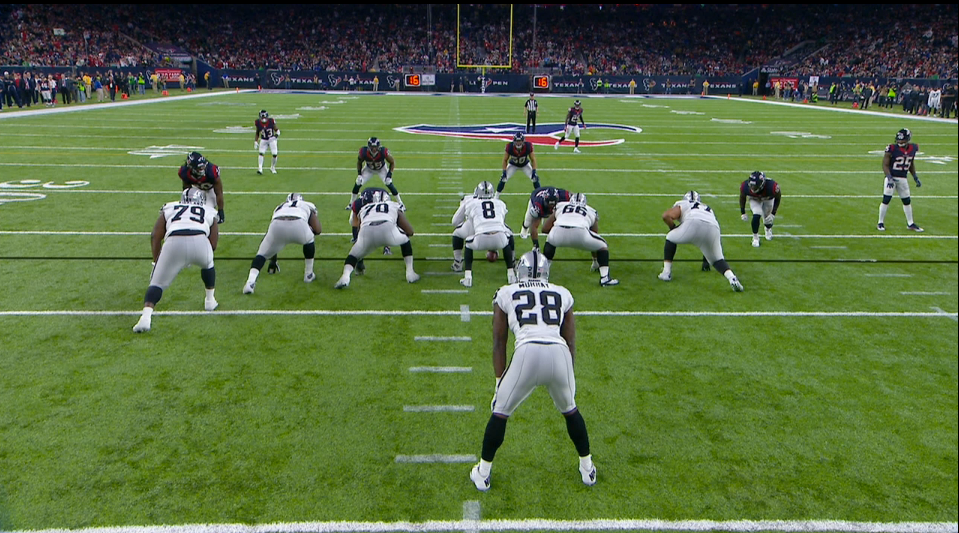 At one point the Raiders gave up trying to block him one on one and actually dedicated a sixth offensive lineman to his side of the line of scrimmage, not just double-teaming him, but doing it with two offensive linemen, not a tackle and tight end. On this particular play that extra attention on Clowney meant Whitney Mercilus was one on one against the right tackle on the other side of the play and was able to win for a sack.
The Texans won't have J.J. Watt again this season, but they have a player doing a pretty good impersonation of him at the moment, which can only bode well for that defense's prospects a year from now when they are able to deploy both of them at the same time again. Clowney may not be the complete force that Watt is, but he's getting closer and closer as time goes by, and a player that was once being labelled as a draft bust because of injuries and underwhelming play is suddenly changing games for Houston. Next week will likely give him the toughest test yet, though, if they end up traveling to Foxboro to play the Patriots.