Riddled with talent, the Chicago Bears defense stole the show this past season in the Windy City.  A combination of trade acquisitions, free agency signings, and home-grown talent, the Bears' defensive unit accumulated the highest defensive grade of any team in 2018. While they produced a slew of Pro-Bowlers, including household names like Khalil Mack and Eddie Jackson, the unheralded Eddie Goldman didn't quite garner the same attention despite putting forth a breakout season. Goldman, who will be entering his fifth season with the Bears, played the best football of his career in 2018, and he quietly proved to be one of the top players on the league's best defense.
Looking at Goldman's career leading up to 2018, it would've been tough to predict the breakout season that was to come. With overall grades of 70.3, 75.9, and 65.2 over his first three years in the league, Goldman was proving that he could contribute, but he certainly wasn't lighting the league on fire. If anything, the team was likely hoping to see a big jump from Goldman in year three after combining for nine sacks and 32 stops over 715 snaps during his first two seasons. This wasn't the case, as Goldman posted career-lows in overall grade as well as run-defense grade (64.9), and pass-rush grade (60.9) in 2017. Even with a career-high 609 snaps, Goldman accrued just 17 total pressures which yielded just one sack.  Despite the decrease in production, the Bears' front office kept faith in Goldman by inking him to a four-year extension only two days before the Bears kicked off the 2018 regular season.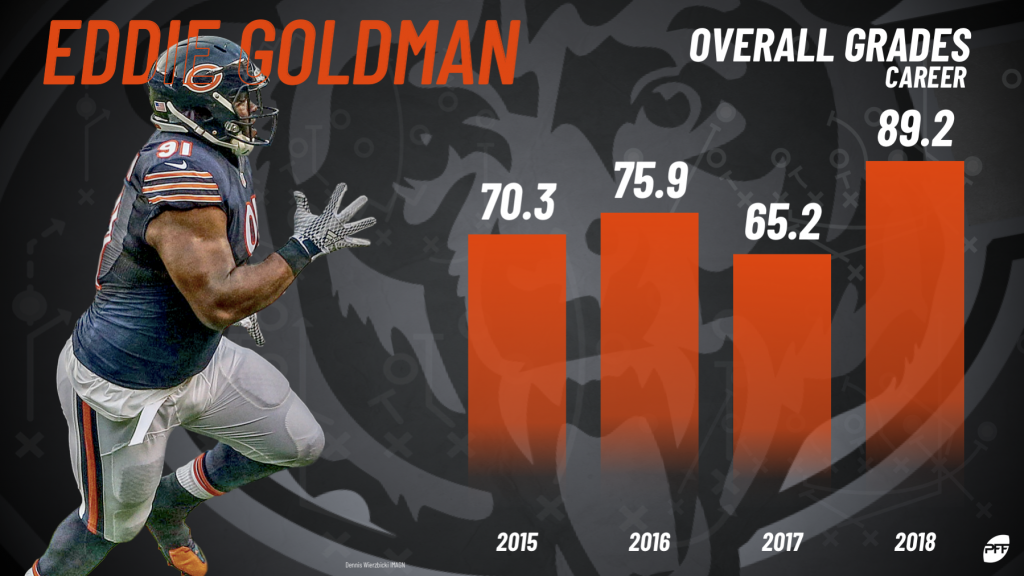 Goldman's 2018 was truly impressive as he notched a career-high defensive grade of 89.2 over 591 snaps, ranking 15th among qualified interior defenders. Not a one-trick pony, Goldman made a difference in both run defense and as a pass rusher, finishing with grades of 89.8 and 70.9, respectively, in the regular season. His versatility can't go unnoticed either, as he was one of only eight qualified interior defenders to finish in the top 20 of both categories. Goldman also set career highs in total pressures (28), defensive-stops (31) and run-stop percentage (11.6%).
His best game came in the regular season finale against the Minnesota Vikings, where Goldman picked up two total pressures, one sack, and an additional defensive stop, which earned a career-high overall game grade of 92.5.  
While well balanced, run defense is where Goldman truly shined in 2018, as his run-stop percentage was tied for ninth at his position among qualified players. Remarkably, Goldman was one of just two interior defenders to register 20-plus defensive stops against the run without eclipsing 200 total run snaps.
A former second-round draft pick out of Florida State, Goldman's college production wasn't something to rave about, as his 68.9 overall grade in his final season didn't even crack the top 150 of qualifying interior defenders—yet the Bears saw potential. Their patience and foresight paid immediate dividends in 2018 as Goldman would've surely had many suitors had he hit the free agent market.  Now a well-established presence, Goldman should continue to be one of the many Bears defenders that opponents need to gameplan for.