The Demaryius Thomas era is over in Denver.
The Denver Broncos have shipped off their once superstar wide receiver and a seventh-round pick to the Houston Texans in exchange for a fourth-round pick and a seventh-round pick, per ESPN's Adam Schefter. The Texans are in the lead for the AFC South and found themselves needing to make a move to bolster their receiving corps depth after Will Fuller sustained a torn ACL in their game against the Miami Dolphins.

They will look for Thomas to help replace Fuller, who had an overall grade of 81.2 that ranked 14th among qualifying receivers. Fuller caught 32 of his 33 catchable targets without dropping one for 503 yards and four touchdowns in seven games this season, and his 2.24 yards per route run ranked 14th among wide receivers with at least 40 targets.
The second-year wide receiver's deep speed and play-making ability will be sorely missed, but the acquisition of Thomas should help to lessen the blow.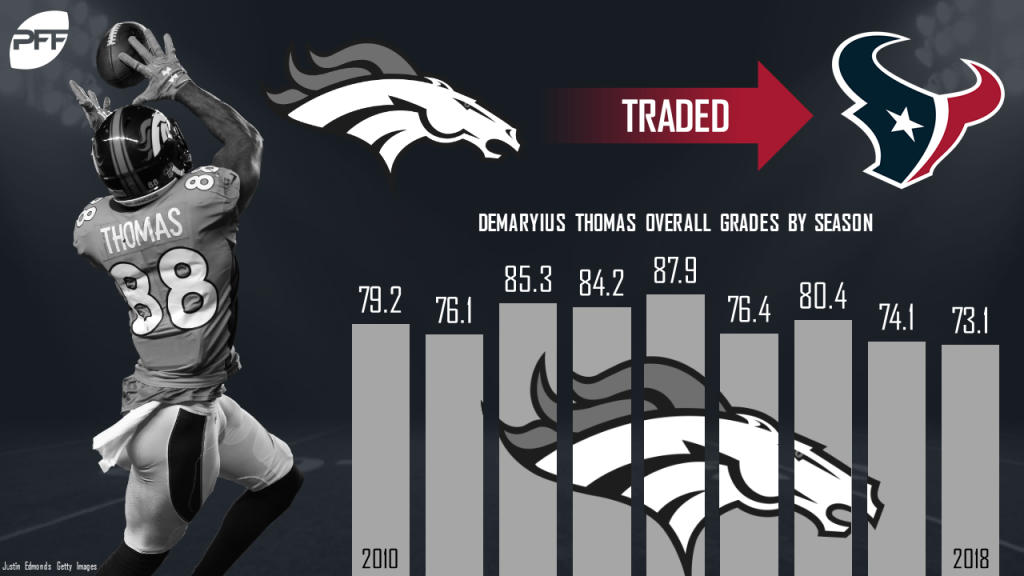 Thomas has managed to produce a modest stat line in Denver this season, catching 36 of his 56 targets for 402 yards and three touchdowns. He has also continued to struggle with drops this season (six drops on 56 targets) and has seen a decline in receptions, yards, yards per reception and yards after the catch per reception each of the last four years.
Though the newly-acquired receiver is not the blazing deep threat that Fuller is or even the receiver that he once was, Thomas is still capable of contributing as a reliable option opposite of DeAndre Hopkins. His 73.1 overall grade still ranks inside the top-30 of wide receivers with 40 or more targets, and he is averaging 1.65 yards per route run, which is not far behind the likes of bigger names like T.Y. Hilton (1.67) and Stefon Diggs (1.69). Additionally, 22 of Thomas' 36 receptions have gone for first downs, and he has demonstrated he can still make contested catches and big plays when called upon.
In the play above against the Jets, Demaryius makes a good adjustment on an underthrown ball, uses his physicality and size to snatch the jump-ball from the defender and coasts into the end zone as a result.
The Texans' move for Thomas on the final day of the deadline indicates that they realize they are in the driver's seat in the AFC South this season. He can and will contribute to this Texans offense as they make their playoff push.