Without a first-round draft pick due to the haul given up for elite edge rusher Khalil Mack, the Chicago Bears entered the 2019 NFL Draft looking for value picks. And with their first two selections — in the third and fourth rounds — the team found just that. The Bears took running back David Montgomery and wide receiver Riley Ridley, respectively, and both displayed the potential in college to outplay their eventual mid-round billings.
Ridley flashed a level of physicality unparalleled by most receivers in the class, and Montgomery was shiftier than any other running back in the NCAA. Yet, the Bears snagged both despite not having a first- or second-round pick.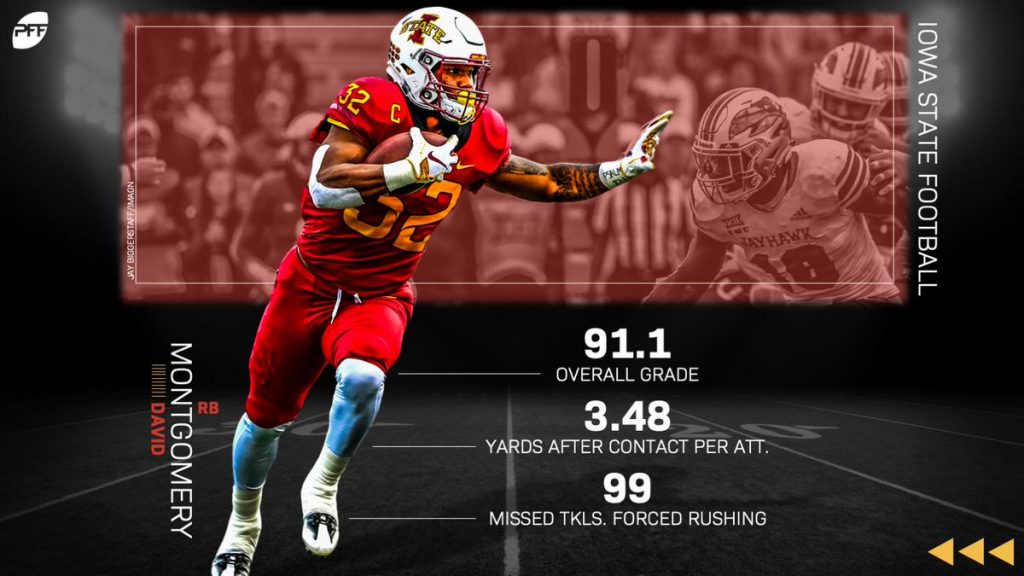 Montgomery owned the highest overall grade among draft-eligible running backs in 2018, notching a 91.1 mark, due in large part to his ability to make defenders miss. No runner was more effective than Montgomery in that facet — over the past two years, no running back has forced more missed tackles than Montgomery's 185.
There were few categories among draft-eligible running backs where Montgomery didn't rank in the top 10, yet he was the fourth running back taken off the board. Ranking sixth in first down runs, fourth in runs of 10 yards or more and fifth in yards after contact signifies a player who has all the tools to succeed at the next level.
Getting that type of value in the fourth round is objectively a steal, and the Bears did it not once, but twice.
With Ridley's selection in the third round, the Bears again found a gem who was projected to be off the board earlier. Ridley is not a speedster by any means, running an unofficial 4.58 40-time and reeling in only 10 passes targeted 20 or more yards downfield. But he does provide unnatural physicality from the outside. Ridley led all SEC wide receivers in 2018 with a 75 percent contested catch rate, and he frequently hauled in mid-range throws for first downs.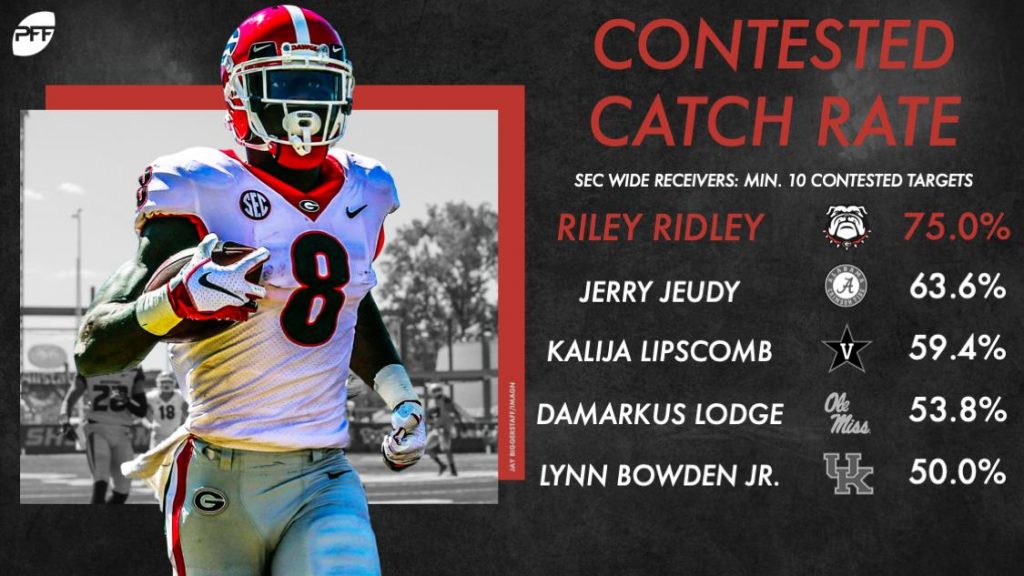 What he lacks for in speed, Ridley makes up for in strength — and that's an asset anywhere on the field. Among draft-eligible wideouts, he ranked 10th in passer rating when targeted in 2018. And among Ridley's nine touchdown receptions last season, four of them were on contested throws.
He's by no means a complete receiver, having never surpassed 600 receiving yards or an 80.0 overall grade in his college career, but there's something to be said for the brother of Calvin Ridley — and it's that he's most definitely worth a third-round pick for the potential player he could become.
Trading for Mack has been a hot topic among experts, but if the Bears are going to draft as well as they did with the few picks they had, by all means, they should continue to dole out for high-profile players. And without a first-rounder next year as well, they'll again have to find value in the mid rounds — 2019's haul proves they can do it with ease.
[Editor's Note: To view all of Pro Football Focus' advanced stats and grades for draft-eligible players, check out our 2019 NFL Draft Guide. All EDGE and ELITE subscribers already have access to the guide, and for those who don't, you can get your copy for as low as $9.99!]