The PFF grading system isolates the role of each run blocker on every running play. Blockers can earn positives for creating movement or winning their gap, while negative grades are assigned for poor blocks, with varying levels of downgrades within the system. There are many blocks that fall into the "expected" category and will receive a neutral grade, as both the run blocker and run defender end up in either a stalemate or a situation where the play calls for both players to achieve a similar result.
 

Positively Graded Plays

 It's difficult to achieve a high number of dominant run blocks at the NFL level given the high level of competition, but blocks in which big movement is created will be credited appropriately.

 Blockers will receive credit for moving a defender well out of his gap:

[Editor's Note: See Detroit Lions left guard Frank Ragnow.]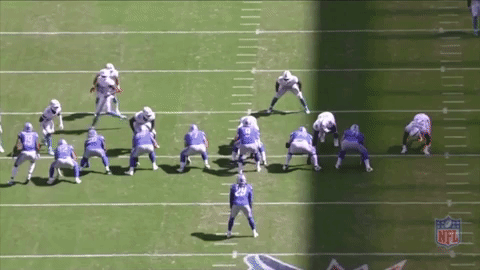 Or reach blocks on which offensive linemen work toward a difficult shade and still win the gap:
[Editor's Note: See Dallas Cowboys center Travis Frederick.]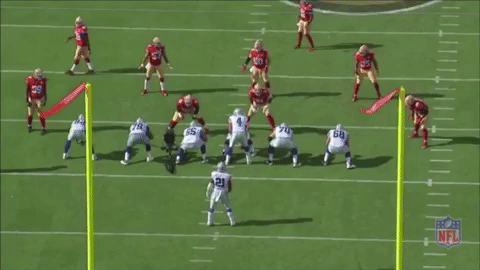 Blockers will also earn a positive grade when locking onto a linebacker at the second level:
[Editor's Note: See San Francisco 49ers right tackle Mike McGlinchey.]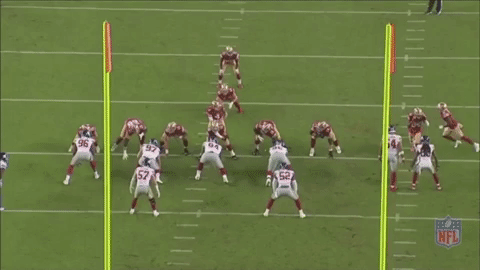 And sealing the front side on a zone play: 
[Editor's Note: See Baltimore Ravens right guard Marshal Yanda.]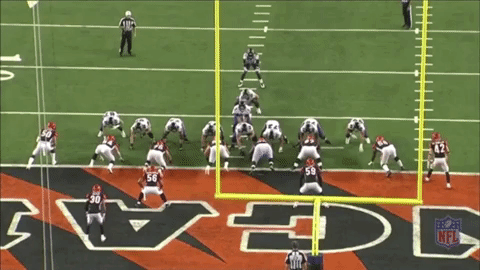 To earn a positive grade, we are looking for blockers to achieve a decisive win on their given assignment.
 

Negatively graded blocks

 Negative grades are assigned for clear losses, and the speed and dominance in which the loss occurs will determine just how harsh the downgrade will be.

 Quick, decisive losses will result in the harshest downgrades:

[Editor's Note: See New York Giants left tackle Nate Solder.]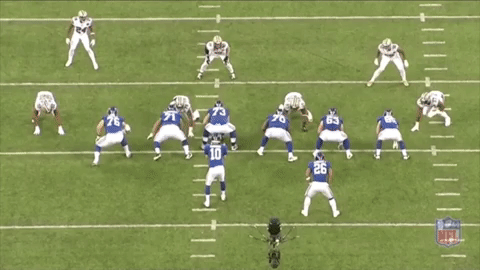 Losing against the leverage of the block and completely losing the gap will also result in a big downgrade for the blocker: 
[Editor's Note: See Oakland Raiders left tackle Kolton Miller.]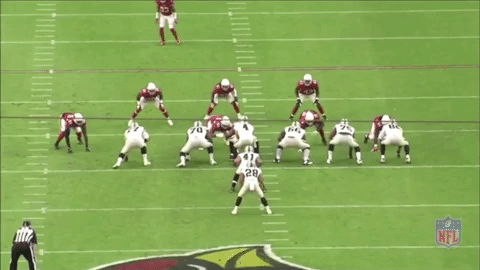 [Editor's Note: See Tampa Bay Buccaneers right guard Caleb Benenoch.]
 Lower down on the scale, there are less egregious losses but plays on which the blocker is defeated to disrupt the flow of the play.
 From getting stood up at the line of scrimmage: 
[Editor's Note: See Seattle Seahawks right guard J.R. Sweezy.]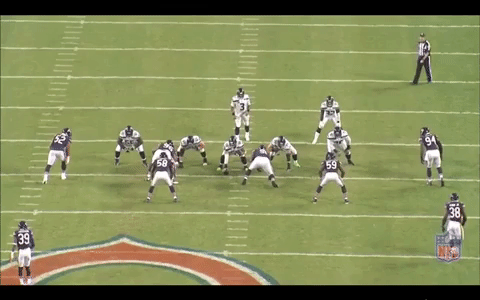 To losing too much ground in the backfield: 
[Editor's Note: See Arizona Cardinals center Mason Cole.]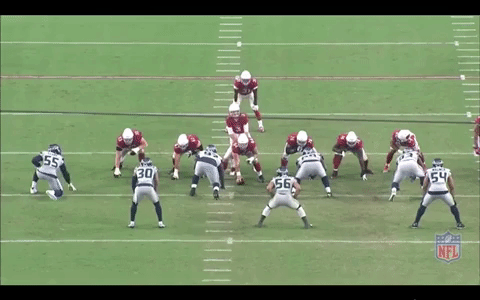 To failing to slow down a backside linebacker:
[Editor's Note: See Buffalo Bills right tackle Jordan Mills.]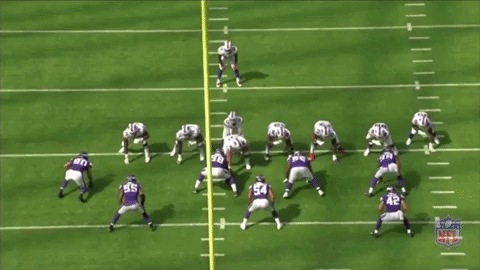 Expected Blocks

For run blockers, the 0-graded block is an important one as it generally explains an "expected" block. Down blocks on the front side of "power" generally fall into this category as the blocker is expected to keep the defender in his gap while the defender often wants to stay put to allow his teammates to pursue over the top. There are many examples of plays in which the blocker and defender both do their respective job at a reasonable level, and those plays will result in a wash and fall into the "expected" category.
Run-Blocking Styles
The beauty of a play-by-play grading system is not always the final grade, but the construction of that grade. Particularly when it comes to run blocking, we can identify the players who are more "boom or bust" in nature (high positives, high negatives) and those who are less volatile (low positives, low negatives). Players may achieve a similar grade, but they may get there different ways in the grading. When combined with crucial information such as run concept, the PFF run-blocking system is a crucial, groundbreaking way to describe past performance and project blocking performance in the future, even in new offensive systems.