Now that the draft class of quarterbacks all have new homes, it's time to see how they fit in and how their new teams should best use their skillsets. We tapped into the expertise of PFF's lead quarterback analyst, Zac Robinson, for his analysis on each quarterback's fit in their new schemes, while using Senior Analyst, Steve Palazzolo, in effect to add a relevant data point from our vast database to hammer the point home.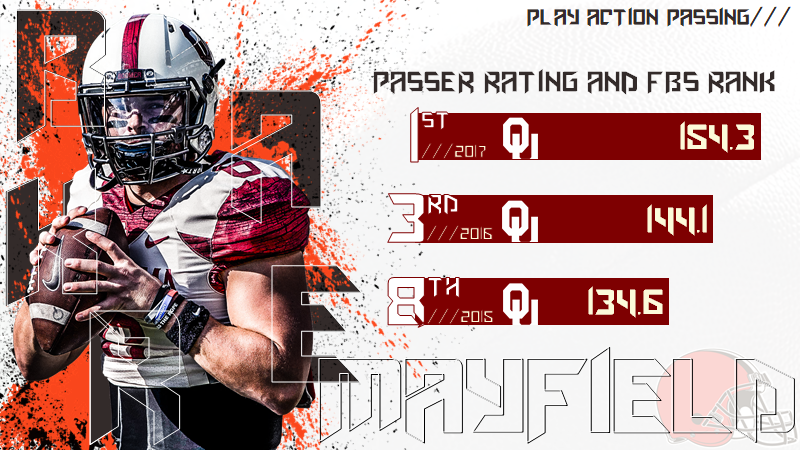 Zac Robinson: The most accurate quarterback in the class should have a seamless transition into Todd Haley's offense, which has shown to spread the field out in '11 personnel' as much as anyone in the NFL. The Steelers, under Haley in 2017, ran the third-most plays out of 11 and have been a shotgun-based offense with a the premise of spreading you out horizontally to attack vertically, much like we saw from Mayfield in his time at Oklahoma.
The perimeter screen game and quick game is a key part of the offense and Mayfield's pre-snap decision-making and quick delivery/accuracy on those should set up well. One part of the offense that will need to be explored, and perhaps used more frequently, is the play action game. Under Haley, Ben Roethlisberger had the fewest play action attempts in the NFL over the past three seasons. Although play action success and statistics can vary year to year, this can be something that greatly benefits Mayfield giving him more space in the pocket for downfield attempts. Perhaps Oklahoma's offense is studied for similar gun play action concepts where Mayfield and tight end Mark Andrews made a living the past few seasons.
Steve Palazzolo: Accuracy is the name of the game for Mayfield who ranked as the most accurate quarterback in the last two draft classes according to our next-level QB charting data. He had the highest accuracy percentage on throws in the 1-10-yard range, the No. 2 accuracy on intermediate (10-19-yard) throws and the No. 1 mark on 20-plus yard throws.
Adding more play action is a good idea for any offense, and adding those easier throws make a lot of sense for Mayfield as a rookie. He led the nation with a passer rating of 154.3 on play action last season, while ranking third in 2016 at 144.1 and eighth in 2015 at 134.6.
Subscribe to PFF Edge to continue reading
Already have a subscription? Sign In