The New York Giants gambled big in free agency this offseason, and through two games of the season, at least, the reward is justifying the risk.
The team is 2-0, and the defense has been markedly better than in the recent past, surrendering 32 points across both games. Last season, the team was bottom of the league in that regard, allowing over 420 yards per game on defense and 6.1 yards per play. In 2016 they appear far better, allowing only 4.6 yards per play, good enough for sixth-fewest in the league.
With so many new faces on defense, the potential for how good or bad this unit could be was all over the map. In CBs Janoris Jenkins and Eli Apple (No. 10 overall pick in the 2016 draft), DE Olivier Vernon, DT Damon Harrison, and S Darian Thompson (third-round pick), you have five new starters on defense (if we're calling nickel corners starters, which we should at this point).
So far, not a single one of these five additions has been a letdown, and when you add in last year's second-round pick, Landon Collins, rediscovering himself in a different role, this defense has undergone quite the transformation.
It's also worth noting the teams the Giants have played over these first two games. Dallas may have been starting a rookie QB and RB in Week 1, but they have the best offensive line in football, and on 30 carries against New York, couldn't manage better than 3.4 yards per rush attempt. Cowboys running back Ezekiel Elliott managed just 2.6 yards per carry on his 20 attempts, and 42 of his 51 rushing yards came after contact.
The Saints were coming off a Week 1 game in which they racked up 507 yards and 34 points, but against the Giants' defense, they managed just 288 net yards and 13 points. They also scored just one touchdown.
Heading into the Giants' Week 3 NFC East matchup versus the Redskins, let's take a look at how each new defensive addition has played through two weeks.
Giants' nickel defense (Overall grades through Week 2 shown)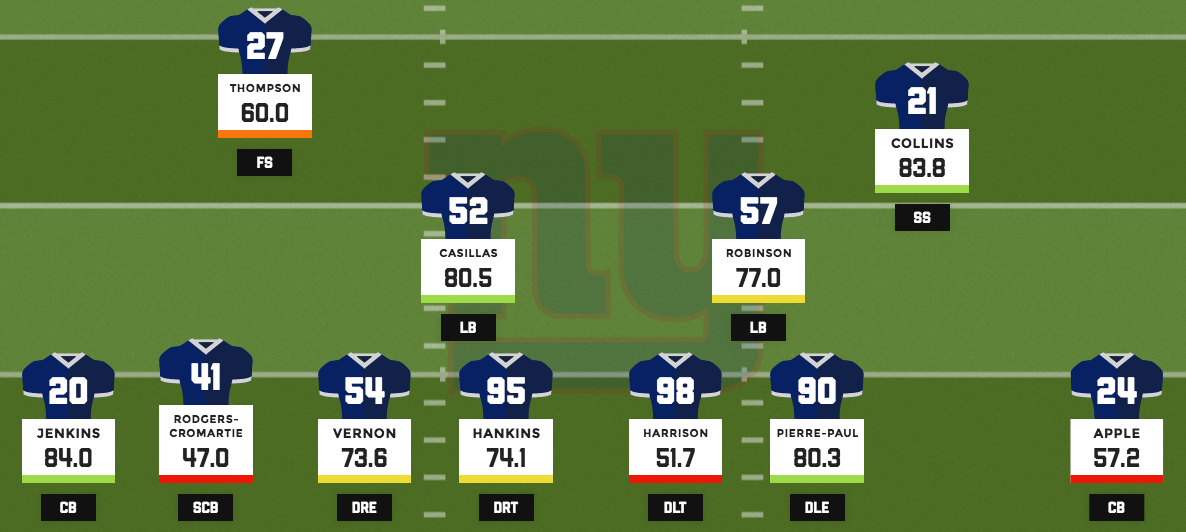 1. DE Olivier Vernon, 73.6 overall grade this season
Olivier Vernon hasn't been the pass-rushing force he was signed to be, but that is mitigated somewhat by Jason Pierre-Paul being back to his best in that regard. Neither edge rusher has a sack, but JPP has nine total pressures and a batted pass to his name, while Vernon has seven total pressures in 92 pass-rushing snaps. Vernon has made a significant impact in the run game, though, with four defensive stops and an impressive ability to attack the edge and squeeze the point of attack. So far his 73.6 overall grade hasn't quite justified the lofty free-agent price tag, but he has been a notable upgrade on what the Giants had a year ago.
2. CB Janoris Jenkins, 84.0
Maybe the single biggest upgrade through two weeks, Janoris Jenkins has yet to have a significant misstep, ranking fourth among NFL CBs in overall grade. In fact, the only cornerback he trails by any significant distance is Washington's Josh Norman. Jenkins has been thrown at 16 times, but has allowed just 66 receiving yards and has yet to be beaten for a pass of 15+ yards across two games, surrendering just 7.3 yards per reception. QBs throwing into his coverage so far this season have an NFL passer rating of 66.1, more than 20 points lower than the league average.
3. DT Damon Harrison, 51.7
The biggest physical addition to the defense hasn't quite made the largest impact, but Harrison has done what he was signed to do, which is shore up New York's interior D-line and perform against the run. He has five defensive stops in the run game, and given the number of snaps he has been on the field for (84), that's the fifth-best rate in the league among defensive tackles. Harrison has done nothing as a pass-rusher (zero pressures on 46 passing snaps), but he has added a force to the middle of that line, and forms a formidable pairing with Johnathan Hankins (74.1 overall grade).
4. CB Eli Apple, 52.7
Strictly speaking, Apple doesn't actually start for the Giants, but he is their third corner and comes on as soon as the team goes to nickel defense, which so far has been the majority of their snaps. Apple has notched 116 snaps over his first two pro games, which is 80.6 percent of the team's total on defense. His play so far has been a work in progress, but he has yet to be significantly exposed. He has given up a catch on 72.7 percent of his targets, but none of those passes has gone for more than 23 yards, and he has a pair of pass breakups to his name.
5. S Darian Thompson, 60.0
Darian Thompson's biggest impact this season might be that he has freed Landon Collins up to become more of a roving box safety by manning the deep middle. 70 of Thompson's 88 snaps have come as free safety, allowing Collins to vacate that role and become a far bigger impact-player with alignment closer to the line of scrimmage. That's not to say Thompson has been poor, but as a single-high free safety, he simply hasn't been involved in that much action yet across two games.