After spending one season with the Oakland Raiders in 2018, longtime Green Bay Packers receiver Jordy Nelson has decided to hang up his cleats after 11 seasons in the NFL. As a former walk-on at Kansas State, Nelson was drafted by the Packers with the 36th overall pick of the 2008 NFL Draft, which made him the third wide receiver taken in the draft, behind Donnie Avery and Devin Thomas.
Per PFF's advanced statistics, Nelson leaves the game with a 90.4 overall grade and 89.7 receiving grade over his career. His tenure in the NFL has been remarkable, with 3,008 yards after the catch, 447 combined first-down and touchdown receptions, 68 forced missed tackles and 202 plays of 15-plus yards. He also walks away with a 1.89 yards per route run average and a 116.7 passer rating when targeted, third-best among receivers with a minimum of 200 targets since 2008.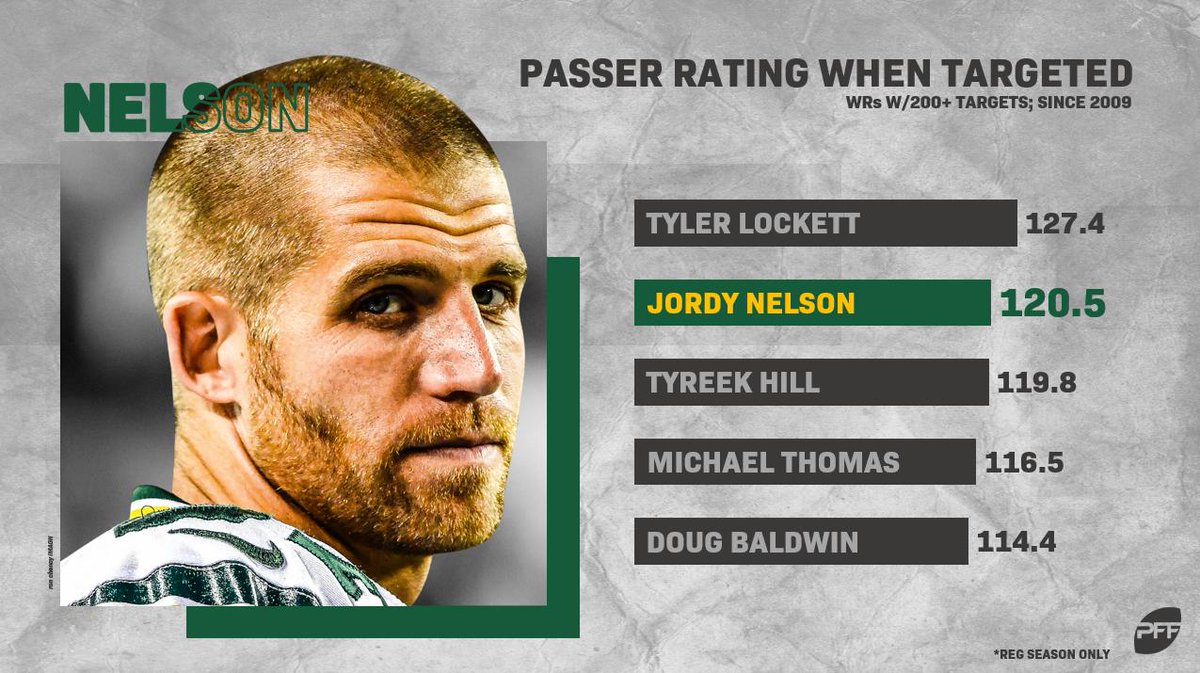 His strong connection with Aaron Rodgers highlighted his inspiring career. He was first united with the Packers' storied quarterback in 2008 when Nelson was about to embark on his first year in the league and Rodgers was preparing to take the reins as the starting quarterback in Green Bay. During their time together, the two developed the type of chemistry that is rarely found between a quarterback and receiver, and they spent the better part of a decade using that chemistry to produce game-winning scores, comeback wins, and even a Super Bowl victory.
The 11-year veteran played 7,042 snaps over nine seasons in Green Bay and left the team after the 2017 season ranked third in franchise history in regular-season receptions (550), fifth in receiving yards (7,848), second in touchdown receptions (69) and third in 100-yard receiving games (25). His 59 regular season touchdown receptions from Rodgers also makes them the most productive QB-WR duo in franchise history, as the couple surpassed Brett Favre and Antonio Freeman (57) during the 2017 season.
From the time Nelson became the established starter in his third season, to the time Rodgers was forced to miss most of the season due to injury in 2017, both players graded above 80.0 in each subsequent season in between and it's no surprise to see that Nelson's best grades came when he saw the majority of Rodgers' targets.
Nelson's breakout season came in 2011, where Rodgers targeted the former Kansas State product on 15.5 percent of his pass attempts, making him the second-most targeted wide receiver behind Greg Jennings. Throughout that season, Nelson was responsible for 12 of Rodgers' 47 touchdowns and 1,140 of his 4,907 passing yards. Further and even more remarkably, Rodgers produced a near-perfect passer rating of 154.5 when targeting Nelson, and he helped the receiver end the year with an average of 2.75 yards per route run, the second-best mark among wideouts that year.
The unrelenting Rodgers-to-Nelson connection also extended into the red zone. Of Nelson's 127 red-zone targets from his former quarterback, recorded 84 receptions for 608 receiving yards and 43 receiving touchdowns, all good for a wide receiver rating (passer rating generated when targeted) of 116.7.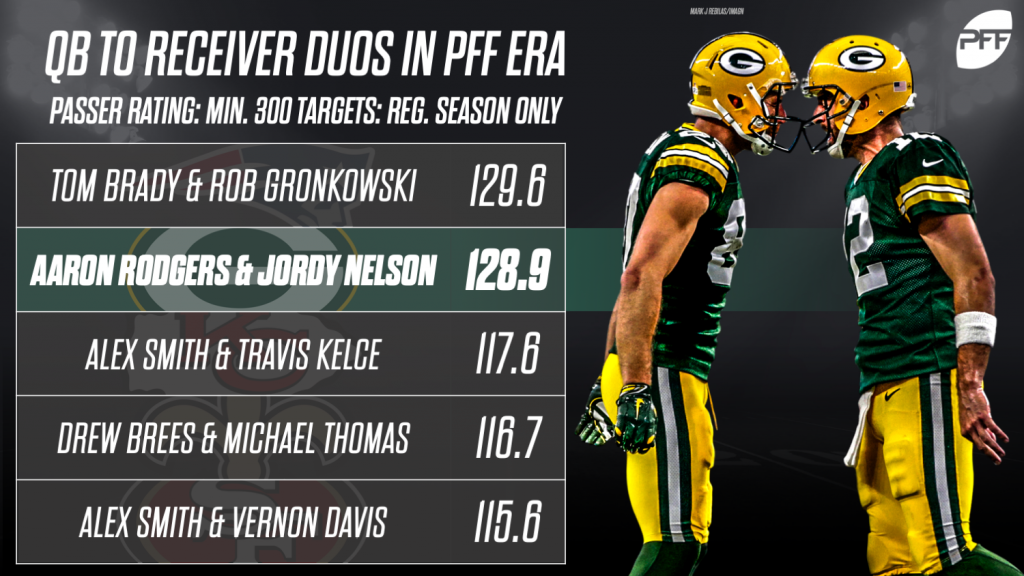 Their 43 total red zone touchdowns was tied with Drew Brees and Jimmy Graham for the fourth-most among all partnerships from 2006-2017 and amazingly, Rodgers did not throw a single interception when he targeted Nelson in the red zone, which made them the first duo in PFF history to register at least 100 red-zone targets without a single interception being thrown.
The connection was also extremely productive in other clutch situations including third and fourth downs. In their time together, Nelson accounted for 15.6 percent of all Rodgers' third/fourth down pass attempts, which is the most among Green Bay's pass-catchers in that span. The duo combined to produce 140 receptions, 2,183 receiving yards, 23 touchdowns, and a 114.6 passer rating on the critical downs. All told, they converted 55.2 percent of their targets to either a first down or a touchdown.
In all, the Nelson-Rodgers connection generated an incredible 98.4 passing grade for the quarterback and an overall passer rating of 128.9 over nine seasons, making them nearly unstoppable at their highest levels.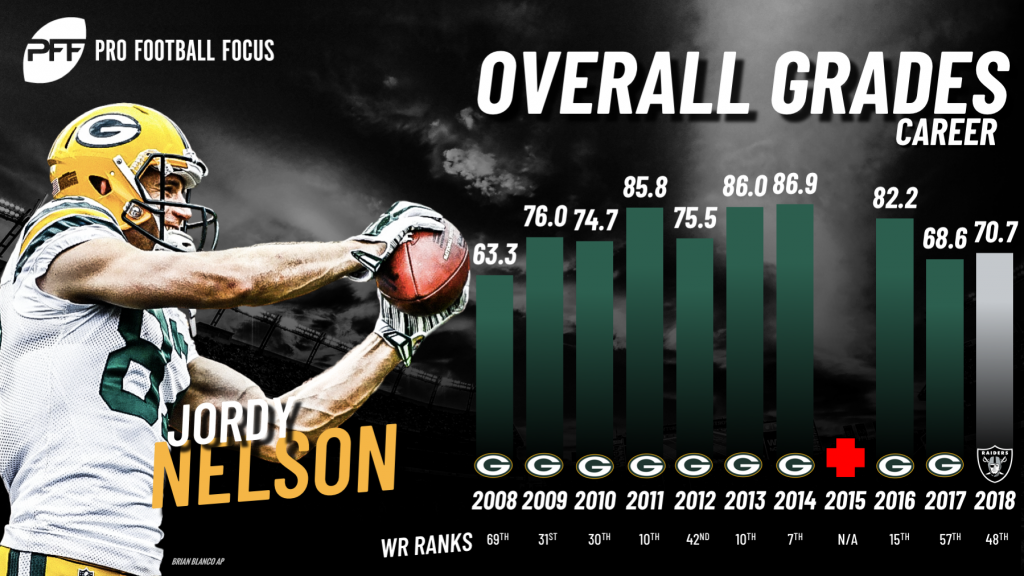 His brief stint in Oakland ended with a predictable dip in production from his elite-level play in Green Bay, but it wasn't all bad. He finished with a 70.2 receiving grade with 63 receptions for 739 yards and three scores. Derek Carr produced a 100.9 passer rating when targeting Nelson; the best mark Carr has ever produced when targeting a wide receiver. 
Nelson was also the NFL's best receiver on post routes in 2018. He caught eight of his nine targets on post routes last season to go with 154 yards, a touchdown, and seven first downs. The veteran receiver was one of just seven qualifying offensive players to earn an elite receiving grade on the route, leading the group at 96.3.
As Nelson moves on from the NFL, he leaves behind a legacy that will live long in the history books and the memories of not only Packers fans, but all football fans alike. His career is also a reminder of the importance of aligning the correct combination of talent and situation for a successful, long-term NFL career. Nelson found himself in a win-win position in his pairing with future Hall-of-Fame quarterback Aaron Rodgers, which allowed him to reach unforeseen heights and raise the level of play around him. Nelson's career from collegiate walk-on to Super Bowl champion is as inspiring as it gets and should serve as motivation for future players with hopes of reaching NFL stardom.