The New England Patriots are coming off their ninth Super Bowl appearance and sixth Super Bowl win in the past 18 years, and their latest victory may just be the most impressive of all, considering it came against the Los Angeles Rams' seemingly unstoppable offense.
Powered by the genius mind of Bill Belichick, the Patriots have installed a plethora of schemes over the years that have been designed to make quarterbacks feel uncomfortable, especially in the biggest of games. Whether it was against a legend like Peyton Manning in the 2000s or a young quarterback like Jared Goff in the last Super Bowl, Belichick has got the best of opposing quarterbacks more often than not, and he was never afraid to go against the norm to do so.
At one point in the Patriots' last Super Bowl victory – late in the fourth quarter with the Patriots up 10-3 – the Rams finally started to get the ball rolling on offense, and they were marching down the field with a chance to tie the game and take the momentum away from New England. To counter the Rams' offense as it was just coming back to life, the Patriots reached in their back pocket and responded by dialing up a play that they used much more than any other team last season – Cover Zero.
Cover Zero is an entirely man-to-man coverage shell that employs a heavy pass rush and has no deep safeties on the back end. It's a high-risk, high-reward defense that can end up with a sack just as likely as it can end up with a big gain for the offense, which is why it was only used on 2.2% of passing plays last year. However, the Patriots were very effective when using the Cover Zero last season, even while using it at a very high rate – so high that it more than doubled the usage by any other NFL team in 2018 (including playoffs).
Including the postseason, the Patriots used Cover Zero 75 times against the pass, while the next closest team (Browns) used it only 36 times. If that doesn't prove how daring the Patriots are, maybe the fact that they used it on 13.3% of third-down pass-plays does, which is nearly twice more than all but one team (Browns, 9.4%) for the entire season. There have been plenty of teams that like to bring all-out heat and be aggressive, but that doesn't mean that they're necessarily effective. The Patriots, on the other hand, displayed effective aggression with their Zero Blitz all season long.
When using Cover Zero, the Patriots allowed a completion percentage of just 42.9%, which was the fourth-lowest completion percentage allowed out of 19 teams that used cover-zero at least 10 times last season. In terms of passer rating allowed, the Patriots ranked ninth by allowing a passer rating of just 90.0. For comparison, the Browns, who used a Cover Zero shell the second-most last season (36 times), allowed a completion percentage of 63.3% and a passer rating of 109.4.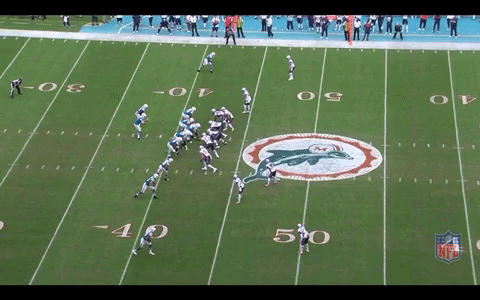 Again, keep in mind that the Patriots used cover-zero 75 times on passing plays and over twice more than any other team – which makes their numbers all the more impressive given such high volume for such a risky play. With that said, the Patriots allowed a first down or touchdown against their cover-zero only 32% of the time, ranking 12th out of 19 qualifying teams. The Giants, who allowed a first down or touchdown 50% of the time when using Cover Zero, ranked last.
Of course, pulling off such a defense requires outstanding players, and the Patriots just so happened to have Stephon Gilmore, who was last season's highest-graded cornerback (90.7). As good as Gilmore was last season, he was even better within that Cover Zero shell, despite not having any safety help. Among all defenders with at least 25 coverage snaps in cover-zero, Gilmore's overall grade of 95.8 ranked first in the entire NFL.
Gilmore was targeted 16 times in Cover Zero, and he allowed just three catches for 12 yards while also forcing nine incompletions. He also grabbed one interception and allowed a passer rating of just 13.5. Not only did quarterbacks complete just 18.8% of their passes against Gilmore in Cover Zero, but 56.3% of their passes ended up as forced incompletions by Gilmore. For perspective, Gilmore had 18 pass-breakups last season, nine of which came in New England's Cover Zero shell.
The Patriots' other cornerback, Jason McCourty, had the third-best coverage grade (71.2) in Cover Zero. He was targeted 14 times and allowed just five catches for 77 yards, one touchdown, and a passer rating of 78.6. McCourty had four forced incompletions and a 28.6% forced incompletion rate within that scheme.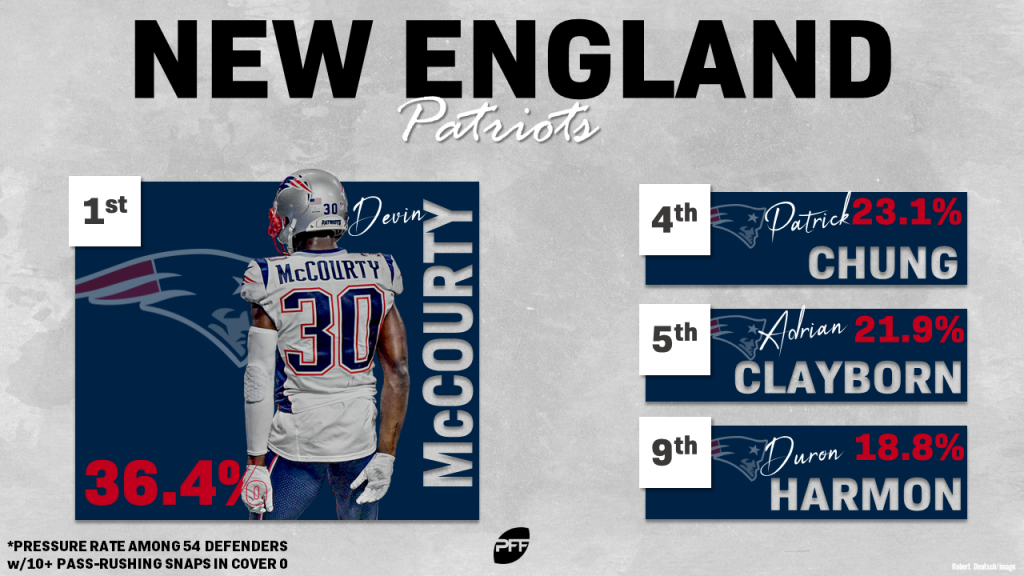 For Cover Zero to work as intended, the pass-rushers have to get to the quarterback. As a team, the Patriots' pass rushers had a pass-rush win rate of 48.0% on their Cover Zero pass-rushing snaps, ranking second in the NFL. Among 54 defenders with at least 10 pass-rushing snaps out of the Zero Blitz last season, the Patriots had four defenders finish in the top ten in pressure rate: safety Devin McCourty's 36.4% pressure rate ranked first, Patrick Chung ranked fourth with a pressure-rate of 23.1%,  Adrian Clayborn's pressure-rate of 21.9% ranked fifth, and Duron Harmon's pressure-rate of 18.8% ranked ninth.
Going back to the Super Bowl against the Rams, the Patriots actually called Cover Zero just twice. The first time the Patriots used it, Goff completed a pass for seven yards on first down. The second time happened on what could be considered the championship-winning play of the game. The Rams were moving the ball late in the fourth quarter, and Goff had just thrown a nice ball to Cooks right in front of the endzone, which would've been a touchdown with a chance to tie the game had Cooks not dropped it. In true Patriots' fashion, they showed no fear and responded by using the ultimate high-risk, high-reward Zero Blitz right after.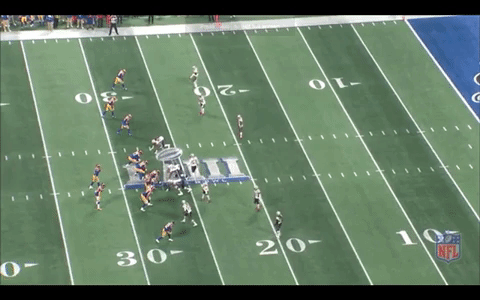 The ball snapped, Goff saw the Patriots bring the house with no safety help and it caused him to throw an ill-advised pass up to Cooks, but it was short, and Gilmore picked the ball off, completely draining any momentum the Rams had finally built up.
From the beginning of the season to the end of the Super Bowl, the Patriots personified boldness by trusting their defensive backs to hold in man coverage while they sent the house, and in the end, it was that same play that helped seal yet another Super Bowl win for arguably the greatest dynasty in football history. They say fortune favors the bold, and it doesn't get any bolder than calling Cover Zero with the Super Bowl on the line.