When the Minnesota Vikings signed Kirk Cousins to a three-year $84-million deal this past offseason, they sent a clear message to the rest of the league; they were all in for the Super Bowl. Given 2018 is Cousins' seventh year in the league, the Vikings had plenty of data at their disposal to know what kind of player they were getting, and as they had hoped, he's on track to post the highest overall grade of his career. However, the icing on the cake is Cousins' improvement in the most critical part of the field – the red zone.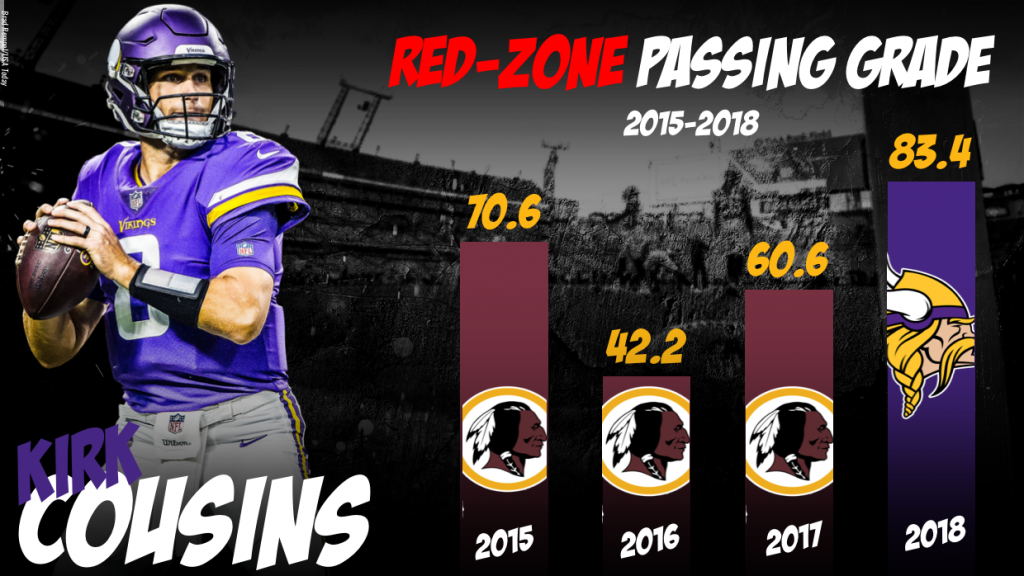 Cousins is, by far, playing the best football of his career in the red zone, and has earned an 83.4 passing grade on his red-zone attempts this year. Not only does that grade rank fifth among signal-callers with at least 10 attempts this season, but it's also remarkably higher than the 56.7 red-zone grade that he earned during his time as the full-time starter with the Washington Redskins. 
An essential aspect of Cousins' red-zone success is his 13:0 TD:INT ratio, which is contributing to his career-high 110.9 red zone passer rating (up 27.2 points from 2017). But what's most impressive is his ratio of big-time throws versus turnover-worthy plays.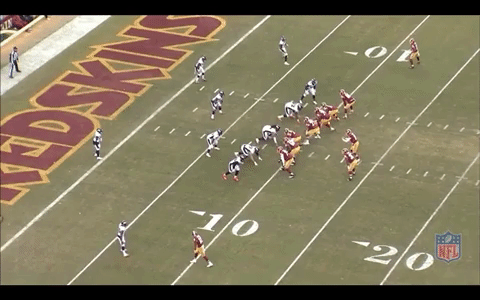 In years past, Cousins was extremely susceptible to poor decisions in the red zone, and he often put the ball in harm's way as he tried to force throws that just simply weren't there. The play above is a perfect example of this, as he forces the ball late over the middle of the field into double coverage, resulting in an easy interception. Over his three years as the starter in Washington, Cousins had almost as many turnover-worthy plays (7) as he did big-time throws (10), and his turnover-worthy play rate of 2.9% ranked 12th among the league's signal callers with at least 100 attempts in that span.
This year, he's done a tremendous job of limiting those poor decisions, while also improving his delivery of the football. Of his 51 red zone attempts thus far, six have qualified as big-time throws, while only one has been deemed turnover-worthy. His big-time throw percentage of 11.8% in 2018 is second to only Russell Wilson so far this year and is exactly double his previous career-best (2017 – 5.9%). The play below is an excellent example of how he's improved both his touch and accuracy, as he finds Aldrick Robinson with a perfect strike in the back of the end zone.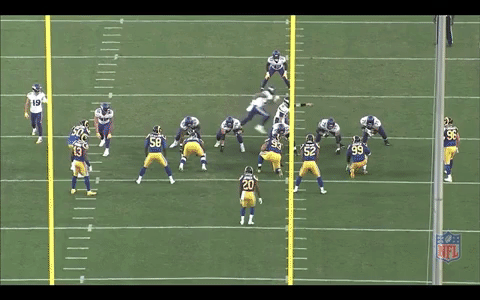 Through Week 11, Cousins' six red-zone big-time throws are the third-most in the NFL, and he's on pace for 10 total by seasons end which would be as many as he managed in his three-year stint in the Nation's capital.  If we compared that projection to the red-zone leaders from 2015-2017, Cousins would rank either first or second in each of last three seasons, as only two quarterbacks have even eclipsed double digits during that time-span. While his six red-zone big-time throws trail only Russell Wilson (9) and Jared Goff (7), Cousins has the lowest percentage of turnover-worthy plays of the three (2.0% – a career-best).
Another big reason for the uptick in red zone success this season has been Cousins' ability to push the ball to the end zone with accuracy. Trough 11 weeks, Cousins has tallied an adjusted completion percentage of 72.7%, which ranks 12th among the league's quarterbacks this year and is head and shoulders above his marks in 2016 and 2017, where his adjusted completion percentages of 55.3% and 60.6% respectively ranked 38th and 37th among players at the position.
Finally, Cousins' ability to move the ball under pressure has been a major reason why he's producing his best red-zone work as a pro. This year, 21 of Cousins' 57 red-zone dropbacks have resulted in defensive pressure, but he's completed 10-of-15 pressured attempts for 53 yards and four touchdowns, all good for a passer rating of 111.9 which is second only to Drew Brees this year. That red-zone passer rating under pressure is head and shoulders above his previous marks in Washington, which were 86.9 in 2015, 77.8 in 2015 and 64.4 in 2017. The same incredible improvement under pressure can be seen in his adjusted completion percentage, as his mark of 76.9% not only ranks third among quarterbacks with at least 10 pressured attempts this year, but it towers over his previous career best of 56.5%, which came way back in 2015.
Although they sit in second place in the NFC North, Cousins' play has certainly been what the Vikings hoped for. When looking at overall team grading as of Week 11, the 2018 Vikings have regressed in all phases on offense from a season ago, except in passing. Despite this, the team is still in playoff contention, and Cousins' overall play and drastic improvement in the red zone is a big reason why.