The hills are alive with calls of disbelief, as Cody Kessler will start an NFL game before the No. 1 pick in the draft, Jared Goff. It's certainly worth noting, then, that we are no more than 20 months removed from a time where Kessler was actually the better QB between the then Pac-12 rivals.
At the end of the 2014 season, Kessler (at USC) earned the third-highest PFF grade among QBs in the nation, with a mark of 89.7. That year, he trailed only two players—one of which was the 2015 No. 2 overall pick, Marcus Mariota. Jared Goff was 12th with an 81.1 grade.
That's not to say that Kessler was ever a better prospect than Goff, because he has never had comparable physical tools, but it wasn't that long ago that he was playing better football in the same conference. Obviously Goff improved in his final season at Cal (his grade jumped up to 91.3), but if we begin at the point of believing that the 2014 version of Cody Kessler was a pretty good player, we can start to get somewhere.
There were definitely always flaws to Kessler's game at USC, and even in 2014, he was a player that needed to take a step forward if he was going to be an NFL-caliber signal caller; in college, that tends to happen. It's unusual, though, that QBs regress in their final collegiate seasons, and that in itself is a big red flag, and a major question that needs to be answered.
Describing Kessler's play is like an exercise in caveats and qualified statements:
He's very accurate, but has a marginal arm, at best.
He was excellent at USC in 2014, but took a major step back the next season.
He navigates the pocket well, but that all went away in 2015.
He's smart and knows where to go with the ball, but comes from a spread system that makes that easier.
He's not very athletic, but makes some key plays with his legs.
He showed a lot of NFL promise, but always needed to improve.
With so many ifs, buts, and maybes, it's very difficult to pin down Kessler as a prospect; let's start by looking at what he brings to the table.
NFL-level traits
Back in 2014, Kessler put together some excellent tape that shows the kind of player he can be. Take his game against Arizona State, which was one of his poorer performances of the season, but still showed most of the good traits he had in his game at the time. That season, Kessler didn't have the best pass protection in the world, but he was cool, calm, and collected in the pocket. When things started to break down, he was able to slide rather than panic, and crucially kept his eyes downfield to find another option, rather than drop his vision and concentrate on evading the pressure.
This play is a perfect example: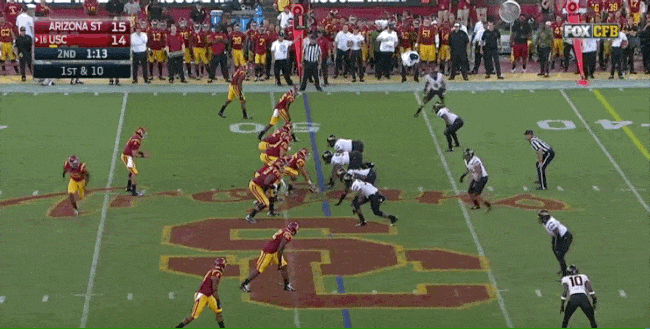 Kessler feels pressure from the left side of the pocket early, then starts to move to his right into more of it, but never stops scanning downfield for a target, and is able to find a wide-open receiver across the middle of the field before getting hit. That final aspect is another trait to his game—he isn't afraid of standing in the face of an oncoming hit and delivering the pass, knowing he's going to get leveled afterwards.
Other than the receiver being wide open at the end of it, this is an NFL-level play from Kessler. In the pros, the difference between viable and non-viable QBs is often how they deal with pressure. The average NFL QB has a passer rating of 93.9 when kept clean in the pocket, but that drops more than 20 points (to 71.6) when pressured. Kessler's passer rating in 2014 dropped by a little more than 20 points when he was pressured, but he was still at 101.8 on those plays. When blitzed, his passer rating actually went up, and his completion percentage only marginally slipped.
Accuracy and arm talent
The most important aspect of Kessler's game is his arm talent and accuracy, as well as the balance between the two. His arm strength is marginal at best, and that's a big reason why he was seen as such a low draft prospect by many. This is a league in which "arm talent" still gets personnel guys excited far more than the mental attributes of QB play, and even more than accuracy. Accuracy is seen as something that can be taught with tweaks to a few mechanics and fundamentals (though that rarely works), while arm talent is seen as something inherent and unteachable (though guys like Aaron Rodgers have developed their arm talent massively since entering the league).
The difference between Cody Kessler's arm and that of Carson Wentz, or even Goff, is huge. In person, it's glaring how differently the ball comes out of his hand compared to the other QBs even in Cleveland; he delivers the football at a completely different tempo than RG III or Josh McCown.

You can be successful in the NFL with a weak arm, but you need to have other strengths that counter the problem. Peyton Manning had two of the best years of his career with the Denver Broncos post-neck surgery, after which his arm was never the same. He was able to counter poor arm strength with exceptional anticipation, timing, and understanding of where to go with the ball.
You don't have to be Peyton Manning though; Chad Pennington was an exceptionally-successful QB with a weak arm whose biggest flaw was a lack of durability. Pennington actually had one of the better deep balls in the league because those deep sideline throws are more about accuracy, timing, and anticipation, rather than pure strength.
Kessler has smaller windows to work with than the average QB, however. The weaker your arm, the longer a pass takes to leave your hand and hit those of your intended receiver, giving coverage defenders more time to make a play on it. To counter that, Kessler needs to put the ball in the air earlier than other QBs.
In college, when a player has an innate understanding of the offense they're are running and the windows are bigger, that's very doable. At the NFL level, it becomes a much bigger problem.
This play from the far hash in that same Arizona State game is a good example. It should have been a touchdown, and it's a decent pass thrown after coming off his primary read, but it's another wide-open window against college coverages.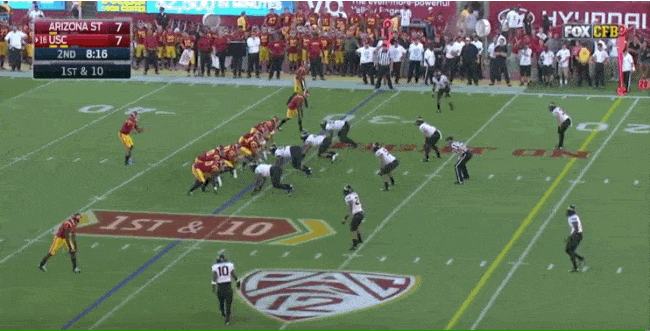 At USC, this is a touchdown if his receiver catches it; at the NFL level, the sinking cornerback is closer to the pass, and without being able to put any more zip on the ball, Kessler may have a problem. Even if this particular pass would still have made its way through, this is the kind of play where marginal arm strength can cause issues. Kessler has less margin for error than other quarterbacks with a bigger arm, and therefore needs to be ahead of the game mentally.
That's likely a problem in year one, because he doesn't come from a pro-style offense, and like any rookie, is struggling with the adjustment to the NFL. The weight of verbiage, speed of the game, and just working from under center all present challenges to a rookie QB's mental processing time.
The game needs to slow down for him as much as any rookie, and unfortunately for Kessler, he doesn't have the physical tools to buy him breathing room until that happens.
If Kessler had been forced into the lineup in 2017, I would actually be quite optimstic about his prospects. At that point, the former Trojan would have had a year in an NFL system to pick up the scheme, understand the offense and where he needs to go with the football, and a year in an NFL strength and conditioning program, which may well have added to his arm talent over that time.
Just three games into the season, though, he has none of that working in his favor, especially having been third on the depth chart throughout camp and seeing limited reps from day one.
Kessler in the 2016 preseason
The first pass Cody Kessler threw in the NFL preseason was a touchdown. Coming in as the fourth QB for the Browns behind RG III, McCown, and Austin Davis, Kessler was handed a starting position at the Green Bay 10-yard line by a fumble, and hit Rashard Higgins for a score on a back-shoulder throw in the end zone. This was a one-read play that displayed nice accuracy, but it was probably the high point of his preseason, which went downhill from there.
The college poise that had served him so well back in 2014 was gone in the NFL. His passer rating over the preseason when kept clean was once again excellent. He had a rating of 104.2 when kept clean in the pocket, completing 77.8 percent of his passes, but when the heat was applied, things went south fast. Under pressure, that passer rating was just 56.3, and against the blitz, also 56.3. Perhaps no one play typified this panicked version of Kessler more than later in that Green Bay game when he ran clean out of the back of the end zone while under pressure for a safety.
Simply put, the game has been too fast for him so far. His average time to throw in the preseason was 2.40 seconds, which was the slowest of the four Browns QBs, and he just isn't trusting what he is seeing yet.
Take this pass in the final preseason game against Chicago.
Facing third-and-six backed up near their own end zone, the Browns run a simple route concept on the left side of the formation. He has an out-breaking pattern from his running back and a slant from his receiver. With the alignment the Bears deploy, all Kessler needs to do is read man or zone after the snap and put the ball in the air.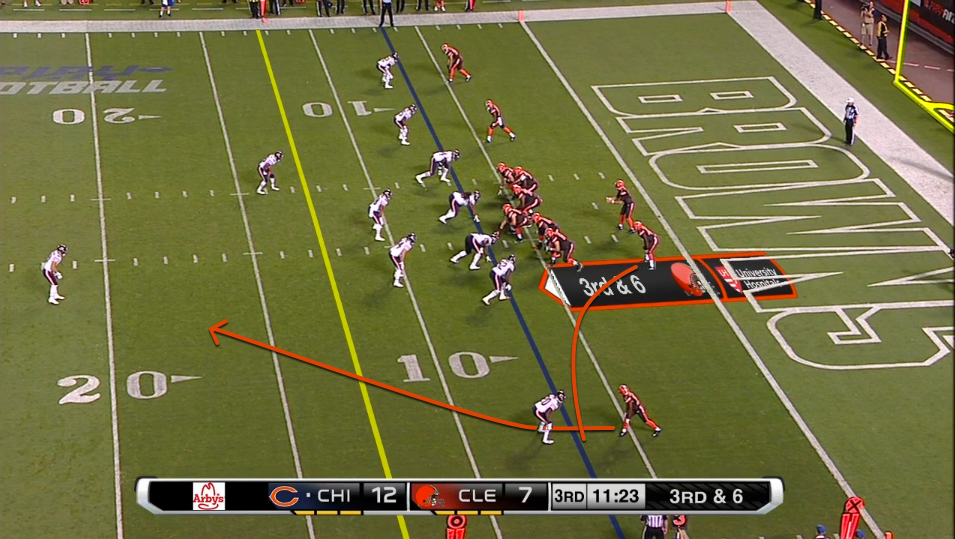 The play works, and both parts of the route combination are open, with patterns running them away from man coverage—but only one of them will pick up the first down. As soon as Kessler reads man, he should be locked in on the LWR and put the ball in the air as soon as he knows it will clear the linebacker. But he doesn't; instead, he holds it, not trusting what he sees until the player has come open inside, and at that point, it's too late.
Waiting until you see a guy open in the NFL is often too late, especially for a QB with an arm as marginal as Kessler's, because it gives beaten defenders the chance to recover. If this ball had been out on time, it would have hit his receiver before the cornerback could make a play and moved the chains. By waiting, he allowed the corner to recover position and actually undercut the pass, almost picking it off and turning a bad situation into a disaster.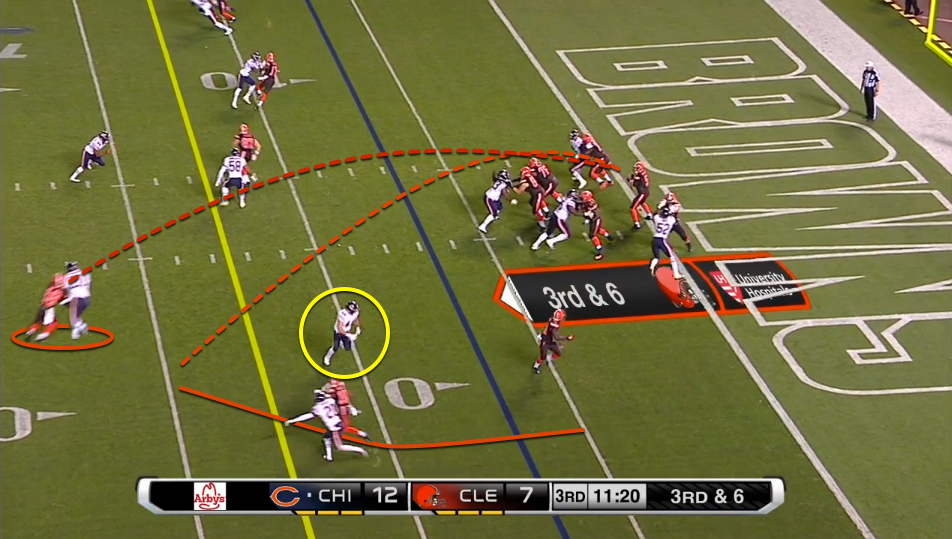 Bottom line
Cody Kessler was picked in the third round of the draft, much higher than many expected him to go, because there is a lot to like about his tape—in places. He showed in 2014 that he can be a very good QB, and demonstrated plenty of NFL traits; enough, in fact, to convince the Browns that he could overcome his physical limitations and succeed down the road. That player regressed at USC in 2015, which is a big unexplained aspect of his situation, but there were some outside factors at work that could have weighted on that decline.
The biggest issue Kessler faces is that he no longer has time to work on his flaws, and is about to be thrown into NFL action before he is ready. Jared Goff has many of the same problems facing Kessler (minus the physical limitations), and hasn't been near the starting role for the Rams, with far more incentive there for the team to throw him in, given that he was the No.1 overall pick.
If Kessler had time to develop in the NFL, I think he has tools to work with, but thrown into the fire in Week 3 of his rookie season on a team that is young, inexperienced, and trying just to find its own feet? Kessler's chances of immediate success don't look good, and the Browns may need to hope that it doesn't do his long-term prospects harm.