Everson Griffen admittedly wasn't himself this past season. Coming off a career year in 2017, in which he logged his sixth consecutive season with 40-plus pressures and earned his third Pro Bowl bid, the longtime Minnesota Vikings edge defender took time away from football to prioritize his life off the field. He missed five games and admittedly had a rough year on and off the field as a result.
"As we all know, I had a rough year last year," Griffen said earlier this offseason. "[I] took some time off the field to go handle some personal issues. And, you know, when I came back, I didn't play that well. I had a lot going on in my personal life. I was dealing with a lot."
Griffen, knowing the situation was "bigger than football," willingly took a $3 million pay cut to keep himself and his family in Minnesota, "finished what he started" with the Vikings.
"Last year, I wasn't myself," Griffen said. "If I was myself, I wouldn't have to take a pay cut… If I was playing at the level I know I can play at each and every year.
The level of play Griffen put forth in 2017 and sporadically in years prior is his expectation, a level that we at PFF also expect from him at full strength mentally and physically.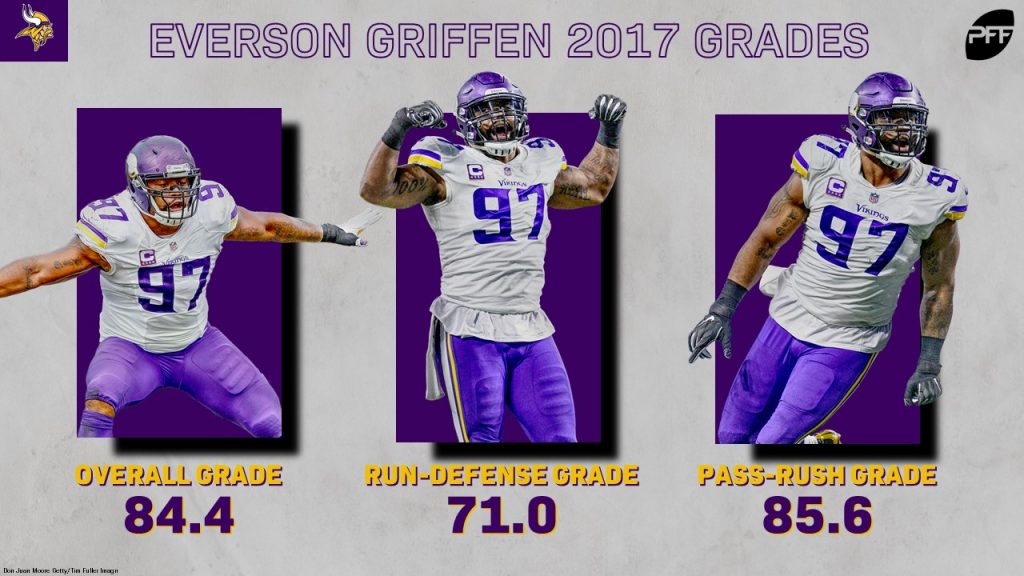 Griffen earned career-high marks in overall grade (84.4) and pass-rush grade (85.6) in 2017, ranking 10th and 11th, respectively, among qualifying edge defenders.
Removing screens, play-action dropbacks and quick throws (pass attempts released within 2.5 seconds of the snap), Griffen earned an absurd 91.0 pass-rush grade across 163 such snaps in 2017, which ranked fifth behind Demarcus Lawrence (92.9), Khalil Mack (92.1), Joey Bosa (92.0) and Brandon Graham (91.8). He also ranked eighth in pass-rush win rate (28.6%) among the group of 57 qualifying edge defenders.
Expanding the same set of qualifiers to the six seasons before Griffen's 2018 campaign (2012-17), his pass-rush grade (90.4) and pass-rush win percentage (21.7%) on such snaps both rank inside the top 20.
Griffen's explosive get-off at the snap is rare considering his size (6-foot-3, 273 pounds). His outside moves are polished, specifically his inside-arm chop, and his inside counters – mainly the spin move – is so sudden and well-timed. 
Despite the year's challenges, Griffen still showed off his rare talent in bursts in 2018. He tallied three or more pressures in seven of the 11 games he played and earned 70.0-plus pass-rush grades in two of the contests. He also logged at least three defensive stops in five games last season.
Improving on such marks and inching closer to his 2017 form this upcoming season starts with Griffen being himself again, which looks to be within reach with the support of the Vikings' brass and the lead role he'll take on defense.