The NFL's annual 'legal tampering period' is in full force this week as teams are allowed to contact and begin negotiations with players on contracts to sign when the new league year opens on Wednesday, March 13 at 4 PM. And Monday's first day of action was full of big-name players who should be on the move and large paychecks soon to be cashed as it was a fast and furious day that swept through the NFL world.
As the dust settled on the first day and before Tuesday's action really begins, we sifted through the players who are to be on the move come the new league year and dolled out who should ultimately be cast as the winners from the first day of action.
Be sure to track every bit of free agency news with our team of analysts in our 2019 Free Agency live blog and stay up to date with the top remaining free agents available all throughout the week.
Save $10 on PFF EDGE – Annual or $50 on PFF ELITE – Annual with coupon code "NFL2019" while the offer still stands! All ELITE subscribers have access to career grades, advanced stats and more! Sign up today!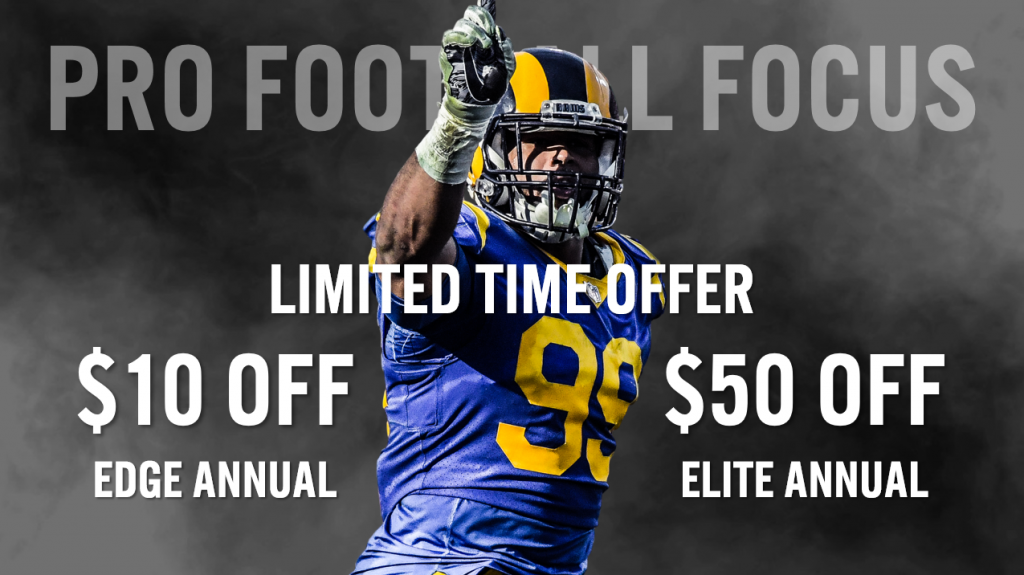 The winners from Day 1 of the legal tampering period:
The day started off with the Lions signing Danny Amendola to a 1-year contract as he fills a gap in the wide receiving corps and should occupy the slot for Matthew Stafford and Co. Albeit a lackluster quarterback situation in Miami a season ago, Amendola still did what he could from the slot, hauling in the league's 14th-best catch rate on 54 targets from an inside alignment. He's a proven receiver and a veteran presence for youngster Kenny Golladay, who should. be the team's No. 1 receiver entering the season. Detroit also came to an agreement with tight end Jesse James, bolstering Stafford's over-the-middle targets with a reliable receiving threat in addition to the tight ends already on the roster at the position.
Where the Lions really won the day was when they addressed their defense, and came to terms with Justin Coleman and Trey Flowers. Coleman is set to become the league's richest slot cornerback after he spent 384 snaps in slot coverage a season ago for the Seahawks. Despite his large volume of snaps from the slot, he still allowed a reception once every 10.7 snaps in coverage, a figure that ranked as the eighth-best in the league.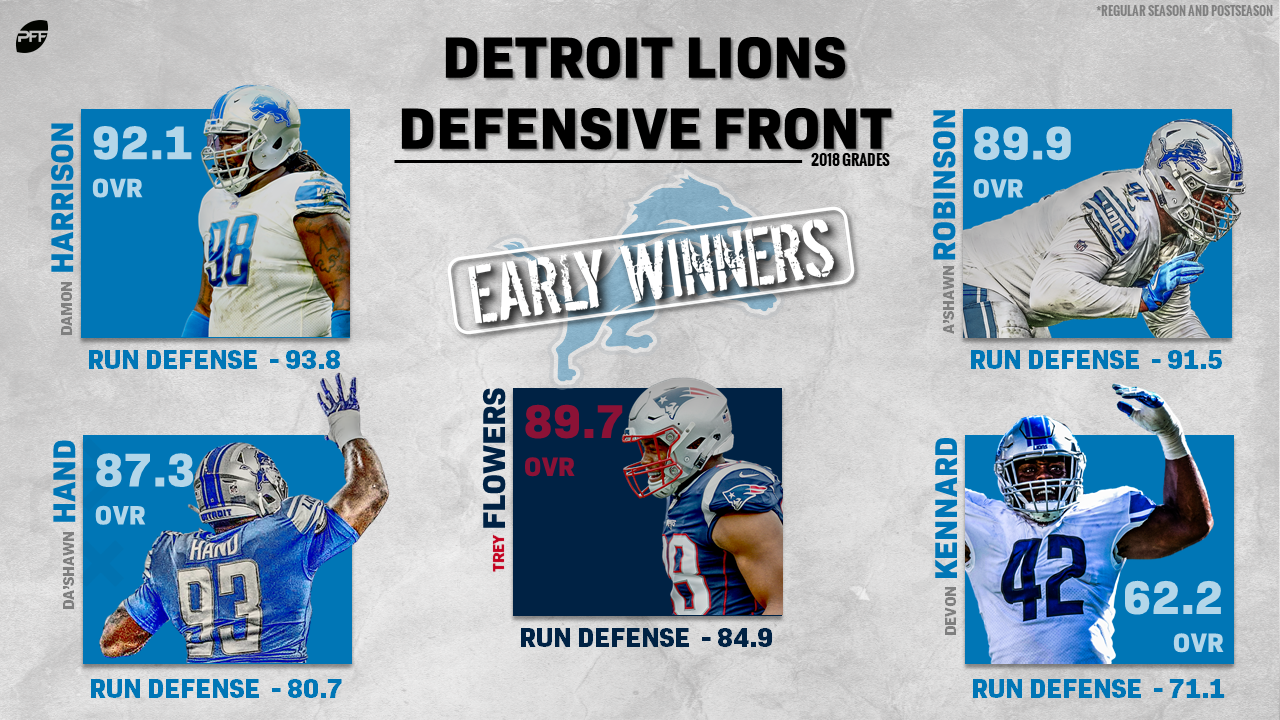 Flowers heads to Detroit and joins his former defensive coordinator in Matt Patricia a year after leading the Patriots in total QB pressures and finishing second in the league with 78 including the postseason. Flowers adds a pass-rushing piece to the Lions defensive front and despite coming at a steep price, but considering Flowers was the league's third-highest graded edge defender, the deal is still a home run.
The Browns got things started a week or so early when they made the trade for Olivier Vernon but they made their defensive line even better when they agreed to terms with Sheldon Richardson. Heading into Cleveland from Minnesota, Richardson has not graded below 71.2 overall and has logged at least 623 snaps in each of his professional seasons across three teams. He adds a solid interior pass-rusher and a stout run defender as he's recorded 265 career QB pressures and 182 career defensive stops.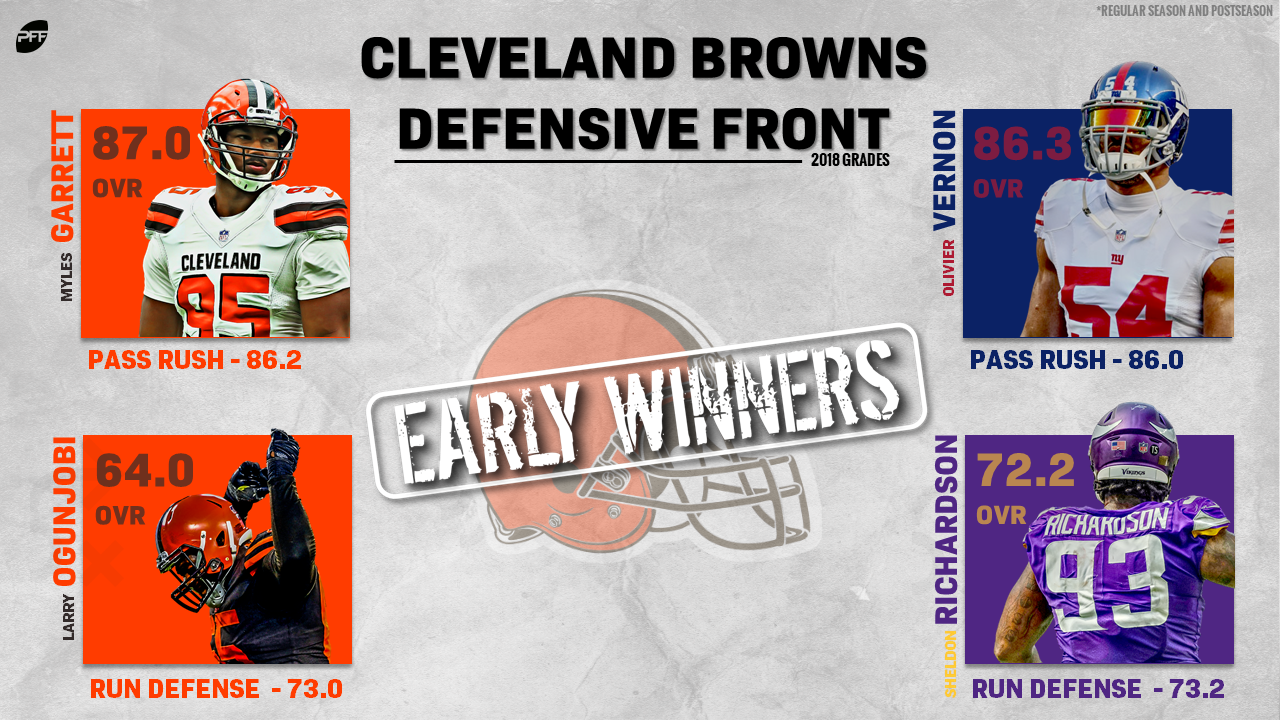 Cleveland hasn't done much more than that, yet, but with Baker Mayfield breathing life into their franchise, in a division like the AFC North that has lost star power across the board with Antonio Brown and Le'Veon Bell leaving the Steelers and the Ravens losing several defenders, the Browns are set up to be the division favorites for the first time in a long time.
Philadelphia made a splash on Day 1 by signing Malik Jackson to a 3-year contract, giving them a feared pass-rushing defensive front. Jackson recorded 51 total pressures with the Jaguars last season, ranking him ninth among defensive interior players, and while that figure was 43 less than his new teammate in Fletcher Cox, he adds a viable pass-rusher to the middle of the Philadelphia line that may very well free up space for Cox to continue to rush the passer at an elite level.
On the offensive side of the ball, Philadelphia shored up their left tackle position for at least another years by re-signing Jason Peters to a one-year deal. Peters has been Elite over his career, putting forth the fourth-best grade among left tackles since he entered the league. The Eagles also brought back fan-favorite DeSean Jackson after a two-year failed experiment in Tampa. Jackson is a speedy threat no matter how much he has aged since his last game in Philly. Despite playing just 12 games with the Buccaneers last season, Jackson still finished 10th in deep receiving yards, hauling in just nine receptions for a whopping 374 yards in passes targeted at least 20 yards downfield.
Every quarterback needs weapons, no matter how athletic or far they can throw, and that's exactly what the Bills have addressed in their first few hours of free agency. After agreeing to terms with Frank Gore, they quickly went after two of the top receiving options at budget pickups, securing the services of John Brown and Cole Beasley to be targets for Josh Allen. Gore was the highest-graded running back in the AFC East a year ago, and even at 35 years old in 2018, was a tough guy to bring down.
Brown had a tough time in Baltimore with their quarterback situation during the 2018 season but he can still fly while Beasley adds a reliable slot option. Beasley finished seventh in total receiving yards from the slot a season ago in Dallas and has shown no signs of slowing down. The Bills also tightened up at center by signing Mitch Morse, the current record holder for longest streak of pass-blocking snaps without allowing a sack. They added Ty Nsekhe as well, who has played well in limited duty as a swing tackle and performed great in pass protection, allowing just 49 pressures over the past four years of 753 pass-blocking snaps.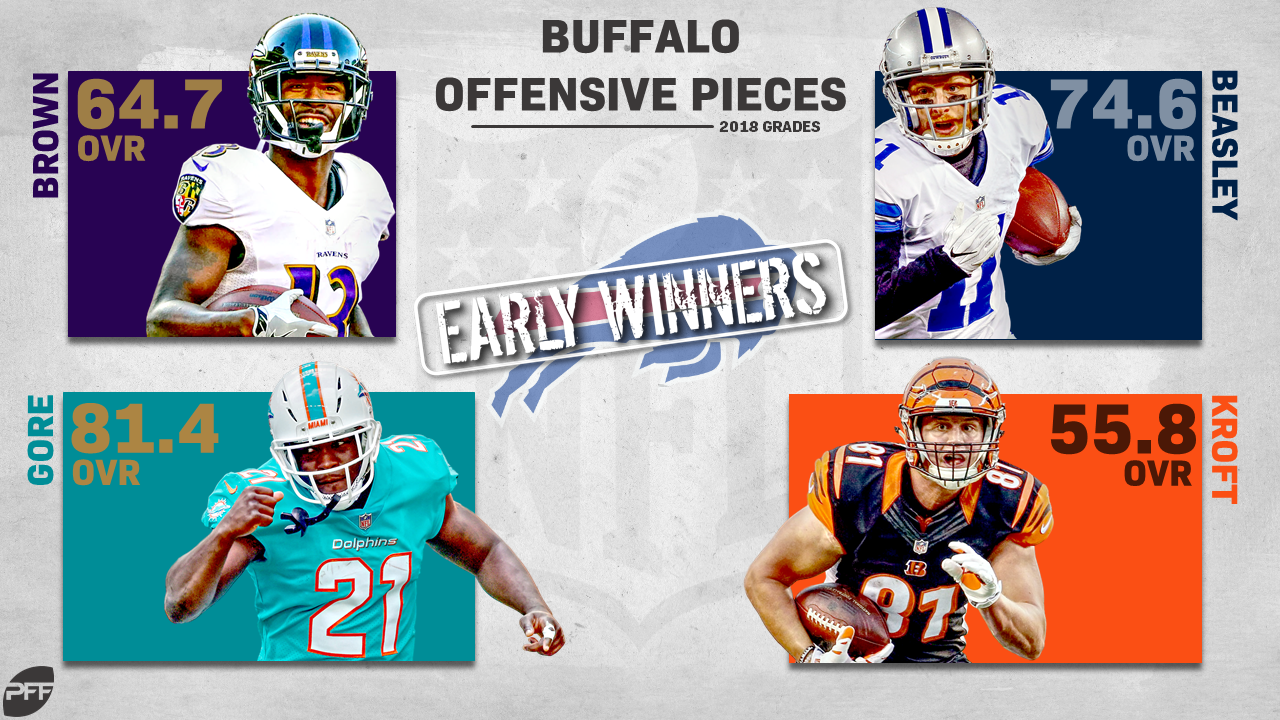 The Bills addressed big needs early and are putting Allen in a place to succeed as best they can. And that's a win.
Quiet on Day 1, the Packers hit the ground running on Day 2 of the legal tampering period, shelling out cash to improve their defense in a series of moves. They grabbed safety Adrian Amos from the rival Chicago Bears while they also brought in edge rusher Za'Darius Smith and linebacker Preston Smith, addressing a need along the line, along with their linebacking corps and in the secondary. On offense, they're set to sign Billy Turner to a 4-year deal after putting forth his second full season since 2015, to a career-high grade.
Amos may not make the splash plays that make safeties famous, he also doesn't fall into the category of safeties who get notoriety for missing the plays required of him and rarely does he get beat. His overall grade over the past three seasons actually falls into the elite category, ranking third among all safeties with at least 1,000snaps since 2016 at 90.6. In a career that has spanned 2,315 snaps in coverage, he has been beaten for a reception longer than 40 yards just once. Za'Darius Smith enters the fold in Green Bay after recording a career-high 61 total QB pressures that included 10 sacks and 17 QB hits with the Ravens a year ago. He was mentioned among our top free agents available and found his way to the Packers via a big deal.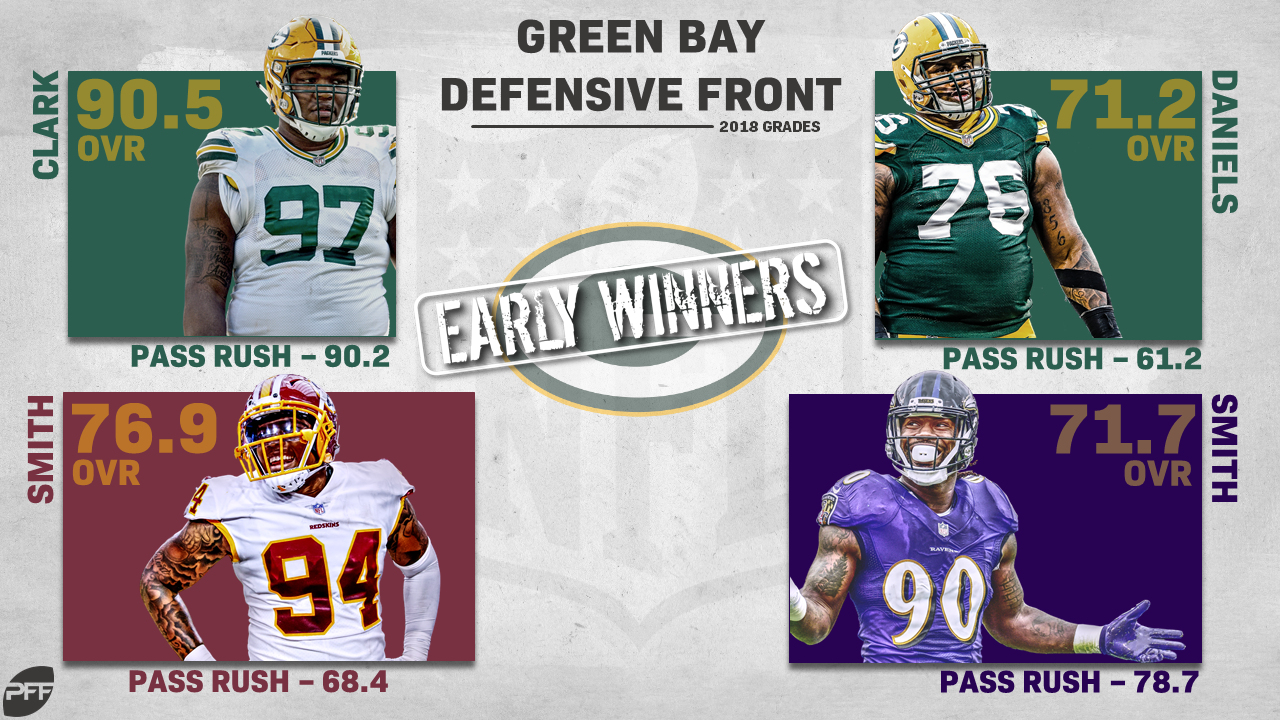 Preston Smith adds a solid piece in Green Bay's back-seven, as he's excelled in coverage during his career, allowing a passer rating of just 55.1 over four seasons.
Individual Winners
Trent Brown, OT
Brown is set to join the Oakland Raiders in what is expected to be the richest contract for an offensive lineman in history. A year after Nate Solder left the Patriots left tackle spot with a record contract, Brown actually put forth a lower overall grade than Solder did in 2017, ranking just 45th among tackles and 59th in pass-blocking grade. Still, Brown wins free agency from a depleted tackle market when he signs a 4-year, $66M contract with Oakland.
Terrell Suggs, Edge
Suggs heads home to join the Arizona Cardinals, leaving Baltimore after 16 seasons. His career predates our PFF grading, and since we started grading every player on every play in 2006, Suggs has racked up 661 total QB pressures and 471 total defensive stops. The most telling story of his impact with any team at this point is his sure tackling, having missed just 51 tackles on 636 total attempts. At 36 years young, Suggs can still contribute and if his wish was to play out his career at home, the Cardinals made that happen, and that's a win for him.
Kwon Alexander, LB
Alexander's reported contract with the San Francisco 49ers is expected to pay him like one of the league's top linebackers, yet, in his career, Alexander has missed a total of 78 career tackles. That's out of 439 total attempts and he has not finished a season with an overall grade above 68.4, yet is making money that rivals those who have finished with elite grades the past few seasons. Coming off an ACL surgery and with his four-year career to date, to obtain that much money is a big victory for Alexander.