This week, we've debuted our 2018 NFL Draft Quotable series and taken a look at both the NFC and AFC East and the AFC and NFC South, a series derived from watching hours of post-draft press conferences that alluded to bits of insight the coaches and executives unwittingly let slip about their drafted players.
With that, here are some of the most insightful quotes on the offensive skill position players drafted during the 2018 NFL Draft from the NFC South with the added context of PFF's data.

The Bengals did not take an offensive skill player until Day 3 of the draft and not much has been learned or spoken about in public news conferences about former Miami Hurricane RB Mark Walton nor Toledo QB Logan Woodside. Walton enters the Bengals running back room after the departure of Jeremy Hill, but one that still consists of second-year back Joe Mixon and Giovani Bernard. Woodside had a strong 2016, finishing near the top of the class in several metrics, but had a down year to his standards with injuries to his receiving corps in 2017.
PFF's Take:
From the 2018 NFL Draft Guide: (on Woodside) Woodside has two strong years of production under his belt and he's worth a look in the late rounds. He can throw with touch and accuracy in the middle of the eld and he has a number of pretty deep passes on lm while also showing the willingness to hang in the pocket and make tough throws.
(on Walton) Mark Walton's tape in 2017 was spectacular, but it lasted just four games before an ankle injury shut him down. Pre-draft measurements will be important, as his listed weights spanned a 17-pound range from 188 to 205. He has a squat and stocky build, but under 200 pounds will have many in the NFL limiting him to a third-down back or role player.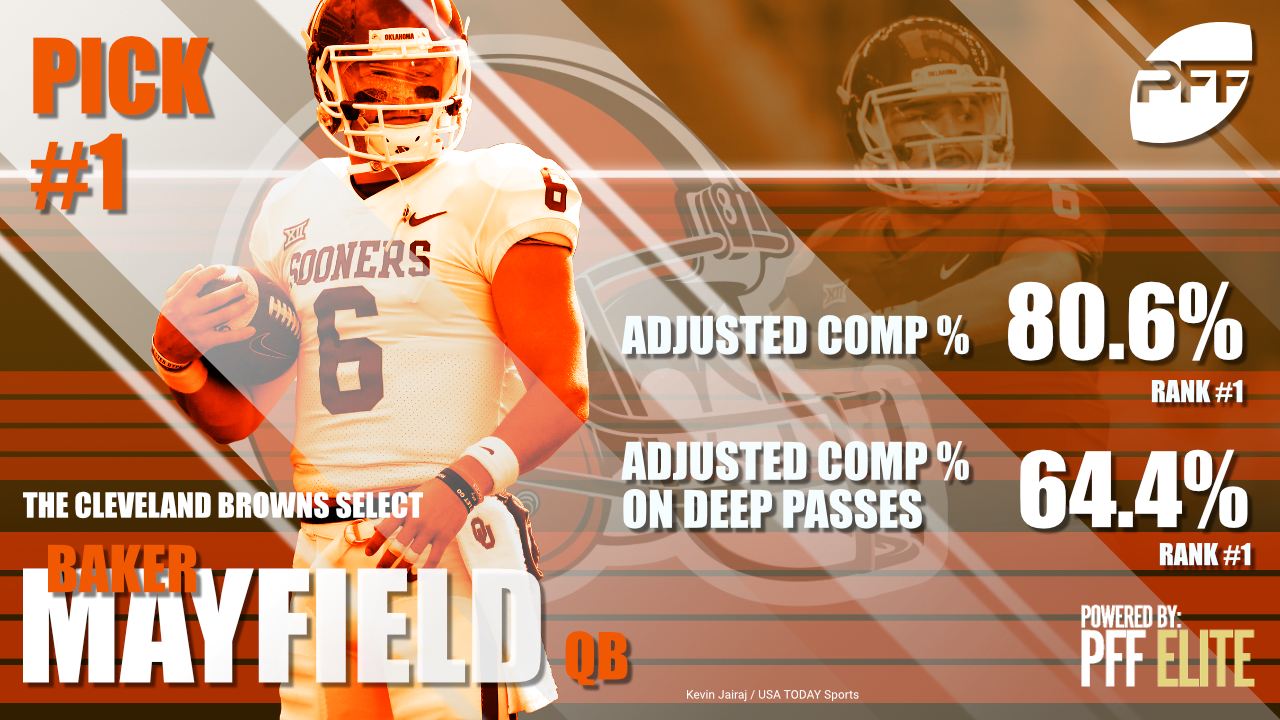 Head coach Hue Jackson: "Tyrod Taylor is going to be our starting QB first and foremost…"
General manager John Dorsey: "[Baker is] going to learn from Tyrod and Hue. We'll do everything we can to put him in the best situation to have success … I've always thought for a young man's development … Why not have a chance to sit back and see how the game of professional football is played?"
PFF's Take:
Taylor has graded above 80.0 in every single season he's been a starter in the NFL. That not only means he's a starting caliber quarterback in the league, but also a huge upgrade from the quarterback situation in 2017. There's no shame in Mayfield's game if he can't beat out the veteran.
Jackson: "Chubb is an AFC North running back. Very physical. Very tough. Can create runs on his own."
Jackson: (When asked if this will be a committee) "It'll work itself out. It's a good problem to have. Guys are going to have to compete to earn the right to get the football in their hands."
PFF's Take:
Chubb's 3.8 yards after contact per attempt last year often came when dragging opposing defenders downfield.

General manager Ozzie Newsome: "We're trying to win this year, and in order for us to win this year, we need Joe Flacco… That's why we got [Hurst], to give Joe some help."
Director of college scouting Joe Hortiz: "Versaitility. Productive in all roles. Good blocker. Athleticism as a receiver, and his hands. He doesn't drop the ball … Can help us in all phases of the game."
PFF's Take:
We agree with Hortiz' take on Hurst's hands as he very literally didn't drop a ball this past season at South Carolina and had only three drops in his career. His 45.8 run blocking grade this past season though leaves a little more to be desired.
Head coach John Harbaugh: "…But Joe Flacco is our QB. That's the thing we gotta remember. Lamar is gonna have a great chance to develop … We're gonna go with Joe and Joe's gonna roll … We have a great quarterback in Flacco there's no doubt about it. [But] can't pass up the opportunity to get a quarterback like this."
PFF's Take:
For a four-game playoff stretch, Flacco was indeed great. Since 2014 though, Flacco has seen his grades stagnate in the mid-70.0s, with a high of 76.7. That's not franchise quarterback performance.
Assistant general manager Eric DeCosta: "[He] reminds me of Dennis Pitta."
Newsome: "We have four tight ends (on the team) we like a lot. We like tight ends here, our offense is built that way … [Hurst] has lined up on the line of scrimmage. [Andrews] has been more in the slot. But they've got similar skills. Our two tight ends are going into the last year of their contracts."
PFF's Take:
Andrews was actually higher on our final draft board than Hurst among tight ends (third vs fourth). Andrews did indeed play the majority of his snaps from the slot as he lined up 572 times while he was used in-line only 82 times

Head coach Mike Tomlin: "Similarly to JuJu (Smith-Schuster), we just loved his overall game, his physicality, his sure hands, his strong hands, his running ability after the catch. His resume speaks for itself, a Biletnikoff winner, we felt really fortunate for him to be available at this stage in the draft. [He's an] ccomplished four-year guy with a four-year body of work. Equally exciting, a really solid young man, you know what you're gonna get on a day-to-day basis, he's gonna be an early contributor for us."
PFF's Take:
Washington had all of five drops on 79 catchable passes this past season. His physicality really showed in the 1-on-1s at the Senior Bowl where he had the highest win rate of any receiver against press coverage.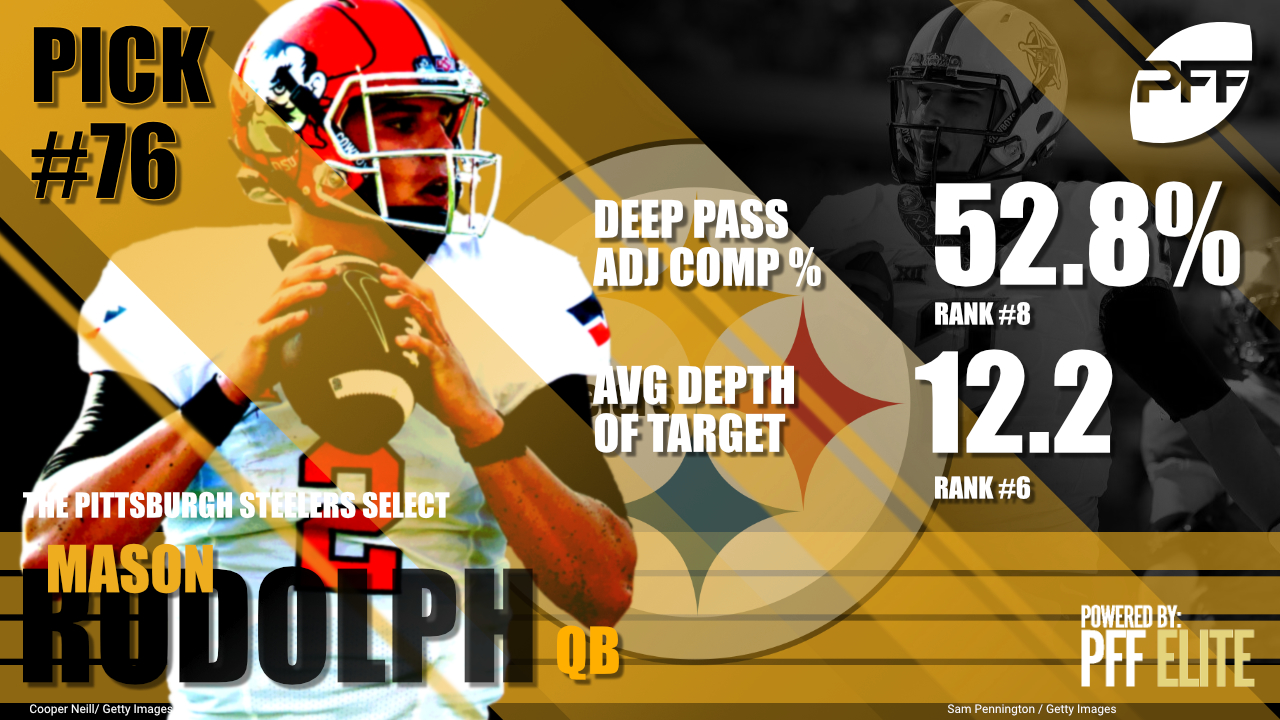 Tomlin: "Mason at that spot was just too good of a player to pass up for us, we're excited about having an opportunity to get him … We moved up a couple of spots to secure him, really excited to watch those young people sort themselves out at the quarterback position, it's a good thing to have too much talent."
PFF's Take:
We had Rudolph as a first-round caliber player so the value here is fantastic. His college production was outstanding and he had three seasons grade out at 90.0 or better.