Seattle Seahawks 26, Detroit Lions 6
Here are the top-graded players and biggest storylines from Seattle's Wild Card win over Detroit. 

Quarterback grade: Russell Wilson, 81.7
Wilson perfect against pressure
The short passing game was netting the Seahawks almost nothing Saturday. On passes thrown within 10 yards of the line of scrimmage, Wilson went 16-for-18, but for only 97 yards. That's just 6.1 yards per completion. On throws 10-plus yards downfield, though, Wilson was 7-of-9 for 127 yards. 149 of his 224 passing yards came prior to the catch in an impressive aerial display. Wilson finished the game with an overall 92.6 adjusted completion percentage—100 percent when under pressure, with five completions and three throwaways when under duress.

Top offensive grades:
WR Doug Baldwin, 85.2
WR Paul Richardson, 82.8
LG Mark Glowinski, 81.9
QB Russell Wilson, 81.7
HB Thomas Rawls, 81.6
C Justin Britt, 81.6
Playmakers come up big
If the Seahawks' receivers and backs are going to show up like this every game this postseason, they're going to be tough to beat. Paul Richardson had arguably the most impressive three-catch, 48-yard performance you'll ever see, with three circus catches. Doug Baldwin was "Mr. Consistent," hauling in almost half of Wilson's completed passes. He caught all 11 of his targeted passes against seven different defenders in coverage. Then there was Thomas Rawls breaking out with easily his most impressive performance of the season; Rawls broke three tackles on 27 carries, and recorded 161 yards on the ground.
Top defensive grades:
LB Bobby Wagner, 89.5
CB Richard Sherman, 85.2
DE Cliff Avril, 78.3
LB K.J. Wright, 76.7
CB DeShawn Shead, 74.4
Seattle defense dominant
Recently named to the PFF All-Pro team, Saturday night's game provided a great example of the type of impact linebacker Bobby Wagner can make. Wagner led the defense with four defensive stops, and added a hit and two hurries on just five pass-rushes. Cornerback Richard Sherman shut down his side of the field against the Lions' passing game—Matthew Stafford wouldn't even test Sherman in coverage. Sherman's lone target of the game came on Detroit's final play, and he just tipped away the ball before it reached Golden Tate. Cornerback DeShawn Shead also had a pretty good outing; he was targeted a game-high eight times without surrendering a reception. However, on more than one occasion, an off-target pass led to an incompletion when Shead had given up more than enough room to allow a catch.

Quarterback grade: Matthew Stafford, 68.8
Lackluster outing at quarterback
The Lions' passing game wasn't exactly productive against the Seattle defense, though that certainly doesn't fall solely on Matthew Stafford. Still, he missed a few open receivers with off-target throws and finished the night with a 67.7 adjusted completion percentage. Prior to the Lions' final drive, Stafford completed just two passes targeted 10-plus yards downfield, and he completely avoided the right side of the field outside the numbers (Richard Sherman's side of the field).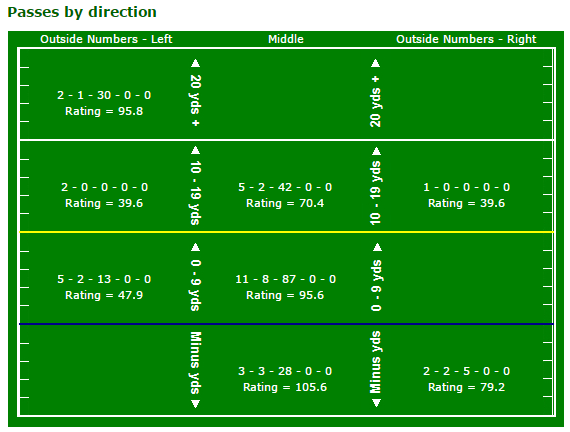 Top Offensive grades:
LT Taylor Decker, 77.8
C Graham Glasgow, 70.8
WR Marvin Jones, 69.7
QB Matthew Stafford, 68.8
RG Larry Warford, 65.7
Untimely miscues stall Detroit's drives
Detroit's skill players simply didn't do enough to help out their quarterback. The Lions dropped four passes on the night, though Marvin Jones was bailed out on his drop by a defensive penalty elsewhere in the secondary. Golden Tate, who is typically one of the best receivers in the league after the catch, recorded just 9 yards after the catch on three passes—his lowest total since Week 4. Tight end Eric Ebron recorded his first multiple-drop game of the season. The running game didn't fare much better, either; Zach Zenner's second carry of the game went for 17 yards, but that equaled the rushing yardage total he gained on his other 10 runs.
Top defensive grades:
S Glover Quin, 84.7
DE Ezekiel Ansah, 81.4
DT Haloti Ngata, 77.9
LB DeAndre Levy, 75.3
DE Kerry Hyder, 73.2
Lions' pushed off the line
The storyline of the game for the Lions' defense was undoubtedly their inability to maintain the line of scrimmage against the run. Seattle repeatedly ran their base zone-read, and the double-teams routinely took Detroit's defensive tackles off the line of scrimmage. Khyri Thornton, Tyrunn Walker, and A'Shawn Robinson simply couldn't hold their ground, which caused havoc for the Lions' linebackers, who were put in lose-lose situations. Once the Lions feared the ground game, Seattle's passing game picked the back-seven apart.
PFF Game-Ball Winner: Thomas Rawls, RB, Seahawks
PFF's player grading process includes multiple reviews, which may change the grade initially published in order to increase its accuracy. Learn more about how we grade and access grades for every player through each week of the NFL season by subscribing to Player Grades.