Dallas Cowboys rookie quarterback Dak Prescott has now begun his career with 132 consecutive pass attempts without throwing an interception. That stands as an NFL rookie record — albeit one fellow rookie Carson Wentz of the Eagles also has a say in, with 103 over three games plus a bye week — and just 30 short of the longest streak in NFL history to begin a QB's career.
Prescott has embodied efficiency within this Dallas offense, and that's what they have needed him to do to win during the team's 3-1 start.
Patriots QB Tom Brady holds the record of the longest streak of pass attempts without an interception to begin a career with 162 after he took over for Drew Bledsoe in New England, and he also holds the record for the longest streak of any player between interceptions, throwing 335 passes without one during the 2010 season. When Brady is the other name involved in the statistics you're showing well in, it says something about the type of player you are.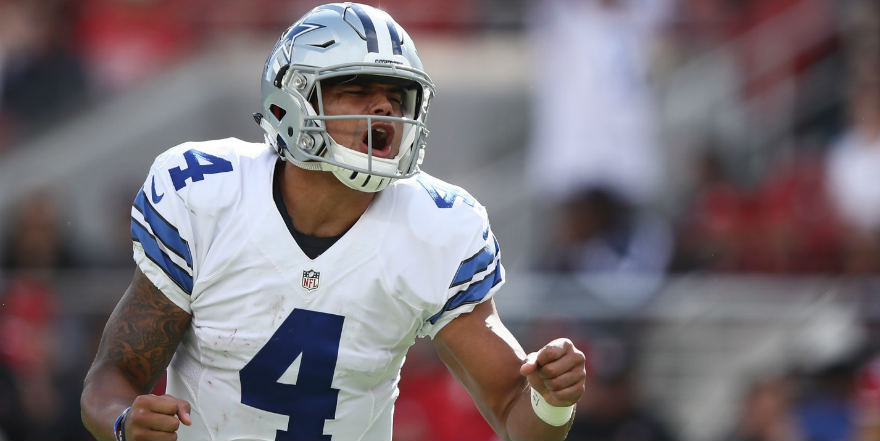 To be clear: I'm not saying Prescott is the new Brady, but that right now he is playing with the kind of passing efficiency that has made Brady so great. Perhaps the single biggest asset Brady has had for most of his career is patience. Defenses can frustrate most QBs by taking away their big plays and forcing them to play underneath, eventually creating a turnover when they push for bigger plays. If 5-yard gains are all that is there, Brady will take them all game long, because eventually those will end up in the end zone.
Other QBs take more of a gambler's mentality to the position, shooting for big plays knowing that it will cost them some turnovers, but New England's offense has typically been a far higher-percentage approach. In order for it to still dominate at that level, it takes somebody with Brady's patience and self-control to make it tick and avoid turnovers.
Prescott needs to be that kind of QB for Dallas, and through the first four games of the season he has been. Right now he sits as the No. 7 QB in PFF grades with an 82.9 grade, having completed 68.2 percent of his passes in his first season. He has thrown just three touchdowns, but added another two on the ground.

This isn't a case of the Dallas passing attack just trying to scheme Prescott cheap yardage; he simply isn't attacking as aggressively as some other QBs. Against Pittsburgh, Wentz threw a screen on 33 percent of his pass attempts and his average depth of target was just 5.1 yards downfield. The same week Prescott's average target depth was 10.2, one of the higher ones in the league, and his season average of 8.3 is middle of the pack, above Baltimore's Joe Flacco and New Orleans' Drew Brees.
For the season he has thrown a screen on just 5 percent of his attempts, 4 percent below the league average, and actually makes his money on the short to intermediate passing game, rather than the "free passing yards" short game.
It's at the other end of the scale where Prescott's conservatism shows. Only Chicago's Jay Cutler has gone deep (passes of 20-plus air yards) less than he has, and Cutler missed the last game injured. On a per-attempt basis Cutler has actually gone deep more than twice as often, and Prescott's 6.1 percent is the lowest mark in the NFL, below even the permanently conservative Alex Smith in Kansas City (7.7 percent).
As we know, Dallas has one of the league's best offensive lines, and even with injuries affecting it this season it is still at its best in terms of run-blocking and opening holes on the ground. Rookie running back Ezekiel Elliott has now had 20-plus carries in each of the first four games of the season, and his per-carry average has increased each week. Over the past two games the team has rushed for 386 yards and four touchdowns, and the reality is they don't need to be carried by their QB.
Part of Prescott's success was always finding himself in maybe the single-best possible situation for a QB to land, with an excellent offensive line, a fresh rookie RB and an elite wide receiver in Dez Bryant to throw to. Injuries have eroded that position a little, but the fundamental support structure is still there for him. Dallas doesn't need Prescott to aggressively attack deep down field, as they can afford to be conservative, but neither are they asking him to dink and dunk his way down the field or spending their time manufacturing him cheap yardage underneath with endless bubble screens aiming to pick up yards after the catch.
Prescott has been at his best between 10 and 19 yards in the air, completing 64.7 percent of those passes for 10.7 yards per attempt, with all three of his passing scores coming in that range.
The Dallas passing offense may be conservative, but it has been effective, and that's in large part due to the play of the rookie fourth-rounder Prescott. He may become more aggressive as time passes, but right now the Cowboys don't need him to change a thing, and he is more than holding up his end of the bargain. This is not a quarterback being propped up by scheme, but rather one playing within it, and not risking the big mistake to make a huge play when he doesn't have to.