Jared Goff and Carson Wentz both threw four touchdowns in Week 9 and presided over 51-point performances from their offenses as each young quarterback continues to make huge strides in Year 2 of their NFL careers.
The Eagles under Wentz are 8-1 and arguably the best team in football, while the Rams are 6-2 and atop the NFC West, one game ahead of the Seahawks.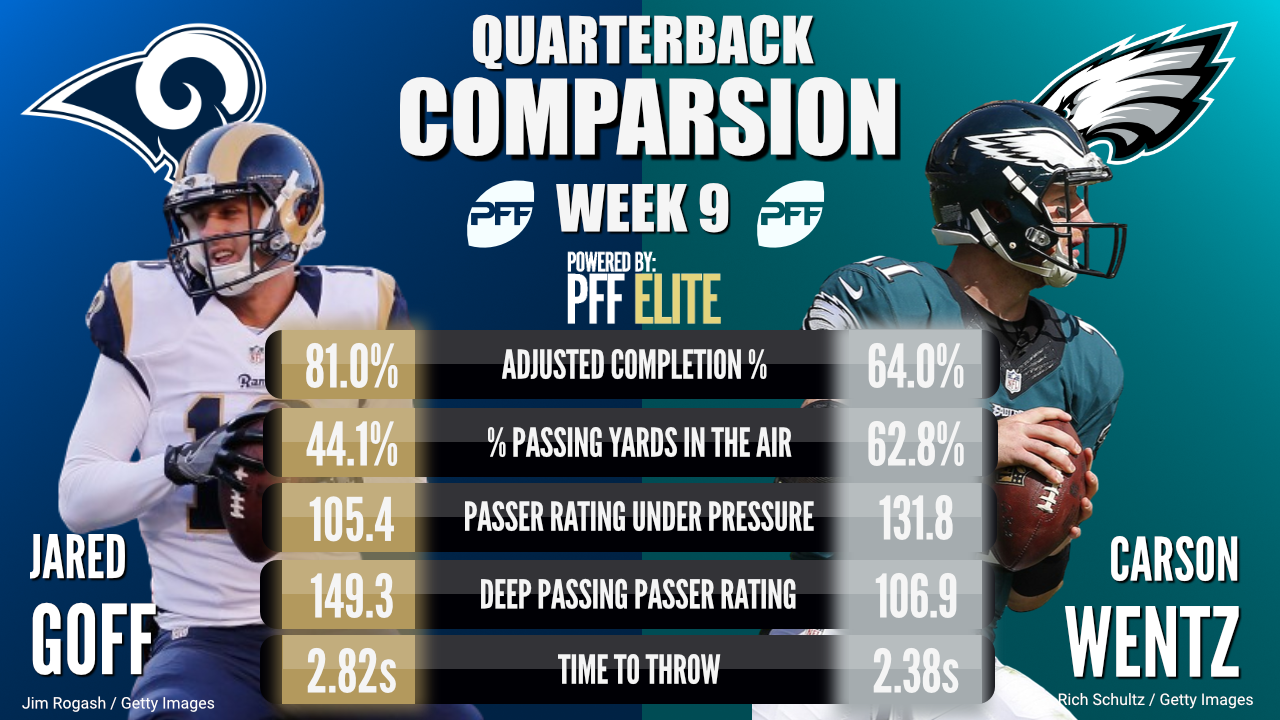 It's difficult to overstate just how far each quarterback has come since their rookie seasons. While Wentz started his NFL career on fire, after the first few weeks he struggled badly and ended the season ranked 20th overall by the end of the year, just one spot ahead of Matt Barkley. Goff didn't see the field until late November, but there were very few signs of life from his first season in the league, albeit in a fairly toxic broader environment before the staff was overhauled in the offseason.
Goff's situation has been completely refurbished for his second season. The team shipped out Greg Robinson – one of the worst left tackles in football – and signed Andrew Whitworth in free agency, who has just had his fourth game of perfect pass protection already this year. Whitworth has been one of the best pass-blocking tackles in the game for years, and alone represents a huge upgrade in Goff's situation in the pocket.
This season he has been pressured on 33 percent of his dropbacks, but as a rookie that was up at 44 percent. In addition to Whitworth, the team has also had improved play at center with John Sullivan reviving his NFL career. Goff's receiving corps has also been completely remodelled, and the scheme under Sean McVay plays more to his strengths, so we are seeing a dramatic improvement in overall play.
This RPO the Eagles hit Denver with is so clever. Only the second time Ajayi was on the field, show run with him, hit Jeffery for TD pic.twitter.com/USmk6npVNC

— Sam Monson (@PFF_Sam) November 6, 2017
Wentz has also benefitted hugely from the scheme being tailored to suit his play. The Eagles run more run-pass option plays than anybody else in the league. They have run almost 100 RPOs (98) over the season, and no other side has more than 65.
The Eagles have been able to simplify the offense and put defenders in a bind while playing to the athleticism of Wentz. Look no further than the first touchdown pass he threw this week against the Broncos. The Eagles packaged a zone run to the left (with Jay Ajayi as the running back), with an option run to the right optioning Von Miller, and then Alshon Jeffery's little fake screen and 'go' route down the sideline, which caught out CB Aqib Talib for the score.
This play can effectively be any one of three distinct things, all of which the defense has to try and account for, but it limits what it asks of Wentz to a couple of simple reads pre and post-snap to make the play. These RPOs have been a huge part of the team's success and the development at QB of Wentz.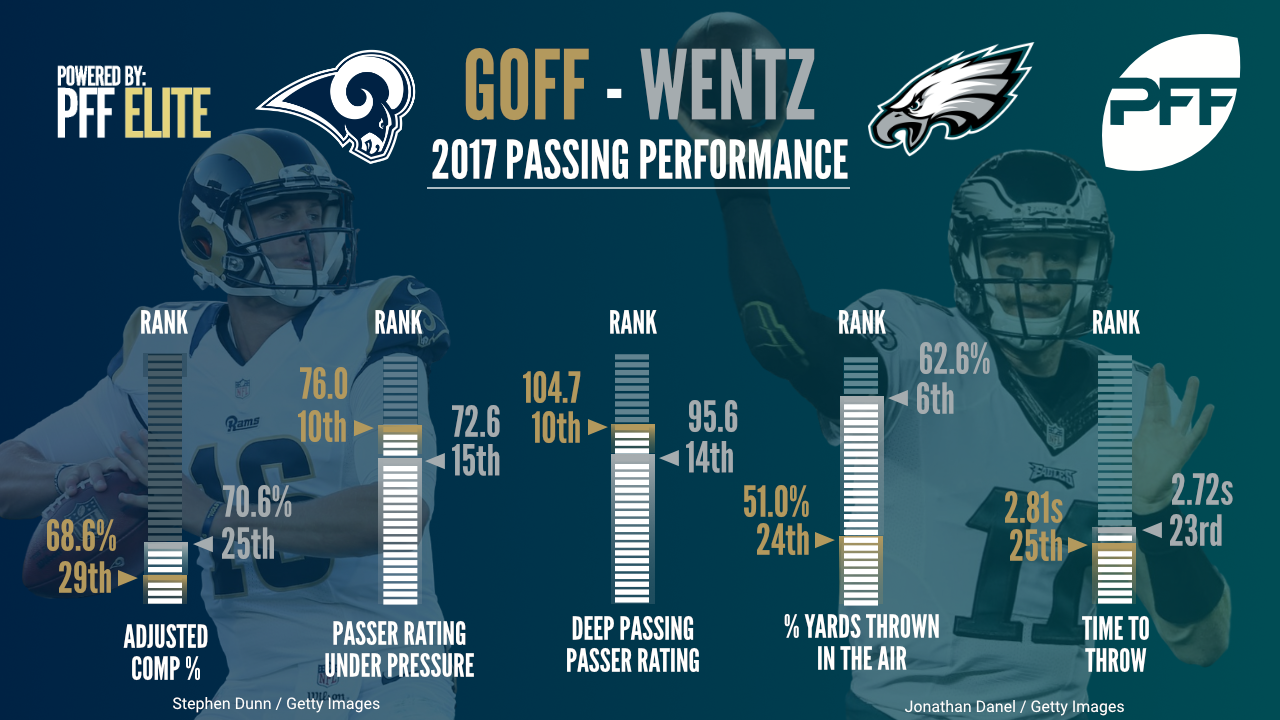 Within this system, he has been excelling, and is currently our No. 6 ranked QB with an overall PFF grade of 84.4. Wentz has been able to use the scheme to make huge plays all season, and is also sixth in the league in the percentage of passing yards which have come in the air – i.e. before yards after the catch are taken into consideration.
Wentz also has the league's No. 1 passer rating on third down at 125.1, and has made a sequence of big plays on third and long all season to give him the league's best PFF grade on third downs.
Both Goff and Wentz have taken huge steps forward in their sophomore seasons, but both also owe a huge amount to the situation improving around them. With both teams enjoying success, that isn't likely to change, and we will get to witness two players that have every chance to fulfil their potential and reach their as still undefined ceilings.