Potential is a tricky concept that we are all familiar with. Defining who or what it is, though, is a near impossible task. On one hand, it's obviously better to have potential than not. But on the other hand, if it's used to describe someone, it likely means they haven't done anything yet.
The entire NFL draft is quite literally built upon the concept. The number of college players ready to step in and perform at a high level in the NFL you can usually count on one hand each year. For everyone else, properly evaluating what they will be is the sole purpose of a scouting department. And therein lies the heart of the problem, nobody knows!
All of this is a very roundabout way of introducing one of the most polarizing prospects from the 2016 class: Mississippi State defensive tackle Chris Jones. He has been characterized as 'raw' ever since his high school days. Every major recruiting service listed him as a five-star prospect in their final 2013 class rankings, but it was a distinction he earned very late in the process. Jones hails from the small town of Houston, Mississippi, which, at the time of the last census in 2010, had a population of 3,623 and a high school enrollment of fewer than 500 students. Having a college or recruiting service even watch your tape at a school like that is a minor miracle, let alone a five-star ranking and offers from every major program in the SEC.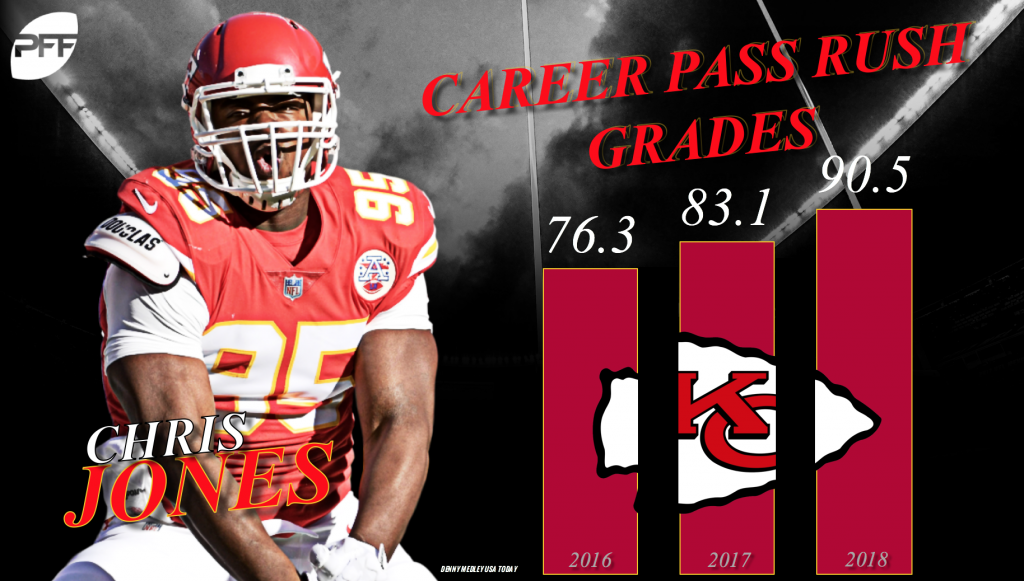 His time at Mississippi State was marred with inconsistency and the dreaded p-word. He couldn't even crack the starting lineup as a sophomore despite clearly being one of the Bulldog's best defensive and only managed 436 snaps that season. By the time he was eligible for the 2016 draft, questions about his motor ran rampant to the point where it was mentioned on every single scouting report on the front page of a quick Google search. Even looking at his game-by-game grading, it's hard not to question his effort. His lowest-graded game in his last year of college came against Northwestern State (52.1 overall). That's simply not supposed to happen.
At the same time, Jones dominated games his junior season the way no other interior defensive lineman in the country could. With prodigious size (6-6, 310 pounds) and power, Jones quite literally tossed around NFL-caliber offensive linemen at times. He notched 12 pressures at Arkansas late in the season and eight in the 2015 Belk Bowl against N.C. State – both among the top offensive lines in the country that season. Four of his games in 2015 earned pass-rushing grades of 87.0 or better. While many wanted to slap the 'potential' label on him because of that inconsistency, I disagreed with that assessment.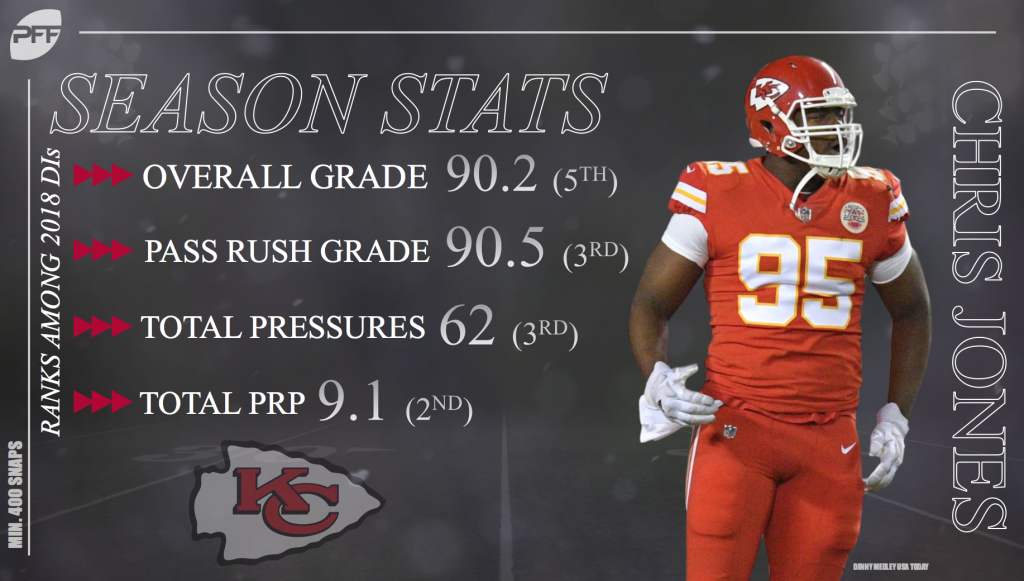 Merriam-Webster defines potential as existing in possibility. Jones, on the other hand, was already doing everything it took to be a top defensive lineman in the NFL. The fact that he didn't always show it was obviously a concern, but far less so than say projecting a freak athlete to do something he's never done before.
NFL talent evaluators weren't as bullish. Jones fell all the way to the 37th overall pick in the draft, where John Dorsey and the Kansas City Chiefs were the beneficiaries. From day one, Jones was quite obviously more talented than your everyday second-rounder. His 42 pressures as a rookie were the 16th-most among interior defensive linemen and 10 more than teammate Dontari Poe. Jones continued to flash dominant outings in his second season, finishing with an 89.7 overall grade.
Now in Year 3 of his career, the 24-year old is bringing it on a weekly basis. He's tied an NFL record with a sack in 10 straight games and has a ridiculous 14 on the season. Warren Sapp is the only player listed over 300 pounds to have more in a single season (16.5) in NFL history. Over his last five games, his grade is almost identical to Aaron Donald's (91.6 vs. 91.8). Last night, he flashed a level of dominance few in the league are capable of. Pretty much every one-on-one ended up with Jones in Philip Rivers' lap. He notched three sacks, five hits and one hurry. The Chiefs defensive lineman is firmly in the conversation for best defensive tackle behind Donald, and the rest of the NFL is left wishing they could have a do-over in the 2016 draft.
[Editor's Note: Read Senior Analyst Mike Renner's first take on Chris Jones here.]