Emmanuel Sanders has been a productive receiver for the Denver Broncos for quite some time now, even in the post-Peyton years with subpar quarterbacks like Trevor Siemian and Paxton Lynch. Sanders finished with a receiving grade of 80.1 last season, ranking 24th among 108 qualifying wide receivers; that's not bad at all, especially considering that his quarterback, Case Keenum, had a passing grade of 66.9 that ranked 26th out of 39 qualifying signal callers.
For the first time in a long time though, Sanders can now say he has a championship-winning quarterback at his disposal, as the Broncos recently added veteran quarterback Joe Flacco. Sure, it has been a while since Joe Flacco played at an elite level as he did back in 2012, but at least Flacco has shown that he's capable of playing at a high level. At only 34 years old (which seems young for quarterbacks these days), Flacco has a chance to breathe new life into his career, as he joins a team with better receiving weapons than he has had for some time.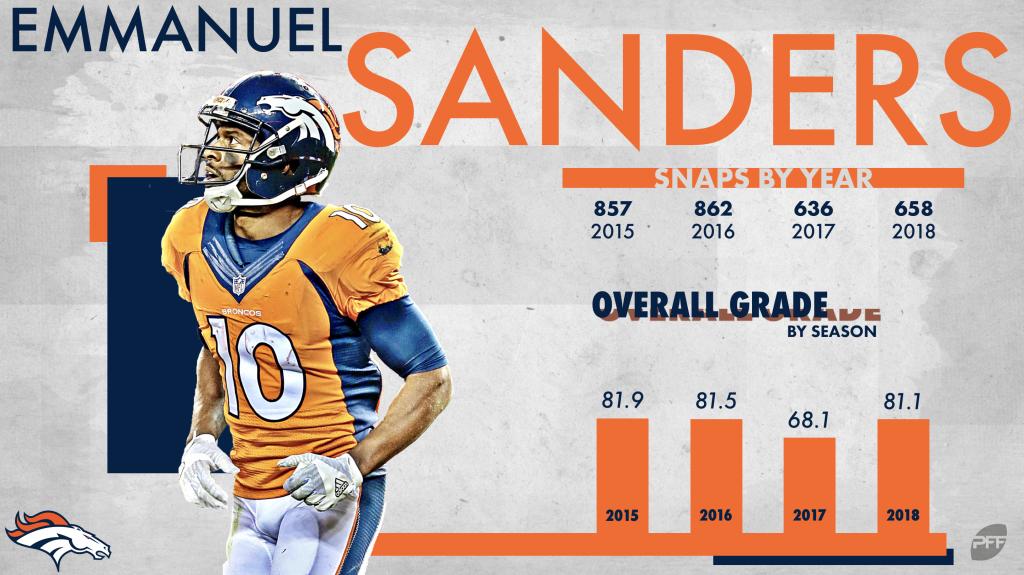 The best of those receiving weapons is Emmanuel Sanders, a receiver with blazing speed and great hands that can make for a good duo with Flacco and his deep ball. On deep targets (20-plus yards downfield) last season, Sanders caught 9-of-16 targets for 310 yards and one touchdown; his catch percentage of 56.3% on such targets ranked eighth out of 90 qualifying receivers.
Sanders has produced 686 deep receiving yards over the last three seasons, which ranks 23rd out of 71 wide receivers with at least 30 deep targets in that period. However, that's despite the fact that his quarterbacks consistently ranked in the bottom half of the league in adjusted completion percentage on those deep passes.
On go routes over the last two seasons, Sanders has caught 11-of-23 targets for 324 yards, averaging 14.1 yards on such targets. Considering that Flacco still has a serviceable arm, the new Flacco-to-Sanders connection could be a perfect match. Sanders has made plenty of highlight-reel catches deep down the field throughout his career, and given Sanders' speed, it gives Flacco an ideal target, because Flacco loves the go route too.
In fact, Flacco is still throwing the go route as much as anyone after 11 seasons in the NFL, as it was his most thrown route last season. He completed 19-of-55 such passes for 400 yards, six touchdowns and just one interception in 2018. Going back to his elite season in 2012, Flacco attempted a whopping 101 go routes and completed 39 of them for 1,140 yards, 13 touchdowns, two interceptions, and a passer rating of 112.6.
Yes, both Sanders and Flacco are probably on the wrong side of their primes, but they both can still play, and their games can be good complements to one another, especially if Flacco can rediscover his 2012 form. The last time Sanders had a quarterback capable of throwing a good deep ball consistently, he racked up 514 deep receiving yards, ranking sixth in the NFL. Flacco could well be the right quarterback to help Sanders reclaim his spot as one of the NFL's best deep threats. With Cool Joe now at the helm for the Broncos, it's go time for Sanders.