No defender in the NFL has benefited more from a position switch than Cleveland Browns' third-year veteran Joe Schobert, as the 2016 fourth-rounder has risen from middle-of-the-pack edge defender to league-leading coverage linebacker in 2018.

The former Wisconsin product played just 18.4% of his defensive snaps off the line of scrimmage in his final two years (2014-15) with the Badgers, as his primary position was formerly edge defender – and a good one, too. Schobert recorded pressure on 29.1% of his 182 pass-rush snaps in his final collegiate season, which led all 281 FBS edge defenders with 150-plus pass-rush snaps in 2015. He also ranked third in pass-rush grade (91.3) among the same group of edge defenders.
Schobert's success along the edge, however, didn't follow him to the NFL, as he was tied for 88th in pressure percentage (9.6%) and 108th in overall grade (53.6) across his first 246 defensive snaps in the big leagues, and he lined up along the line of scrimmage on 91.4% of them.
A combination of Schobert's lackluster rookie campaign and the Browns' need at linebacker pushed the then second-year linebacker to take his hand off the ground and start off the ball in 2017. And the transition really couldn't have gone better for both parties.
Schobert finished the 2017 season ranked inside the top-20 in overall grade (68.5) and, perhaps more impressively, 14th in run-defense grade (77.2) among the 57 off-ball linebackers with 600-plus defensive snaps. Despite having to learn the position on the fly, Schobert picked up run defense as if it was second nature. His 44 defensive stops against the run led all linebackers in the NFL a year ago, and his 15 tackles for either a loss or no gain was tied for second.
Of course, good run defenders in the NFL aren't as valuable as they used to be, and no off-ball linebacker worth their salt only excels against the run. The best linebackers have to cover well, so Schobert's 58.4 coverage grade wasn't going to cut it if he was to solidify himself as a household name.
And he's done just that.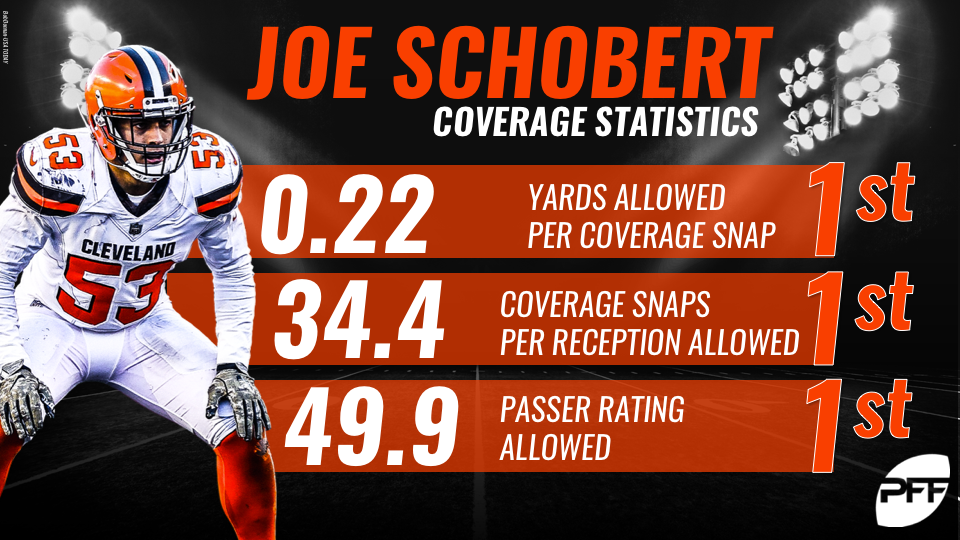 Schobert currently leads all off-ball linebackers with 250-plus defensive snaps in coverage grade (91.3) despite missing three games due to injury. In fact, in his first game back healthy (Week 10), Schobert picked up right where he left off, allowing one reception for two yards from four targets en route to a 90.1 single-game grade.
Adding 33 coverage snaps to his season total against the Atlanta Falcons on Sunday, Schobert now leads the 50 off-ball linebackers with 200-plus coverage snaps in coverage snaps played per reception allowed (34.4), coverage snaps played per target (16.1) and yards allowed per coverage snap (0.22). He also leads the group in passer rating allowed when targeted (49.9), yards allowed per target (3.47) and yards after the catch per reception allowed (2.57).
Put simply, no off-ball linebacker has come close to matching Schobert's production in coverage, a feat made crazier when considering this is just his second year at the position.