Following up on Pro Football Focus' first-ever under-25 team recently, on Thursday we introduced our first-ever over-30 offensive team. Today, we are concluding our series with the over-30 defense. While the word NFL might often stand for "Not For Long," these players are still going strong at the age of 30 or even more. Due to the fact that players' performance can fall off a cliff out of nowhere and older players are less likely to bounce back after struggling, we focus more on recent form and performance on this list rather than looking at potential and historic play.
Defensive tackle
Ndamukong Suh, Miami Dolphins (2016 PFF overall grade: 87.2)
There is very little separating Suh from Calais Campbell, as they have been among the top interior defenders for the better part of this decade. While Suh graded out lower than Campbell in 2016, his consistency earns him the nod here, as he has graded above 86.0 in each of the past five seasons. While Suh had a down year in terms of pass-rushing by his standard, the Miami defender still racked up 57 total pressures, which were tied for the third-most among defensive tackles.
Honorable Mention: Calais Campbell, Jacksonville Jaguars (90.4)
Nose tackle
Brandon Mebane, San Diego Chargers (81.9)
While there are not many options here for nose tackles aged 30 or older, Mebane is certainly a worthy selection as he was the 20th-ranked interior defender in the league last season. Although the former Seattle Seahawk played a limited role and had to miss time due to injury, he was back to his old self as he earned a grade of 81.9, which was his second-highest season grade since 2009.
Honorable mention: Dan Williams, Free Agent (74.4)
Edge defender
Cameron Wake, Miami Dolphins (86.8)
At the age of 34, Wake was not supposed to come back from a serious injury the way that he did in 2016. While he played a limited role for Miami, he was still the nation's most productive 4-3 defensive end when we take playing time into account. Wake recorded 66 total pressures – including 13 sacks – on just 373 pass rushing snaps, which led to a pass rushing productivity score of 14.1, the highest in the NFL. In addition, there are just no signs of decline for Wake who earned a grade above 85.0 in each of his eight seasons in the league.
Michael Bennett, Seattle Seahawks (86.3)
While Bennett got off to a poor start to his NFL career and had a hard time to earn a grade above 50.0 in his first two seasons, he's been nothing but a top performer coming off the edge ever since. As a result, in 2016 Bennett posted his sixth consecutive grade above 85.0 and ranked 12th in the league among edge defenders. Furthermore, Bennett has been one of the few edge defenders able to perform at a top level when kicking inside too. In fact, 354 of Bennett's 689 snaps in 2016 came either head up the tackles or inside of them.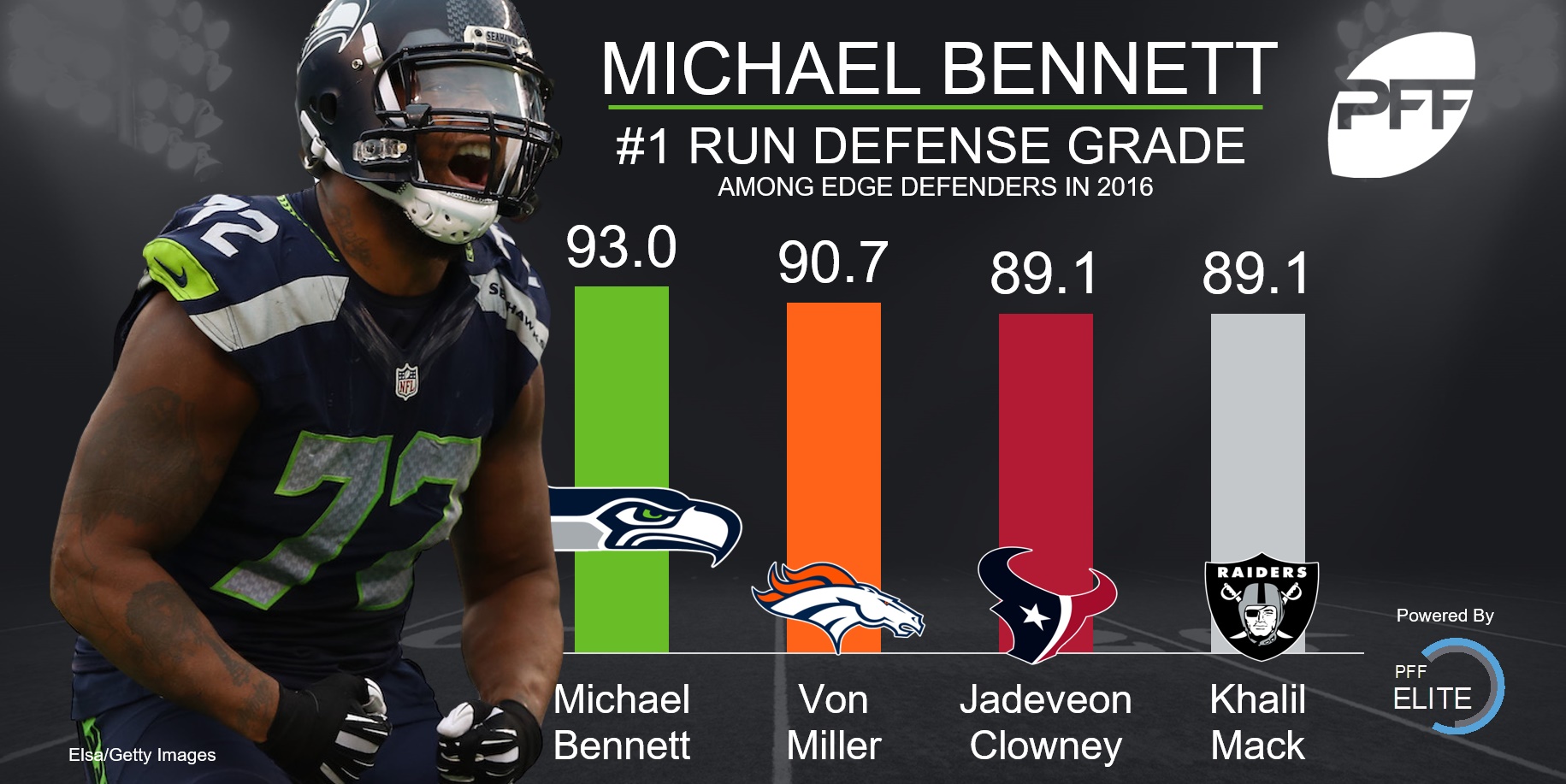 Honorable Mention: James Harrison, Pittsburgh Steelers (86.7); William Hayes, Miami Dolphins (83.4)
Linebacker
Jerrell Freeman, Chicago Bears (93.8)
Although his four-game suspension for using performance-enhancing drugs provides an asterisk to Freeman's 2016 season, his overall grade of 93.8 still speaks for itself as he had his best season so far and was the highest-graded linebacker last year. His addition was a significant enforcement to Chicago's defense as he was among the top performers in all facets of the game. He was PFF's best linebacker against the pass as he earned a coverage grade of 94.0, while he had the fifth-best tackling efficiency since he missed only four tackles on 117 attempts.
Sean Lee, Dallas Cowboys (88.0)
Lee's talent level and performance was never an issue, as he has always performed well when he was able to stay on the field. In fact, Lee graded above 85.0 in each of the past four seasons in which he played. While Lee is already older than 30, his injury luck seems to be trending in the right direction as he played more than 800 snaps in each of the past two seasons and surpassed 1,000 snaps in 2016 for the first time in his career. Although Lee is not lost in coverage, he is even better against the run as he led all 4-3 outside linebackers with a run stop percentage of 11.6 percent. Furthermore, he ranked fifth at his position in tackling efficiency since he missed 10 tackles on 147 attempts.
Honorable Mention: Derrick Johnson, Kansas City Chiefs (81.5); Wesley Woodyard, Tennessee Titans (79.5)
Cornerback
Aqib Talib, Denver Broncos (91.3)
The only thing lacking from Talib's play prior to 2016 was consistency, Having found that, the Denver cornerback put together his best season so far. Furthermore, his overall grade of 91.3 was second only to teammate Chris Harris Jr. It says a lot about Talib's performance last season that he was the only cornerback to play more than 500 snaps and not allow a single touchdown reception in coverage. Consequently, the former New England Patriot allowed a passer rating of just 49.5 in coverage, which was the second-lowest among cornerbacks who played at least 280 snaps last season.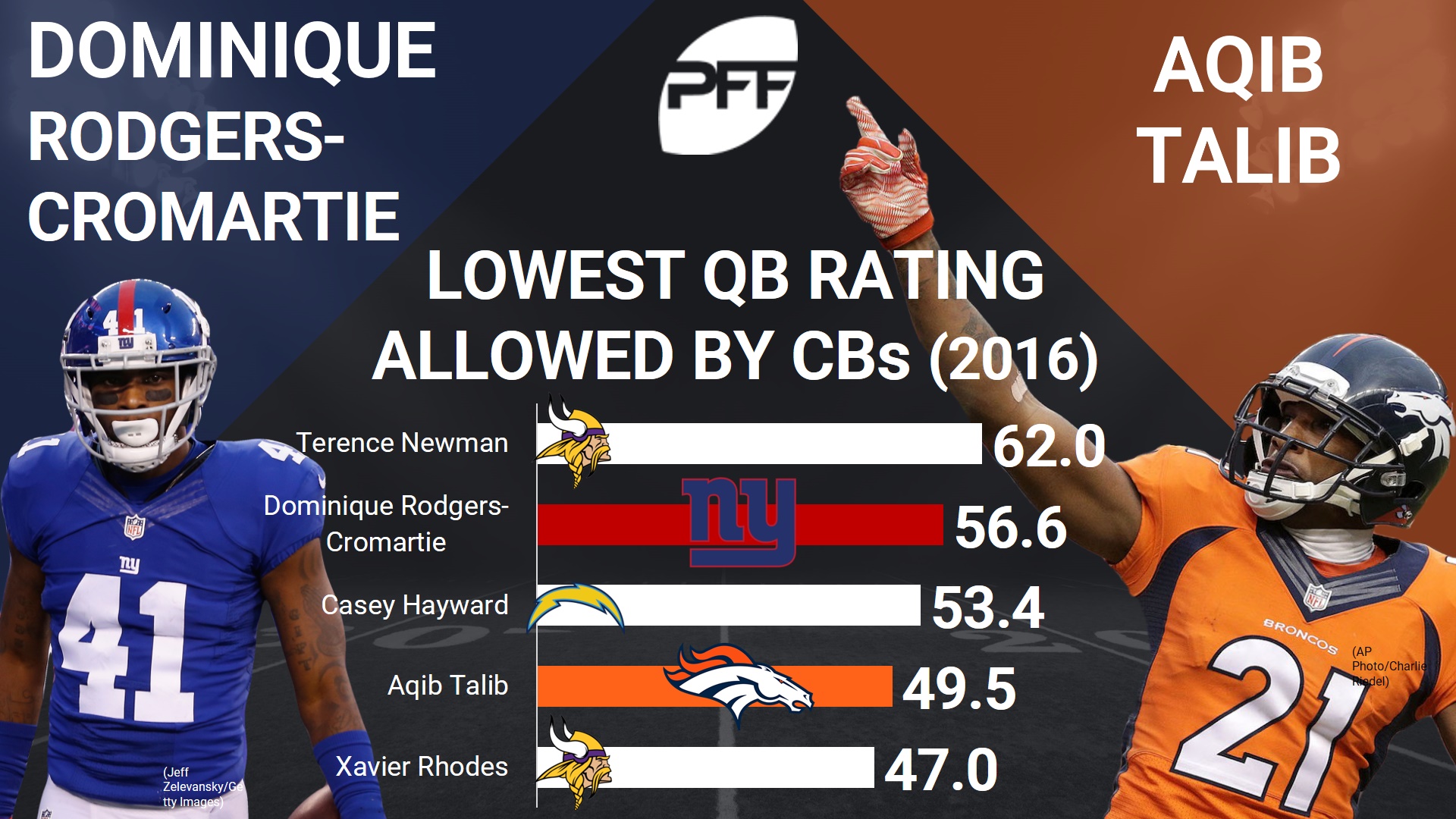 Dominique Rodgers-Cromartie, New York Giants (90.7)
Rodgers-Cromartie has been playing at a high level ever since his one season in Denver in 2013; however, he was able to elevate his game to another level in 2016 as he earned the second-highest grade of his career and the highest since 2009. While the Giants cornerback allowed 48 receptions in 2016, he got his hands on 16 passes himself in the form of six interceptions and 10 pass-breakups. The 16 passes that Rodgers-Cromartie got his hands on rank him fourth – in a tie with Casey Hayward and Malcolm Butler – in the NFL in this category.
Honorable Mention: Brent Grimes, Tampa Bay Buccaneers (90.8); Johnathan Joseph, Houston Texans (75.8)
Slot cornerback
William Gay, Pittsburgh Steelers (83.7)
After a couple up-and-down years early in his career, Gay has become more consistent in recent years and actually put together his best season to date in 2016. Having moved to the slot not only helped Gay, but he actually has become one of the better slot cornerbacks in the league overall. Furthermore, he allowed the second-fewest yards per cover snaps in the slot out of 52 cornerbacks with 0.61 yards, behind only Chris Harris Jr.
Honorable Mention: Orlando Scandrick, Dallas Cowboys (80.1)
Safety
Eric Weddle, Baltimore Ravens (92.4)
Age appears to be just a number to Weddle, who took advantage of a new environment in Baltimore and led all safeties with an overall grade of 92.4, the second-highest grade in his distinguished career. True to his position, Weddle once again proved to be a sure tackler as he had the fourth-best tackling efficiency among 74 qualifying safeties due to the fact that he missed just three tackles on 95 attempts. In addition, Weddle allowed a reception only once every 45.4 snaps of being in primary coverage, which was the seventh-best rate in the NFL.
Quintin Demps, Chicago Bears (85.2)
Contrary to what is expected at this age, Demps has actually been getting better recently as he has put together career seasons in back-to-back years. While Demps had three interceptions over the first four season of his career, he led all safeties with six picks in 2016, even though he missed three games during the season and barely played in another two. Demps' career season was also helped by the fact that he missed only five tackles, which was tied for the 10th-fewest among safeties who played at least 550 snaps.
Honorable Mention: Lardarius Webb, Baltimore Ravens (81.7); Mike Adams, Carolina Panthers (83.3)