Week 7 of the 2016 NFL season is complete, and PFF's grades for every player to take a snap are in the books. Here are the top performances over the week at every position:
Week 7 offense
Quarterback: Andrew Luck, Indianapolis Colts, 87.8
The Titans appeared to have Sunday's game under control until Andrew Luck took over, driving the Colts down the field and into the end zone for the win—a victory Indianapolis' defense then sealed with a score of its own. Under plenty of pressure, Luck had a passer rating of 97.9 even when the Titans hurried him, completing 61.1 percent of his passes under duress.
Running back: Jay Ajayi, Miami Dolphins, 85.7
For the second week running, Jay Ajayi topped 200 rushing yards and is doing much of the hard work himself. Miami is not opening yawning chasms for him to run through, and 129 of his 214 rushing yards this week came after contact, necessitating nine broken tackles to get that far. He has transformed this Miami Dolphins team.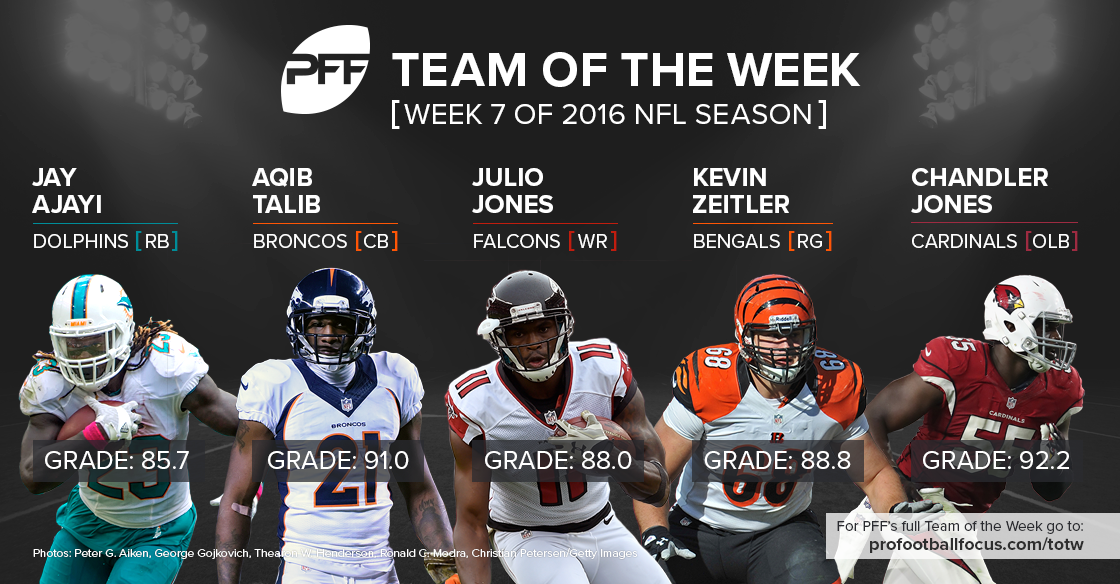 Wide receiver: A.J. Green, Cincinnati Bengals, 90.5
Cleveland just didn't have anybody that could cover Green. The Bengals' wideout caught all eight passes thrown his way, including an end-of-the-half Hail Mary, ending the game with 169 receiving yards. He beat two different Cleveland corners for 70 or more receiving yards in the game, and Andy Dalton had a perfect passer rating of 158.3 when throwing his way.
Wide receiver: Julio Jones, Atlanta Falcons, 88.0
Matt Ryan made some big throws in the game against San Diego before one disastrous one that ultimately cost Atlanta the win, but he also made some off-target throws that Julio Jones caught anyway. Jones hauled in nine of the 14 passes thrown his way, racking up 174 receiving yards, 70 of which came against Casey Hayward, which is the most a single receiver has beaten him for this year by 23 clear yards.
Slot receiver: Russell Shepard, Tampa Bay Buccaneers, 84.4
Russell Shepard only played 27 snaps for the Bucs this week, and he split his time all over the formation, but 12 outright slot snaps were enough to get him onto this team, given how good he was against the 49ers. He was thrown at six times, catching five of them for 55 yards and a touchdown, including 32 yards against CB Rashard Robinson, who had been one of the stars of the season in the 49ers' secondary heading into the game.
Tight end: Rob Gronkowski, New England Patriots, 88.6
Keeping his place on the team this week is Rob Gronkowski, who once again proved to be pretty much unstoppable. Gronkowski was only thrown at four times against Pittsburgh, but he caught all four targets for 93 total yards and a touchdown. Gronk, being Gronk, was also a force on the edge as a run blocker.
Left tackle: Donald Penn, Oakland Raiders, 87.7
Donald Penn went full beastmode against the Jaguars this week, including one play where he picked up LB Paul Posluszny and buried him into the pile to open up some running room. He did allow three hurries across 39 pass-blocking snaps, but they weren't immediate pressures and took some time to affect the QB, mitigating his negative grade on the plays.
Left guard: Xavier Su'a-Filo, Houston Texans, 83.7
The left side of Houston's offensive line actually played pretty well against Denver. Su'a-Filo, in particular, was extremely good, keeping a clean sheet in pass protection and run blocking well against a relatively-undersized Broncos' line. The team averaged 6.5 yards per carry on either side of Su'a-Filo's blocks.
Center: Daniel Kilgore, San Francisco 49ers, 85.3
Daniel Kilgore was pass blocking on 47 snaps, and allowed only one hurry against the Bucs, but he also picked up a couple of positive grades by getting to the linebackers at the second level in the run game.
Right guard: Kevin Zeitler, Cincinnati Bengals, 88.8
The Cleveland Browns don't field the most challenging of defensive fronts, but Kevin Zeitler dispatched the one they do have with ease. He didn't surrender a single QB pressure on Sunday, and was a force in the run game, dominating rookie Emmanuel Ogbah in particular over the course of 60 minutes.
Right tackle: Morgan Moses, Washington Redskins, 84.6
Against the Lions, Morgan Moses had another strong game in what is shaping up to be an excellent season. He didn't allow a single pressure in 44 pass-blocking snaps, nor was he penalized, though his run blocking has been better in other games this year.
Week 7 defense
Edge defender: Brandon Graham, Philadelphia Eagles, 88.0
The Vikings were rotating their tackles in this game, and none of them were capable of slowing down Brandon Graham, who notched a sack, four hits, and two more pressures on 34 pass rushes. He reinforced his impact play in the game with a forced fumble on his sack of former teammate Sam Bradford.
Defensive interior: Gerald McCoy, Tampa Bay Buccaneers, 88.3
Gerald McCoy notched a completely ridiculous 11 total QB pressures against the 49ers (only getting home once, but posting 10 hurries), meaning he generated pressure on exactly 25 percent of his pass-rushing snaps, or once in every four rushes.
Defensive interior: Calais Campbell, Arizona Cardinals, 88.2
Defenses were on top on Sunday Night Football, and Calais Campbell was dominating the porous Seattle offensive line all game long. He notched two hits and a hurry, but was routinely beating his man at the line, only to see Russell Wilson get rid of the ball quickly before a pressure was generated.
Edge defender: Chandler Jones, Arizona Cardinals, 92.2
Another player to retain his spot in this team, Chandler Jones continues to look like a steal of an acquisition for the Cardinals. He recorded a sack, two hits, and four hurries, as he was beating Bradley Sowell—and then Sowell's replacement—all game long.
Linebacker: Mark Barron, Los Angeles Rams, 90.7
Leading the team in defensive stops, Mark Barron looked like a legitimate star linebacker against the Giants in London this week. Barron was also involved in 10 total tackles, again a high mark for the team; in coverage he broke up a pass and allowed just 38 yards on seven targets.
Linebacker: K.J. Wright, Seattle Seahawks, 90.7
Wright may have made fewer tackles than teammate Bobby Wagner, but he actually matched him with five defensive stops, had a pair of hurries on the blitz, and was very impressive in coverage, closing quickly to make solid tackles on Cardinals RB David Johnson and prevent big plays.
Cornerback: Aqib Talib, Denver Broncos, 91.0
Aqib Talib was again excellent this week, allowing a total of 41 yards on 11 targets, with nine of those heading in the direction of Houston's top two receivers, DeAndre Hopkins and Will Fuller. Talib broke up two passes, was on top of another deep bomb, and was again an elite presence at CB.
Cornerback: A.J. Bouye, Houston Texans, 95.0
It's probably time A.J. Bouye gets some major recognition. Against Denver on Monday night, he was thrown at 10 times, but gave up just 38 yards, breaking up two passes and limiting Demaryius Thomas to just 19 yards from five targets. He broke up both of the passes intended for Emmanuel Sanders when he was in coverage.
Slot cornerback: Dominique Rodgers-Cromartie, New York Giants, 88.6
Rodgers-Cromartie only played 33 of his 74 snaps in the slot against the Rams, but it's enough to qualify for a deserving performance. He notched two interceptions, though on the final one he was the beneficiary of a total miscommunication between QB and WR; regardless, he allowed only 53 yards despite being targeted 15 times in the game.
Safety: Rodney McLeod, Philadelphia Eagles, 87.6
The Eagles sent all kinds of blitzes against the Vikings. Though Sam Bradford wasn't actually under pressure any more than usual, almost all of the pressure got home this time. Rodney McLeod had a strip sack of Bradford on the blitz and picked off an errant pass caused by more pressure.
Safety: Patrick Chung, New England Patriots, 88.4
From his safety position, Patrick Chung led the Patriots in defensive stops against the Steelers, with five. In coverage, he was all over the field, breaking up two of the six passes thrown his way and allowing just 17 yards in total, closing quickly to prevent significant gains.
Week 7 special teams
Punter: Johnny Hekker, Los Angeles Rams
Johnny Hekker punted the ball seven times in Twickenham Stadium, averaging 45.7 yards and seeing six of them result in a starting field position inside the 20-yard line. Of the seven, one went out of bounds, two were downed, and four were returned—but for a total of 11 yards.
Kicker: Justin Tucker, Baltimore Ravens
Justin Tucker nailed all three of his field goals this week, and all three were from 40+ yards, with one coming from 50+.
Special teamer: Justin Bethel, Arizona Cardinals
Justin Bethel was back to his best as one of the league's most destructive special teamers. He recorded a pair of tackles and did positive work on both kickoffs and punts.
Return specialist: Josh Huff, Philadelphia Eagles
For the second week running, the Eagles have a return man on the team of the week, but this time it's kick returner Josh Huff, who took one back 98 yards for a touchdown against the Vikings.