Week 2 of the 2016 NFL season is complete, and PFF's grades for every player to take a snap are in the books. Here are the top performances over the week at every position:
Week 2 offense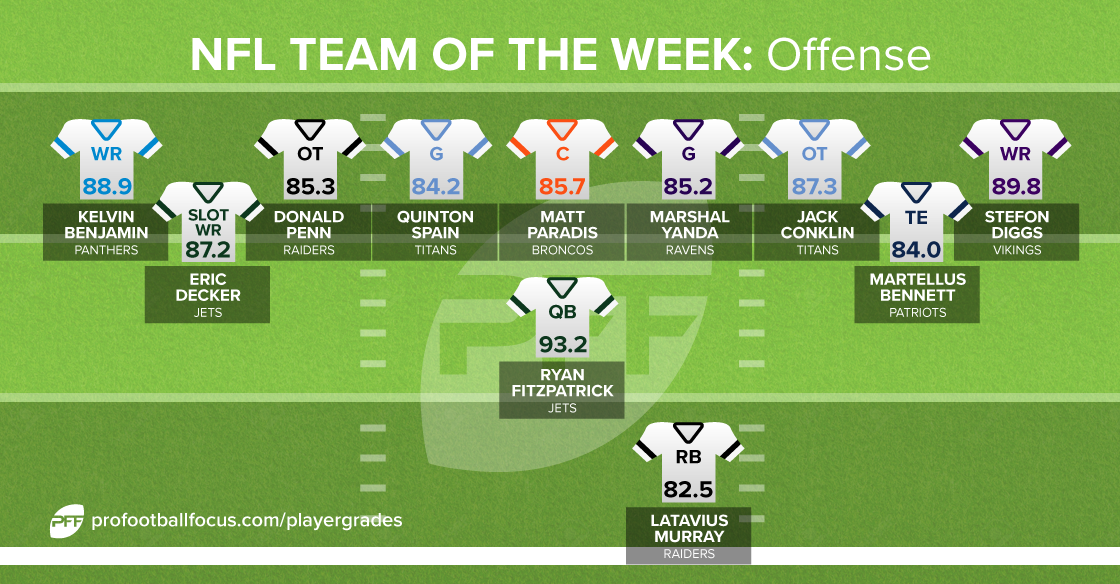 Quarterback: Ryan Fitzpatrick, New York Jets, 93.2 overall grade
He gets his fair share of criticism when he plays poorly, so it's only fair to recognize an exceptional game from Ryan Fitzpatrick when one comes along. The Jets' QB completed 70.6 percent of his passes against the Bills, and three of his incompletions were drops.
Running back: Latavius Murray, Oakland Raiders, 82.5
Latavius Murray only recorded eight carries against the Falcons, but they went for 57 yards (7.1 yards per attempt), and 54 of them came after contact. Murray broke four tackles and scored a touchdown on the ground against the Falcons, and added six catches for 44 receiving yards, breaking another two tackles on those receptions.
Wide receiver: Stefon Diggs, Minnesota Vikings, 89.8
There may not be a hotter receiver in the game right now than Minnesota's Stefon Diggs, who picked up with Sam Bradford at QB the way he left off with Shaun Hill. Against Green Bay, Diggs caught all nine of the passes thrown his way for 182 yards and a touchdown, torching Packers CB Damarious Randall, who made this team last week.
Wide receiver: Kelvin Benjamin, Carolina Panthers, 88.9
Cam Newton won the NFL's MVP award last season without his best weapon at wideout, and you can see the impact getting him back has already made in 2016. Kelvin Benjamin caught seven of the eight passes thrown his way agains San Francisco, gaining only 6 yards after the catch because they were mostly catch-point wins over defenders—a huge boost for Newton.
Slot receiver: Eric Decker, New York Jets, 87.2
Decker isn't a typical slot receiver, strictly speaking, but against Buffalo, he played 35 of 76 snaps in the slot. The 3.7 yards per route run he gained from the slot this week were second-most in the league, trailing only Dolphins WR Jarvis Landry (3.9).
Tight end: Martellus Bennett, New England Patriots, 84.0
Solid run blocking and 114 receiving yards alone make for a pretty good day at the office, but Bennett was doing major damage after the catch, too. In fact, 96 of his yards came after the catch versus the Dolphins, breaking two tackles along the way.
Left tackle: Donald Penn, Oakland Raiders, 85.3
Donald Penn continues to defy the odds late into his career. An undrafted free agent back in 2006, Penn is playing some of the best football of his NFL tenure at age 33. Against Atlanta, he allowed two hurries, but no sacks or QB hits in 49 pass-blocking snaps.
Left guard: Quinton Spain, Tennessee Titans, 84.2
Quinton Spain allowed a pair of hurries on 42 pass-blocking snaps, but it was his work in the run game that earns him a spot on this team. Tennessee averaged 6 yards per carry when running to his outside hip.
Center: Matt Paradis, Denver Broncos, 85.7
For the second week in a row, Matt Paradis makes the team of the week. The Broncos center is yet to allow a pressure this season, and has performed well in run blocking. We may have a new contender on our hands for best center in the game.
Right guard: Marshal Yanda, Baltimore Ravens, 85.2
The best guard in football had another fine performance against the Cleveland Browns this week. Yanda was once again a quality pass blocker, allowing no pressure, and also graded well as a run blocker. Just a typical day at the office for the Ravens' guard.
Right tackle: Jack Conklin, Tennessee Titans, 87.3
In 42 pass-blocking snaps, rookie RT Jack Conklin was perfect in pass protection, allowing no pressure at all to reach QB Marcus Mariota. His trademark power in the run game was also on display.
Week 2 defense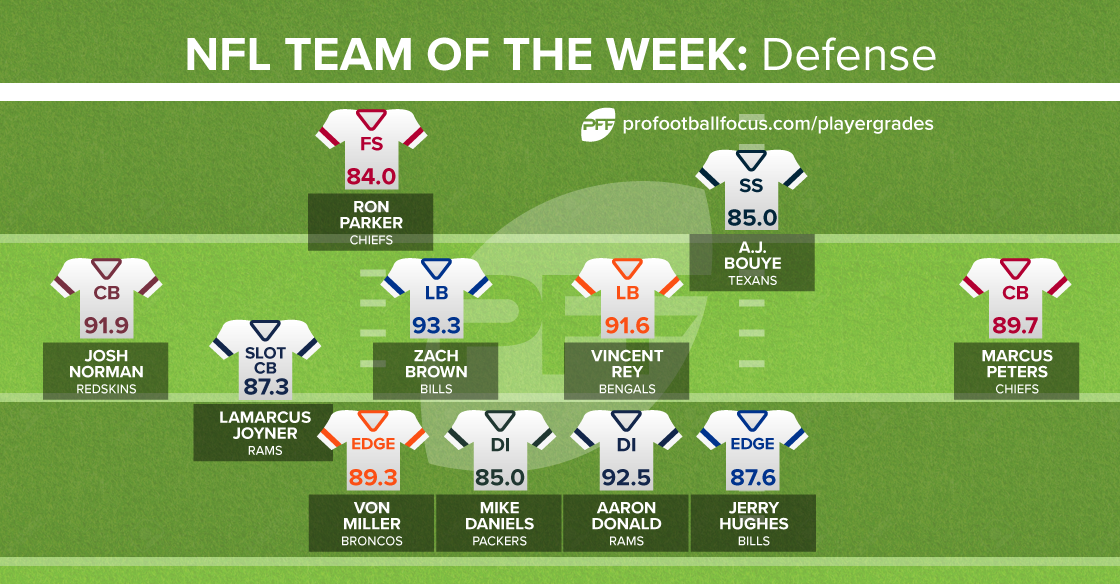 Edge defender: Von Miller, Denver Broncos, 89.3
If you were worried that Von Miller would lose his motivation after getting richly paid in the offseason, it's probably time to relax. Miller sacked Andrew Luck four times on Sunday, and added four hurries and a batted pass. The Super Bowl 50 MVP also forced a fumble late to effectively seal the win.
Interior defender: Mike Daniels, Green Bay Packers, 85.0
Going up against the Vikings, Daniels was a force on the inside for Green Bay, posting a sack, two hits, and two more hurries. He notched four defensive stops and was a constant thorn in the side of the Vikings' O-line, which struggled all game.
Interior defender: Aaron Donald, Los Angeles Rams, 92.5
For the second week in a row, Aaron Donald makes the team of the week without a sack—and once again, that single statistic does nothing to articulate how destructive Donald was in the game. Against Seattle, he recorded four hits and three hurries, as well as four defensive stops.
Edge defender: Jerry Hughes, Buffalo Bills, 87.6
Everybody wants their edge rushers to get sacks, but sometimes, they just don't come. Jerry Hughes notched six pressures against the Jets, but just couldn't catch a break in the sack column. He also flashed a little in coverage on the seven snaps he was asked to drop back.
Linebacker: Zach Brown, Buffalo Bills, 93.3
The Jets were able to have success against the Bills' defense, but the front made them work hard for it. Brown notched nine defensive stops, the most among linebackers this week by two, and allowed just two catches for 9 yards in coverage.
Linebacker: Vincent Rey, Cincinnati Bengals, 91.6
In the slippery conditions caused by the rain, Vincent Rey was a force against the Steelers, attacking the run well and recording five defensive stops. He also surrendered just one reception for 7 yards in coverage.
Cornerback: Josh Norman, Washington Redskins, 91.9
It took until the fourth quarter, but Washington finally started to use Josh Norman to track Dez Bryant, and from that point on, Bryant had just one catch (that actually didn't come against Norman). For the game, Norman was thrown at three times, surrendering no receptions, and breaking up both passes intended for Dez Bryant into his coverage.
Cornerback: Marcus Peters, Kansas City Chiefs, 89.7
You won't find a day much busier for a cornerback than Peters' Week 2 game against the Texans. He was targeted 11 times, and though he surrendered five receptions for 98 yards, including a 53-yard completion to rookie Will Fuller, he also picked off two passes, broke up another two, and made a play or two in the run game.
Slot cornerback: Lamarcus Joyner, Los Angeles Rams, 87.3
Joyner spent 35 snaps in the slot against Seattle, more than all but two other players in the league in Week 2. He allowed three catches on six targets, but they went for a total of just 18 yards.
Safety: A.J. Bouye, Houston Texans, 85.0
Breaking up one of the five passes thrown his way in primary coverage, A.J. Bouye earned the best coverage grade of any safety this week (90.2), and was one of the standout players for the Texans on the back end.
Safety: Ron Parker, Kansas City Chiefs, 84.0
Ron Parker made two defensive stops against Houston, as well as breaking up a pass in coverage, totaling four tackles and an assist, despite lining up deep on 58.3 percent of his snaps over the game.
Week 2 special teams
Punter: Thomas Morstead, New Orleans Saints
Punting seven times, Morstead had an average of 54.7 yards, and his punts were returned a total of 9 yards. Though he did have three touchbacks, his location was excellent most of the game, and just didn't get the bounce of the ball or help from his coverage team.
Kicker: Justin Tucker, Baltimore Ravens
Hitting all three of his field-goal attempts—all from 40 or more yards—Tucker was perfect for the game, and his kickoffs gave an average start position of the 21.2-yard line, well inside the 25 that a touchback now yields.
Special teamer: Tyreek Hill, Kansas City Chiefs
With two tackles, three kick returns, and four punt returns, Tyreek Hill was Mr. Everything this week on special teams, and he graded well across the board.
Return specialist: Eddie Royal, Chicago Bears
He had some help along the way from a nice blocking convoy, but Eddie Royal's punt-return touchdown against the Eagles Monday night was a thing of beauty.
Miss our team of the week for NFL Week 1? See the roster here, headlined by Colts QB Andrew Luck.