As the value of the passing game is being truly realized, so too is the need for a variety of pass-catchers that can help an NFL offense achieve sustained success. The Cincinnati Bengals were the most-recent team to lock up one of their aerial threats, giving wide receiver Tyler Boyd a four-year extension, reportedly worth up to $43 million. While last season was largely a forgettable one for the Bengals, Boyd's emergence and subsequent performance on the field should not go unnoticed, and that is why the team made a savvy move in bringing him back.
By now, many are familiar with Boyd's story. He was largely successful at Pittsburgh, where he set multiple records before being drafted by the Bengals early in the second round of the 2016 NFL Draft. The rookie receiver put forth a modest effort, producing 54 catches and 600 yards, along with a 65.1 overall grade. As a sophomore, Boyd took a step back — he produced just a 62.0 overall grade when he took to the turf — and he found himself in the doghouse of the previous regime, sometimes struggling to get onto the field at all.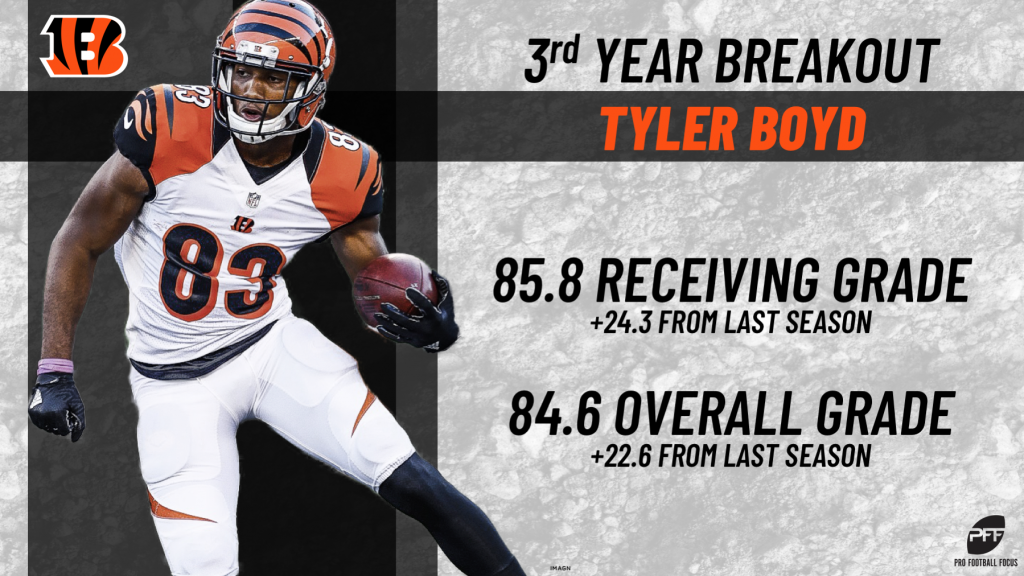 Boyd's early struggles are part of what makes his sudden and explosive breakout last season so surprising. With defenses focused on A.J. Green, Boyd took advantage to the tune of 76 catches, 1,028 yards and seven touchdowns. The third-year receiver managed an 85.8 receiving grade and robust 127.8 passer rating when targeted, which ranked 11th and third among 79 qualifying receivers. Boyd was one of the league's most sure-handed receivers, snagging 76 of his 79 catchable targets for a drop percentage of just 3.8 (T-17th among WRs).
There is an argument to be made that the former Pittsburgh Panther was actually one of the best slot receivers in the NFL last season. When running routes from the slot, Boyd produced an exceptional 80.4 overall grade (4th), a 113.9 passer rating when targeted (8th) and 2.00 yards per route run (2nd). Boyd was particularly remarkable on third and fourth down, producing an 84.6 receiving grade on such downs, which ranks second among qualifying receivers. Last season, he caught 20 of his 36 money-down targets for 14 first downs and two touchdowns when aligned in the slot.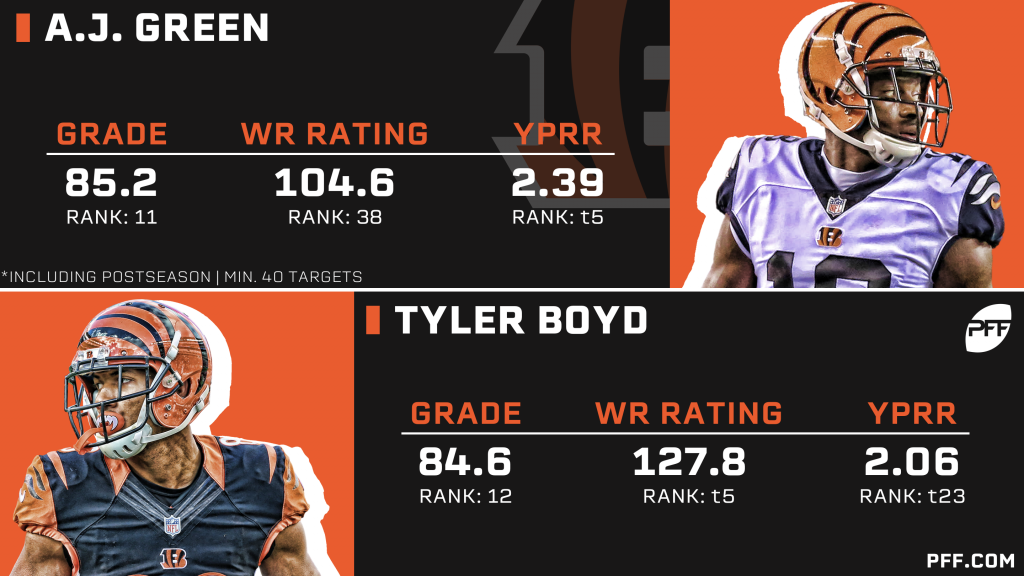 It took some time, but Tyler Boyd has emerged as an NFL weapon that defenses must account for, and he forms a truly formidable duo with A.J. Green. Last season, Boyd and Green were the only receiving duo to finish with overall grades inside the top-15. In the nine games they played together in 2018, Boyd and Green each finished with a top-10 receiving grade and top-20 marks in yards per route run. In fact, Boyd led the league's receivers who saw at least 45 targets in that span with a 134.1 passer rating when targeted.
While a significant chunk of Boyd's production came from the slot, he is a weapon that can be relied upon in all areas of the field in nearly every situation. When lined up on the outside, he produced a ludicrous 151.8 passer rating when targeted, and he also generated a 109.4 passer rating when targeted on money-downs.  Boyd was one of the best at converting key downs, turning 58.1% of his third- and fourth-down targets into a first down or touchdown, which was the eighth-best rate in the NFL. Over the last three seasons, Boyd's 80.2 receiving grade on money-downs ranks 13th.
Boyd isn't one of the most explosive receivers, but he uses his crisp route running ability and strong hands to give quarterback Andy Dalton a tremendously reliable target on the field. Dalton has tossed a catchable target to Boyd on 79.0% of his 186 attempts, a rate that ranks 8th among active receiver-quarterback tandems, which demonstrates the connection Boyd and Dalton have developed.
Tyler Boyd is one of the league's emerging young receivers, and he demonstrated that he can be one of Dalton's most-trusted targets — even with A.J. Green out. The Bengals made the move to re-sign him, but how does that translate in terms of value?
The Bengals were able to nab Boyd for $10.75 million APY. According to PFF's Kevin Cole, who has been working on using Wins Above Replacement to project the value of a player, Tyler Boyd's projections put his value in the $13 million-to-$17 million APY range. In other words, the Bengals more than got value when it comes to the deal.
Tyler Boyd's importance to the offense, both as one of the quarterback's favorite targets and as a weapon to demand attention opposite of A.J. Green, cannot be understated. Because of that, the Bengals were very shrewd to make a move to lock down their budding receiver, even if it cost them a few extra million. The team and fans alike are winning with the re-signing of Tyler Boyd — getting him at a bargain was just a bonus.