Indianapolis Colts wide receiver T.Y. Hilton has dealt with injuries all season, whether it's been his groin, hamstring or shoulder. And while he's battled through most of them despite missing numerous practices, the seventh-year wideout was forced to miss Weeks 5 and 6. Luckily for quarterback Andrew Luck, those weeks consisted of only the one-win New York Jets and the two-win Buffalo Bills. The Colts went 1-1 in Hilton's absence but have since turned it up a notch — and Luck and Hilton are a large reason why.
Since Week 7, only the New Orleans Saints' Drew Brees owns a better grade (92.3) than Luck's (91.9). And in that same span, only Los Angeles Chargers' Keenan Allen has earned a higher grade (91.4) than Hilton (91.3) at the wide receiver position. Somehow, someway, the duo has become even better as the Colts vie for a playoff spot. What's been most visibly successful is Luck's deep-ball connection with his speedy WR1.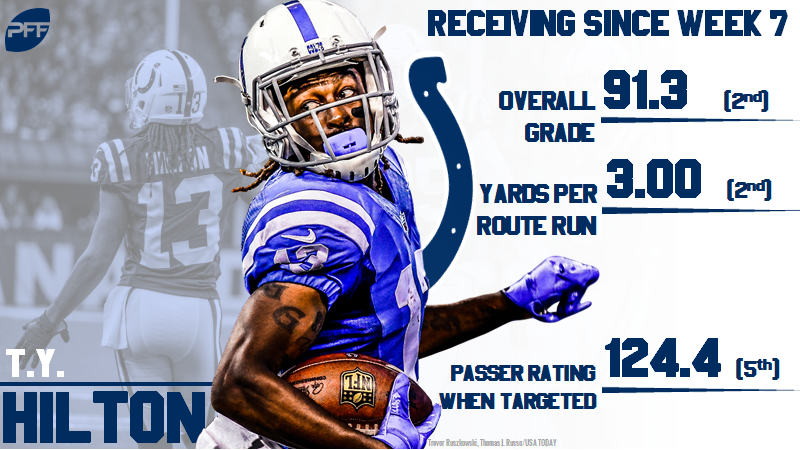 After attempting 35 total passes but just four deep passes Hilton's way in Weeks 1-4, Luck has tried throws of 20 or more yards downfield 13 times to him since his return. All nine catchable throws have been hauled in for a league-leading 347 deep receiving yards in that span. Hilton is now tied for the second-most deep receptions among wide receivers this season despite missing that time — and it appears the Luck-Hilton connection is currently the strongest passer-receiver-duo in the league.
Nearly 35 percent of Luck's passing yards in the span have come on receptions by Hilton — a duo that has been surpassed only by Aaron Rodgers–Davante Adams and Drew Brees-Michael Thomas since Week 7. But maybe most importantly, Hilton is coming up big on the not-so-easy balls. He has 16 contested targets in the span and has managed to reel in half of them for a second-best 161 yards. The reliability each has had on one another has given the Colts life in an otherwise murky battle for the final AFC wild-card spot, putting up six wins in the seven games since Hilton's return.
And Hilton is having an impact in more than just the receiving game. Luck was sacked 10 times in the first four weeks of the year, but ever since the duo came alive, Luck has been dropped just four times in seven games — a testament to both stellar offensive line play and Hilton being an option when quarterback pressure presents itself. In fact, Luck has found Hilton for 10 receptions on 15 targets for 201 yards and a touchdown when he's faced pressure — a 131.9 passer rating that ranks third among wide receivers since Week 7.
Since returning, Hilton has gone up against cornerbacks Jalen Ramsey, Kareem Jackson and D.J. Hayden, among others. All have grades above 70.0, including Jackson's fourth-best 86.4. But Luck has still been able to find Hilton for 10 receptions on 17 targets into their coverages. On paper, the Luck-Hilton connection hasn't appeared that impressive — 32 catches on 50 targets for two touchdowns and interception since Week 7. But it's when you look at when those receptions are coming — on deep balls, on contested targets, on pressured downs — the duo can be fully appreciated for what they've accomplished in a matter of seven games. And as the wild-card race heats up, the Colts are going to need both stars to perform at similar or better levels if they're to sneak in.