The National Football League is rich with storylines, even in the preseason, and Robert Griffin III's return to the NFL is one of the biggest to come out of the Hall of Fame game.
The Baltimore Ravens moved the ball well against the Chicago Bears with Griffin at the helm, rolling him out a number of times and getting the ball out of his hand quickly with short passes. Of course, the box score also shows an interception, however the turnover was not Griffin's fault. Whether you're new to PFF or a devout fan, you'll appreciate our goal of trying to add proper context to every play that occurs in the NFL season. As for the interception, this one was all on wide receiver Breshad Perriman, who gets credited with a drop.
At PFF, we work hard to isolate "turnover-worthy plays" on passes that should be intercepted, whether they are or not. In Griffin's case, this pass goes in as a positive grade. He does a nice job of throwing on time and hitting Perriman about helmet-high with a pass that should have been an easy completion for a first down. Instead, Perriman's questionable hands came into play once again as he's dropped nine of his 52 catchable passes in his career and this one proved costly as DeAndre Houston-Carson made the diving catch to crush Griffin's box-score stats.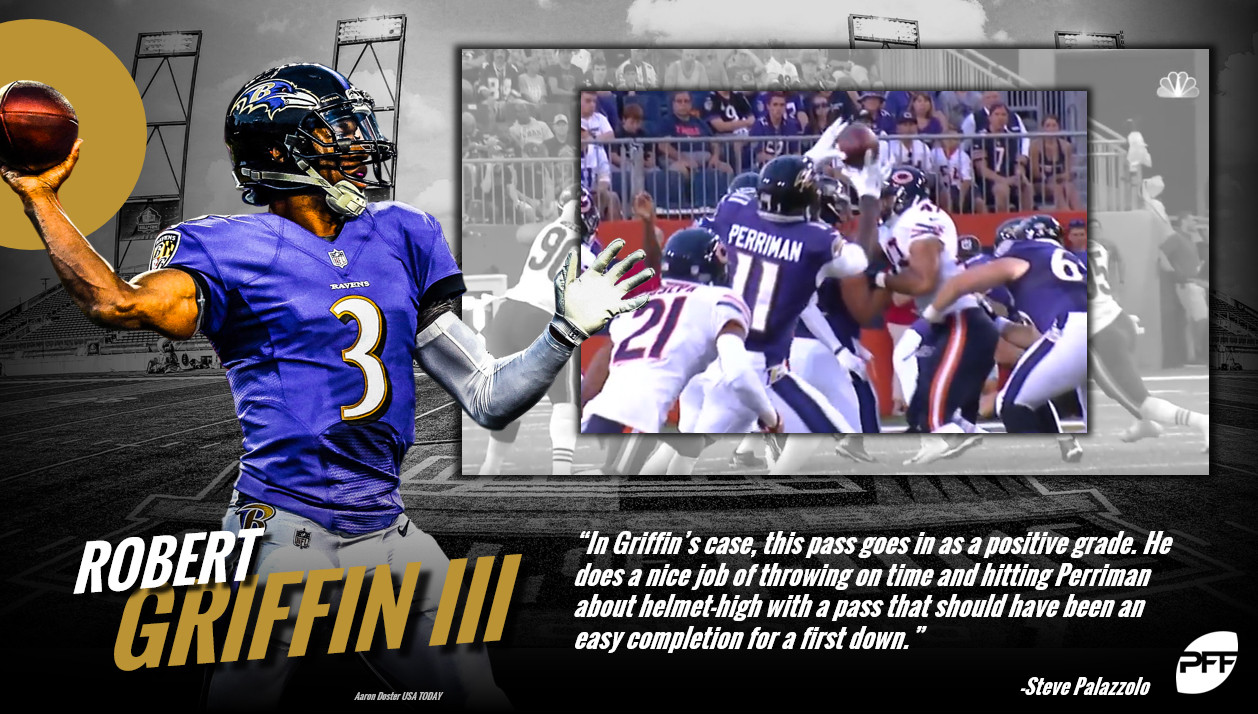 Let's take a look at the play: Griffin is faced with 3rd & 3 with the Bears giving him a soft look in the secondary as no cornerback is up in press coverage. This makes for an easy read to throw the quick slant, which Griffin executes well with an on-time throw in a good spot. Griffin does his job well on this play, however the box score shows an ugly black mark in the interception column.
Stick with us all season as we add proper context to traditional narratives, especially when it comes to quarterbacks and their box-score stats.