Akiem Hicks' first four years in the NFL were quite average — maybe even below average for a third-round pick. He hadn't finished a season with a grade higher than 70.0, performed poorly against the run and couldn't make a difference as a pass-rusher. But when Hicks joined the Chicago Bears in 2016, a switch flipped.
His snaps increased by about 200 from his sophomore and junior years as a member of the New Orleans Saints, and he certainly made them count. That year, he posted 50 pressures — his previous career-high had been just 27. That also happened to be his highest-graded year up until that point at 76.6.

Now, in 2018, Hicks has established himself as one of the NFL's most dominant interior defensive lineman. A 92.4 overall grade has him sitting behind only Aaron Donald and Fletcher Cox at his position through six weeks. But, what's more impressive is how Hicks has improved his run defense over the course of seven years. Hicks' 19.7 run-stop percentage is the highest of any interior defensive lineman through six weeks since PFF began tracking the statistic in 2006. Compare that to Hicks' meager 6.9 run-stop percentage in his rookie year, and you've got quite a leap.
As a result of his domination in the run game, Hicks has the highest run-defense grade (93.7) of all defensive players thus far. His pass-rush has improved, as well. From a rough 2.9 pass-rush productivity rating as a rookie, Hicks has cracked the top-10 in 2018 with a 7.6 pass-rush productivity. Hicks has already forced three fumbles on the season, which leads the league at his position and is more than he's had in any other year. But with names such as Donald, Damon Harrison and Jurrell Casey known to consistently dominate the position, Hicks has yet to receive the recognition he deserves.
He has typically lined up against the right guard this year, so let's look at how he's performed compared to the rest of the NFL. This year, runners are averaging about 4.9 yards per carry and about 3.2 yards after contact per carry when running in the right guard hole. Against the Bears, though, runners are averaging a full yard less, 3.8 yards, in that hole with the yards after contact also averaging to 3.2.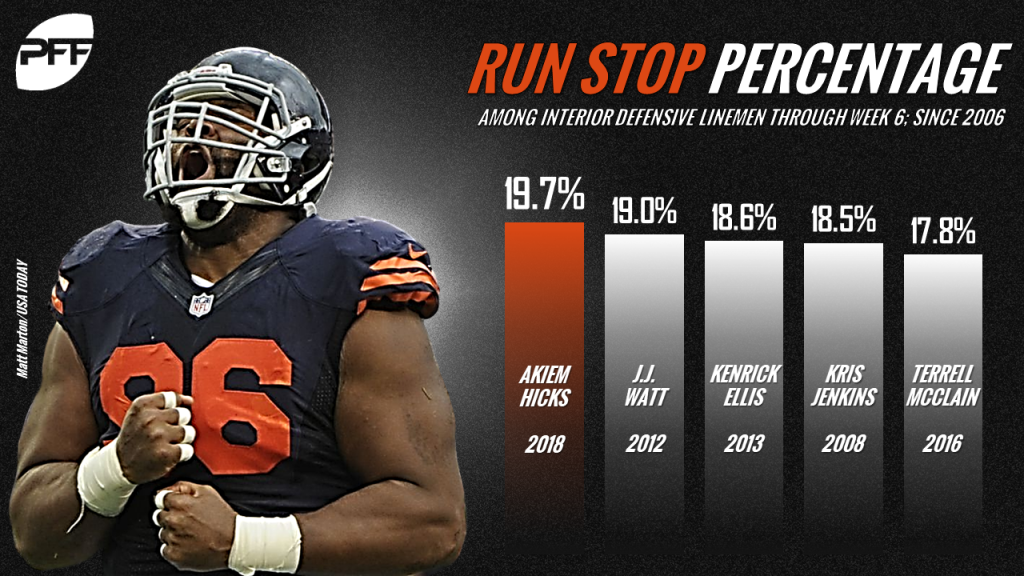 Having a reliable defensive lineman who consistently stops the run and proves to be a force in general (see: Damon Harrison) is invaluable in this league. The Kansas City Chiefs' lack a consistent run-stopping defensive lineman — their best lineman at stopping the run is Xavier Williams, who they signed in the offseason. That, in combination with a number of other factors, has led to the Chiefs allowing 5.4 yards per carry this year, second-most. The importance of even just one consistent option up front is invaluable to a team's run defense.
Without Hicks, the Bears would be in deep trouble up front. His 15 run stops are only one less than all other five Bears' interior defensive lineman combined. Similarly, in rushing the passer, his 17 pressures are only three less than the other interior lineman combined.
With that in mind, it's time to start considering Hicks among the NFL's best. While this season has proven to be a breakout year, his past two solid seasons in Chicago showed he was ready to take the leap — and nobody will question that he certainly has taken the leap as not only a top lineman but also a top all-around defensive player.