For the many NFL fans who aren't yet sold on the talents of quarterback Carson Wentz — or, perhaps, his ability to stay healthy — the Philadelphia Eagles have made it explicitly clear they have no worries or doubts. Late Thursday night, The team signed Wentz to a lucrative four-year, $128 million extension that can balloon to $144 million after incentives. Oh, and $107.9 million of it is guaranteed.
That's certainly not a deal you give to a player you don't trust to be on the field and shine while doing so, and although Wentz has his skeptics, one thing has become abundantly clear in his three NFL seasons: his skill set is rare.
Wentz hit the ground running in his debut season with some stellar performances early in the year, but his sophomore season — the Eagles' Super Bowl-winning one — was what exactly what they wanted when they traded up to get him in the first round of the 2016 NFL Draft. He did eventually go down with an injury, but before then Wentz was a legitimate MVP candidate, dominating in all phases of the game. He was sensational on third-down plays that year, where he led all quarterbacks in passing grade (93.3), big-time throws (15), yards per attempt (9.5) and passer rating (123.7).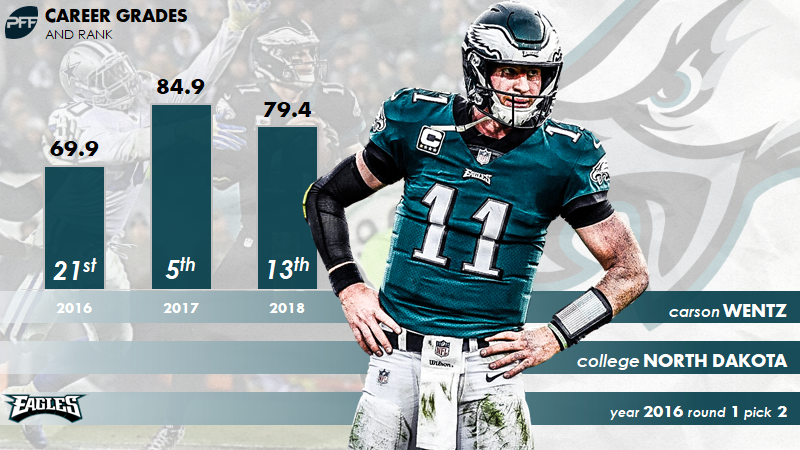 Since 2006, only one quarterback has achieved a higher three-year overall PFF grade (in their first three seasons) than Wentz's 82.7 mark. A knack for accuracy has fueled that grade, with Wentz improving from a 15th-ranked adjusted completion percentage of 74.8 in 2016 to a fourth-best rate of 78.7% in 2018.
Primarily as a result of Wentz's growth, the Eagles have seen wide receiver Nelson Agholor blossom from a near-bust to a growing threat. Agholor notched a 52.6 overall grade in 2016 and caught just 58.1% of his targets. In 2017, it was 71.3%, and in 2018, it was 69.4%.
But still, Wentz came back from an ACL tear in 2017 and appeared to understandably regress in 2018 with a 79.4 overall grade (14th) from a remarkable prior campaign that saw him earn an 84.9 mark (sixth). But aside from an atrocious three-interception showing against the New Orleans Saints in Week 11, Wentz was relatively stable and productive in 2018, with seven games of a passer rating above 100.0 in 11 starts.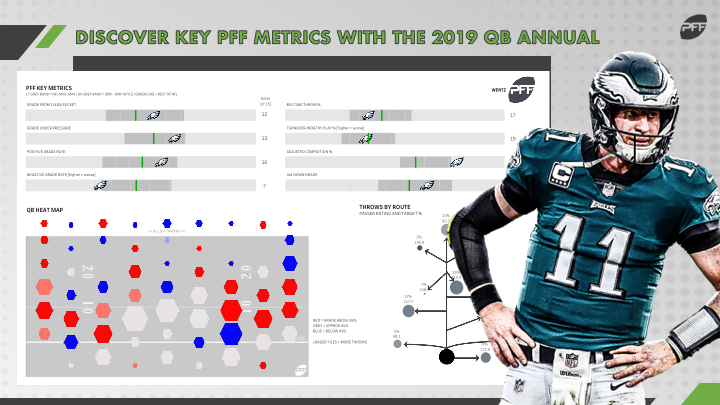 There are a few valid criticisms to make of Wentz, one being that he's too safe of a passer — which can be argued both as a positive or negative trait. His big-time throw rate over his first three seasons is 4.1%, which ranks just 38th among quarterbacks since 2006 in their first three years. In the same vein, his turnover-worthy throw rate over the span is 3.2% — 22nd best among 68 qualifying quarterbacks. Wentz won't be — and hasn't been — the guy to force risky throws, and he operates best when pressure is at a minimum.
Wentz has put together two straight years of earning an above-average passer rating under pressure, but it's when he's kept clean in the pocket that he does the most damage. The North Dakota State product has compiled a 104.2 passer rating from a clean pocket, which is where he's thrown 57 of his 70 career passing touchdowns. In the past three years, Wentz ranks 14th among 34 qualifying signal callers in the percentage of touchdowns from a clean pocket (81.4%).
Imperfections in the former No.2 overall pick's game are apparent, but Wentz's talents shine brighter. And if the Eagles can continue to build a foundation composed of receiving weapons and reliable blockers around him, Wentz will be poised to live up to his lucrative deal and beyond.