New York Giants general manager Dave Gettleman made it clear when he took over at the end of the 2017 season that he would look to build the franchise through the trenches. In a little over a year, Gettleman has overhauled the entire offensive line.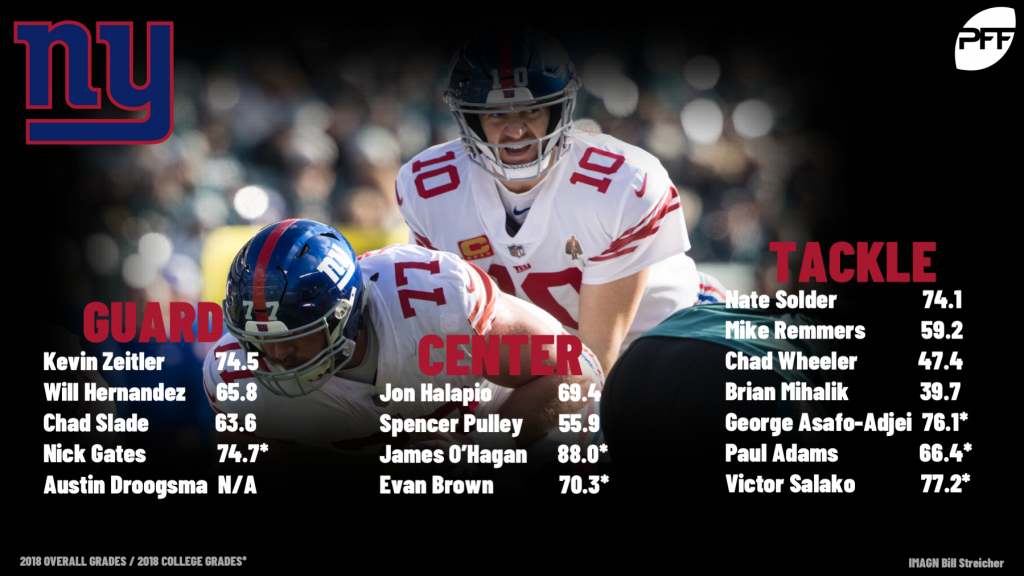 His first significant move was signing longtime New England Patriots left tackle Nate Solder. The two-time Super Bowl Champion brought consistency to Big Blue's offensive line, earning 70-plus overall grades in every year but his rookie season.
Solder continued that trend with the Giants in 2018. He was the team's highest-graded offensive lineman at 74.1 and ranked 21st among offensive tackles with 300-plus offensive snaps played a year ago.
He also wasn't the only notable addition to New York's offensive line last season. Gettleman used a second-round pick on UTEP standout Will Hernandez.
The 6-foot-2, 327-pound rookie started every game at left guard, earning a 65.8 overall grade. Hernandez showed elite pass-blocking potential with the Miners, posting 94.8 and 92.6 grades in pass protection in his junior and senior seasons.
Of the 79 guards to log at least 300 snaps in 2018, Hernandez ranked 26th in pass-blocking grade (73.1). He wasn't as efficient moving defenders on the ground, earning just a 60.0 overall run-blocking grade. However, he still ranked 27th among guards and, like Solder, was 21st overall at his position.
Despite the additions of Solder and Hernandez, the Giants still finished last season ranked 25th in pass-blocking grade (66.4) and 18th in run-blocking grade (57.8). The last time the G-Men finished in the top-10 in either category for PFF came back in 2012.
Gettleman went back to work on the offensive line this offseason, making another big splash, only this time it wasn't through free agency. He traded New York's highest-graded (86.3) defensive player, Olivier Vernon, from 2018 to the Cleveland Browns in exchange for guard Kevin Zeitler. The two sides also swapped Day 3 draft picks in what was considered a blockbuster deal.
PFF broke down why both New York and Cleveland came away winners from the trade, but let's take a closer look at what the Giants will be getting in their new right guard.
Much like Solder, Zeitler has been a model of consistency since entering the league. He has placed among the top-20 guards for five consecutive seasons and ranked sixth at the position in 2018 with a 74.5 overall grade.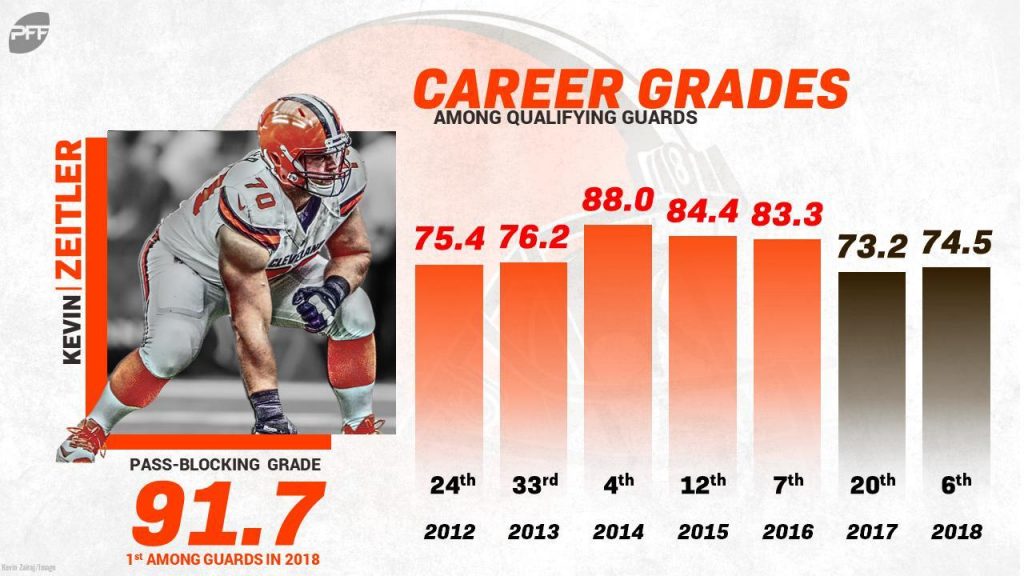 The former first-round pick out of Wisconsin also posted the highest pass-blocking grade (91.7) among guards last season, and his best quality may be his durability. Zeitler has not missed a start since 2014 and has never logged fewer than 800 snaps in a single season.
Gettleman's final addition to Big Blue's new-look offensive line came earlier this month with the signing of Mike Remmers. The Giants signed the veteran offensive lineman to a one-year deal.
The Minnesota Vikings released Remmers earlier this offseason following a down year. He had started every game at right guard in 2018 but finished the season with just a 59.2 overall grade. The Giants are hoping the former Oregon State standout can transition back to right tackle where he's found the most success.
In 2016, Remmers logged starts at both right tackle and left tackle for the Carolina Panthers. He posted a 71.1 overall grade that season on 1,106 snaps. The following offseason, Remmers signed with Minnesota and earned a 70.5 overall grade while making 10 starts at right tackle.
He's now reunited with Pat Shurmur, who was the Vikings offensive coordinator in 2017, and is looking forward to getting back to playing tackle, via New York's team website.
"Tackle, I have the absolute most experience there, from high school, to college, to pros," Remmers said. "I have the most experience at tackle. Last year I played all guard, the year before that mainly tackle and a few games at guard. It was different playing guard, I feel like my experience there will help me though going back to tackle."
Jon Halapio is the only projected starter on Big Blue's offensive line that remains from the Jerry Reese era, and he was only signed to New York's practice squad in 2016.
Gettleman's overhaul of the entire offensive line is clearly evident just based on the number of new personnel within the unit in less than two years. However, there's still plenty of questions to answer with multiple expected starters working their way back from injuries.
Solder (ankle) and Remmers (back) underwent offseason surgeries, but Shurmur said he expects to have both back by the start of training camp. Halapio is already back on the practice field for OTAs after fracturing his leg and ankle in Week 2 against the Dallas Cowboys.
All three are expected to play a vital role in the upcoming season. Halapio earned a 69.3 overall grade on just 116 snaps last season and has only logged eight starts in his career.
The center position is likely to feature the biggest competition along the offensive line. The Giants claimed Spencer Pulley off waivers in September after starting all 16 games for the Los Angeles Chargers in 2017. Following Halapio's injury, the Giants continued to retool the offensive line until Pulley took over the starting center position in Week 7.
He earned just a 55.9 overall grade but showed promise in pass protection, allowing 12 pressures on 345 pass-blocking snaps. While Gettleman has looked to improve the entire group through free agency and the draft, depth remains a concern.
Chad Wheeler, Chad Slade and Brian Mihalik are the only players outside of the six listed above to have logged snaps along an NFL offensive line. But the Giants did add seventh-round draft pick George Asafo-Adjei and undrafted free agents James O'Hagan, Paul Adam and Austin Droogsma.
All four should at least compete for a spot on the team's 53-man roster, and O'Hagan could find himself in the middle of the center competition with Halapio and Pulley. In his final season at Buffalo, O'Hagan earned a career-high 88.0 overall grade, ranking first among all draft-eligible centers.
The Giants have remained committed to starting Eli Manning in 2018 despite his consistent struggles. However, they now have an option waiting in the wings after selecting Duke quarterback Daniel Jones at No. 6 overall in the 2019 NFL Draft.
Manning has not recorded an overall grade above 70.0 since 2014, but like many quarterbacks, his play is notably improved when kept clean. The former two-time Super Bowl MVP threw five touchdowns to four interceptions and ranked 23rd in passer rating (70.2) when under pressure in 2018 with a minimum of 180 dropbacks. But when Manning was kept clean, he threw 16 touchdowns to seven interceptions and ranked 18th in passer rating (101.2).
Those numbers are not likely to boost confidence in Giants fans but are worth noting given the investment Gettleman has made in the offensive line. And for those hoping Jones can be the difference-maker for the offense, they may want to reserve their enthusiasm.
Jones posted just a 53.9 passer rating when under pressure at Duke, completing 41.2 percent of his passes with three touchdowns to four interceptions. He did show significant improvement when kept clean, throwing 19 touchdowns to five interceptions. Nonetheless, he still ranked 25th among draft-eligible quarterbacks in passer rating (104.1) when not under pressure.
Dwayne Haskins, Will Grier, Drew Lock, Easton Stick and Gardner Minshew are just some of the names to post a better passer rating when kept clean. All were selected after Jones in the 2019 NFL Draft.
The Giants and Gettleman are clearly hoping the rebuilt offensive line can help Manning turn back the clock, while also establishing a strong foundation for Jones to eventually step behind. Only time will tell if Gettleman's offensive line investments will work out, but for Manning time is of the essence, especially with the No. 6 overall pick waiting to take the reins.