Injuries have been Jason Verrett's fatal flaw, as he hasn't played a full 16-game season since 2015. When healthy, there aren't many cornerbacks better than Verrett, as he earned 85.1 and 88.4 grades in 2014 and 2015, respectively, but the veteran corner has played just 323 snaps in five games played in the last three seasons.

Pro Football Focus will be running through 50-plus pending/soon-to-be free agents between January 7, 2019 and March 8, 2019 to offer a detailed analysis of the top players bound for new contracts and (possibly) new teams in 2019. We want to house all of the important grades, advanced stats and key analysis for each player, so you know exactly what your team is getting in free agency.
To review all of our free agent profiles in one place, please visit this page.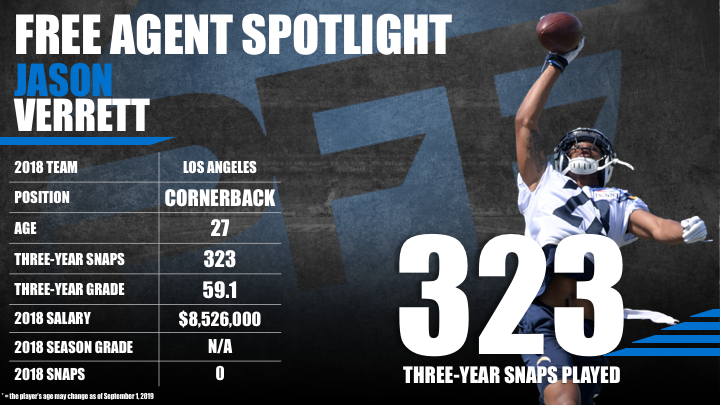 With Verrett's five-year deal coming to an end, the team that takes a chance on him will most likely sign him to a low-risk deal with the opportunity for him to prove himself. In 2015, Verrett tied for the highest coverage grade among all cornerbacks (90.9) and added three interceptions. He has been on the mend for shoulder, knee and Achilles injuries, but he was a rising star in his first two seasons. If Verrett can stay healthy and regain 2015 form, then he will be a steal for whichever team takes the risk on the 27 year-old player.