Tyrell Williams just completed his fourth season in the NFL, all with the Los Angeles Chargers. Over four seasons, Williams amassed 259 targets, 162 receptions and an impressive 16.3 yard per reception mark. Three straight seasons with 750-plus receiving yards should cause Williams to have a short stint in free agency.

Pro Football Focus will be running through 50-plus pending/soon-to-be free agents between January 7, 2019 and March 8, 2019 to offer a detailed analysis of the top players bound for new contracts and (possibly) new teams in 2019. We want to house all of the important grades, advanced stats and key analysis for each player, so you know exactly what your team is getting in free agency.
To review all of our free agent profiles in one place, please visit this page.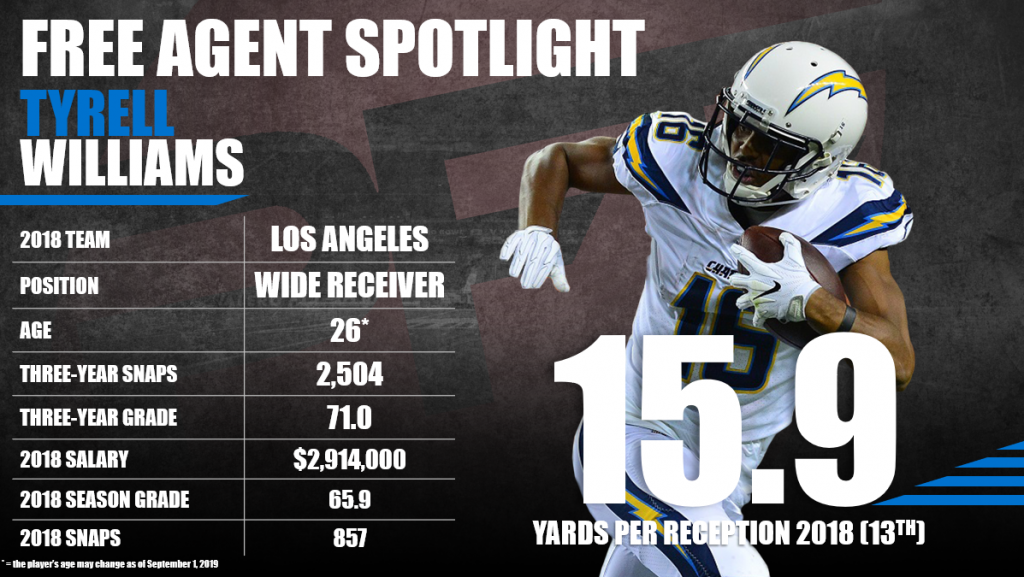 Williams has proved himself as a true deep threat, catching a 75-plus yard touchdown in three of his four seasons and leading the league in deep pass yards in the first seven weeks of 2018 (291 yards). The Western Oregon alumnus' 15.9 yards per reception ranks 10th among qualifying wide receivers. The four-year veteran has been the third or fourth fiddle in the Los Angeles Chargers' offense for a majority of his career, but that hasn't hurt his numbers with Philip Rivers throwing him the football.
Subscribe to Pro Football Focus' ELITE subscription to research Tyrell Williams' grades, advanced stats, snaps and more in Premium Stats 2.0.