On his third team in the past three seasons after signing a one-year, $1.5 million contract with the Arizona Cardinals, Tre Boston put together another productive season. Boston was the 24th highest-graded safety and his 74.1 overall grade was the second highest-graded season of his young, five-year career. He allowed 18 receptions on 30 targets for 189 yards and two touchdowns while breaking up seven passes and intercepting another three.

Pro Football Focus will be running through 50-plus pending/soon-to-be free agents between January 7, 2019 and March 8, 2019 to offer a detailed analysis of the top players bound for new contracts and (possibly) new teams in 2019. We want to house all of the important grades, advanced stats and key analysis for each player, so you know exactly what your team is getting in free agency.
To review all of our free agent profiles in one place, please visit this page.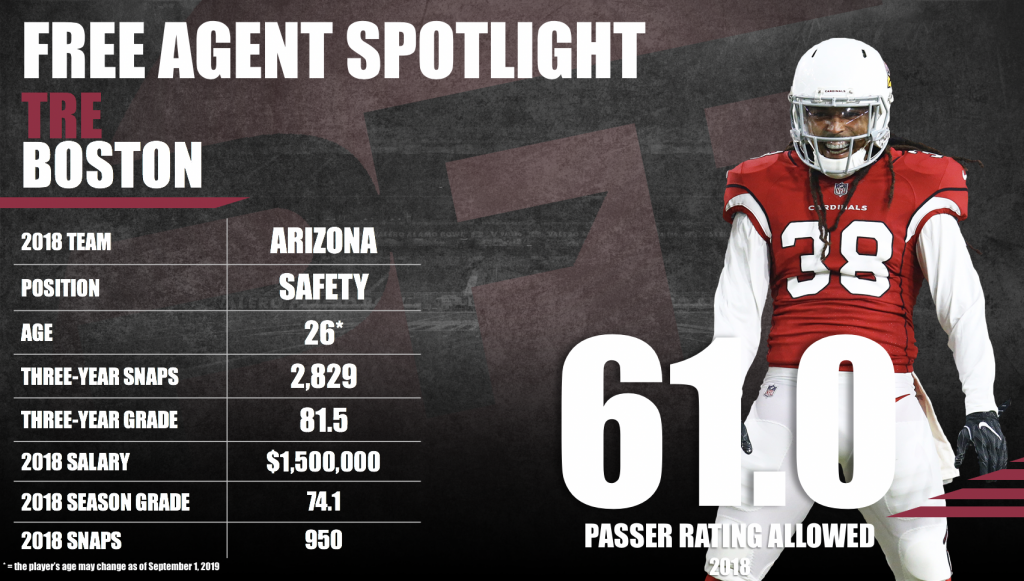 Boston has shown an ability to come into a new situation and provide stable play. In 2018, his forced incompletion percentage (26.7%) was fourth among safeties with at least 10 targets. In addition, his 61.0 passer rating allowed was sixth-best among safeties. 
Subscribe to Pro Football Focus' ELITE subscription to research Tre Boston's grades, advanced stats, snaps and more in Premium Stats 2.0.