Rashaan Melvin's one-year stint with the Oakland Raiders didn't go as planned. Coming off a career year in 2017, Melvin signed with Oakland but never lived up to the hype, earning a 60.5 overall grade across his 604 defensive snaps in 2018.

Pro Football Focus will be running through 50-plus pending/soon-to-be free agents between January 7, 2019 and March 8, 2019 to offer a detailed analysis of the top players bound for new contracts and (possibly) new teams in 2019. We want to house all of the important grades, advanced stats and key analysis for each player, so you know exactly what your team is getting in free agency.
To review all of our free agent profiles in one place, please visit this page.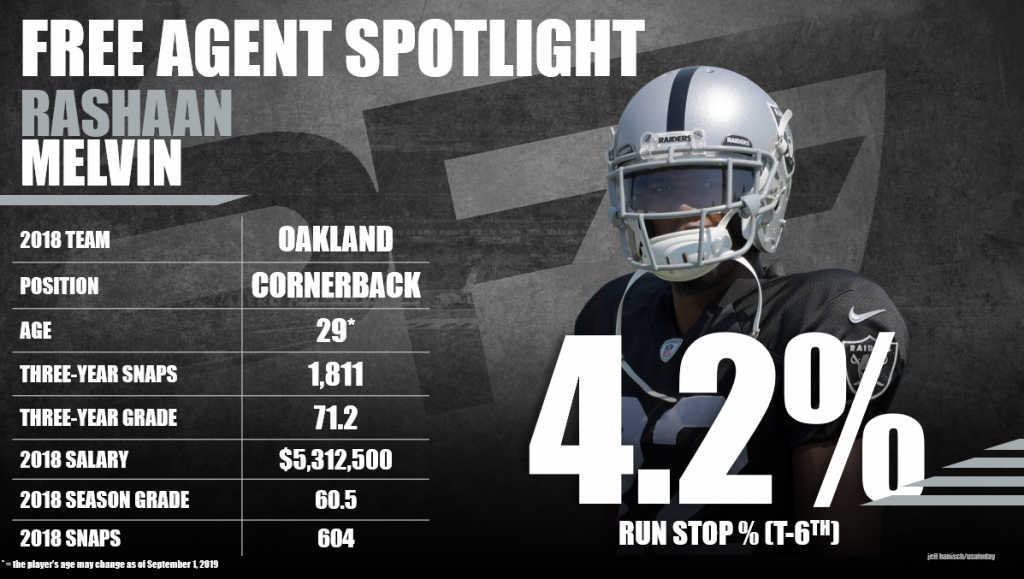 Melvin could return to his 2017 form if given the opportunity with a change of scenery, but he likely won't see the same level of contract he saw last offseason with his 2018 season being as bad as it was with the Raiders.
Subscribe to Pro Football Focus' ELITE subscription to research Rashaan Melvin's grades, advanced stats, snaps and more in Premium Stats 2.0.