Injury prevented Jay Ajayi form playing out his contract year with the Philadelphia Eagles in 2018. Tearing his ACL in Week 5, Ajayi played just 120 offensive snaps and earned an 84.6 overall grade this past season.

Pro Football Focus will be running through 50-plus pending/soon-to-be free agents between January 7, 2019 and March 8, 2019 to offer a detailed analysis of the top players bound for new contracts and (possibly) new teams in 2019. We want to house all of the important grades, advanced stats and key analysis for each player, so you know exactly what your team is getting in free agency.
To review all of our free agent profiles in one place, please visit this page.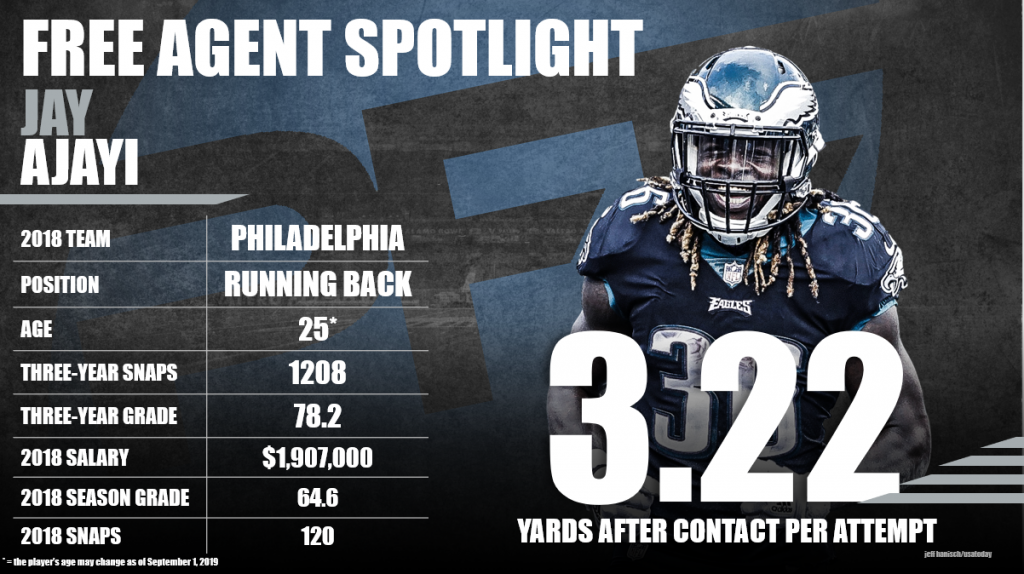 Question marks surrounding Ajayi's health should keep his asking price lower than other veteran backs on the market. Expect him to take on a lead role for an NFL team willing to take a low-cost bet on his health in hopes of getting the playmaking ability his displayed with the Miami Dolphins in 2016. Ajayi earned a career-high 77.3 overall grade and forced 62 missed tackles that season. 
Subscribe to Pro Football Focus' ELITE subscription to research Jay Ajayi's grades, advanced stats, snaps and more in Premium Stats 2.0.