Timing is everything. Well, for Dee Ford it couldn't be truer. After four seasons with a high overall grade of 63.5 and pass-rush grade of 65.9 in 2016 and only 316 snaps in 2017, Ford dominated in 2018. Playing on the fifth-year option from his rookie contract, Ford had the No. 1 pass-rush grade (91.0) as well as the most total QB pressures among edge defenders (78).

Pro Football Focus will be running through 50-plus pending/soon-to-be free agents between January 7, 2019 and March 8, 2019 to offer a detailed analysis of the top players bound for new contracts and (possibly) new teams in 2019. We want to house all of the important grades, advanced stats and key analysis for each player, so you know exactly what your team is getting in free agency.
To review all of our free agent profiles in one place, please visit this page.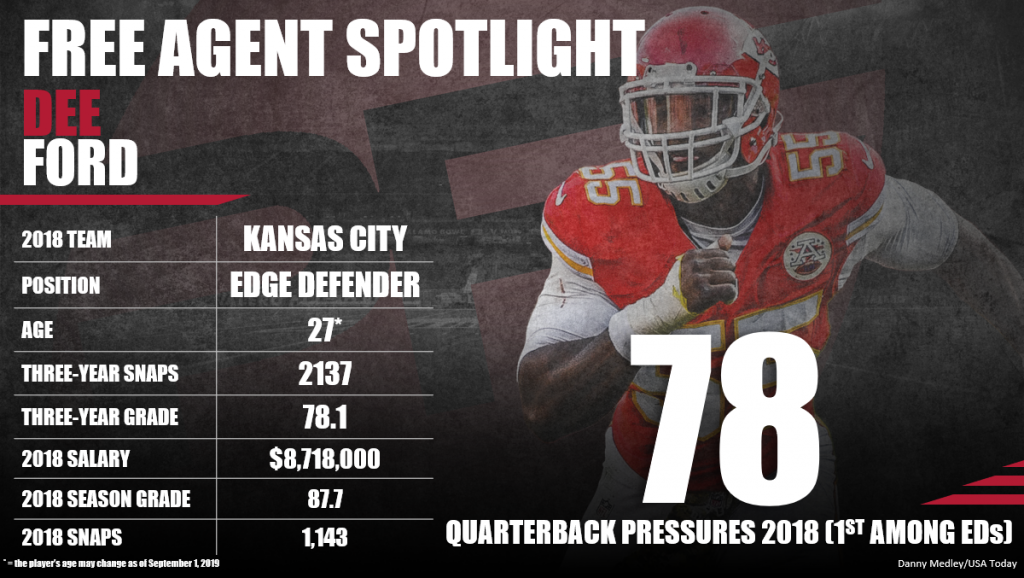 In seven of 16 games this past season, Ford had at least five QB pressures, including a sack. Thus, the timing of a breakout/elite season could not have been more perfect. However, as PFF's Mike Renner highlighted a couple of weeks ago, Ford's previous performance makes him a high risk/high reward player but one still likely to at least be franchise-tagged by the Chiefs to prevent him from hitting the open market.
Subscribe to Pro Football Focus' ELITE subscription to research Dee Ford's grades, advanced stats, snaps and more in Premium Stats 2.0.