Nearing 30 years old, Cole Beasley isn't going to draw a high-dollar, multi-year deal from any team this offseason, but the team that does invest in him as a short-term solution in the slot will get their money's worth, surely. He is a sure-handed slot receiver that has proved he can thrive as a high-volume option in an offense.

Pro Football Focus will be running through 50-plus pending/soon-to-be free agents between January 7, 2019 and March 8, 2019 to offer a detailed analysis of the top players bound for new contracts and (possibly) new teams in 2019. We want to house all of the important grades, advanced stats and key analysis for each player, so you know exactly what your team is getting in free agency.
To review all of our free agent profiles in one place, please visit this page.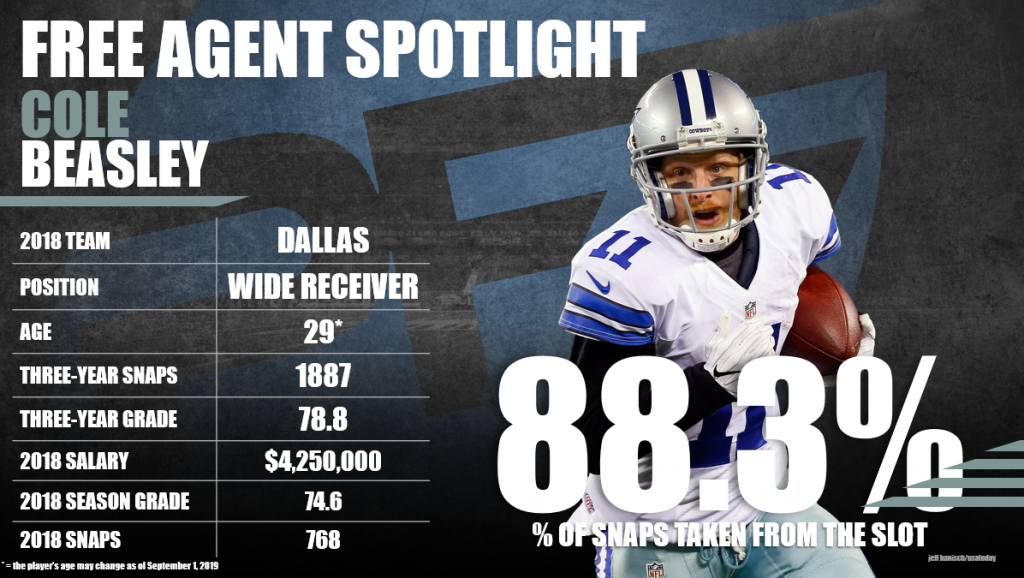 Beasley can have a positive impact as a No. 2 or even No. 3 option in an offense, especially if given the opportunity to work with a high-end signal-caller.
Subscribe to Pro Football Focus' ELITE subscription to research Cole Beasley's grades, advanced stats, snaps and more in Premium Stats 2.0.