The Dallas Cowboys have been all over the map in terms of fortune and expectations over the last couple of seasons. They are only 18 months removed from losing in the playoffs to a freak catch/no-catch play, and thought 2015 was going to be their year, only for injuries to leave them rudderless and unable to win games. What will 2016 hold—a return to the playoff contenders of 2014, or another disappointment? Let's take a look at each unit.
[More: Be sure to check out PFF's ranking of all 32 NFL QB situations, offensive lines, running back units, receiving corps, secondaries, and defensive front-sevens. Catch up on all the team previews here.]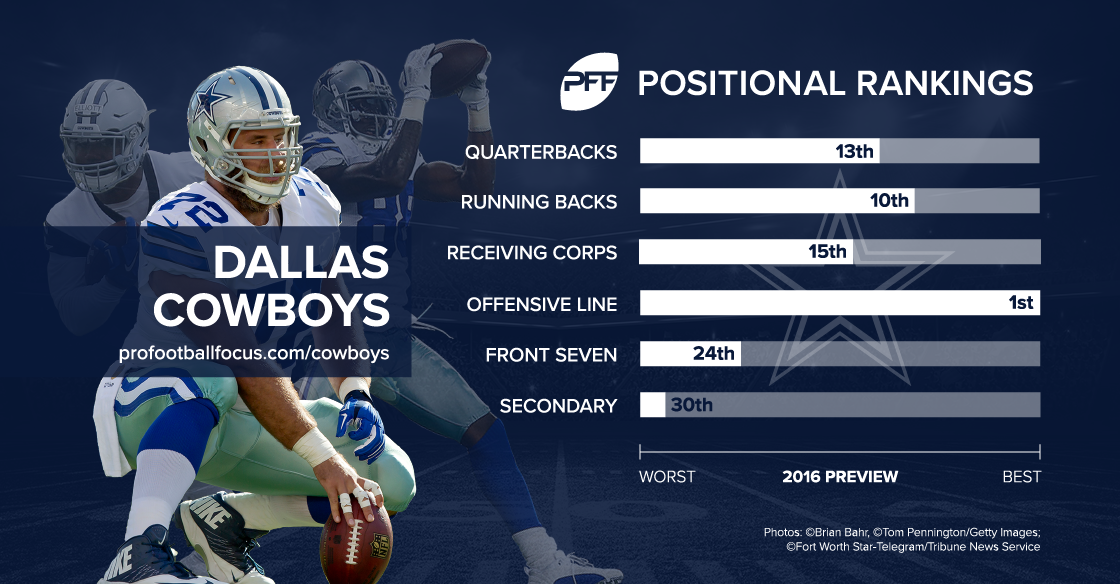 This team goes as Tony Romo goes, and last year he didn't go far before breaking down (on more than one occasion). Romo enters this season fully-recovered from injury, but is now 36 years old, and the question of just how much the Cowboys want on his shoulders is a key one. If Romo goes down again, Dallas is in little better shape than a year ago, with only Kellen Moore and rookie developmental prospect Dak Prescott (Mississippi State) behind him on the depth chart. Romo is capable of elite play, but he hasn't been able to quite match some of the raw numbers from recent seasons in pure performance terms when you throw on the tape. This season, though, he should have significant help.
Running backs: 10

th
Drafting Ezekiel Elliott (Ohio State) at the No. 4 overall spot should be a game-changer for Dallas. The Cowboys have a monstrous run-blocking offensive line that was able to make Darren McFadden look like a Pro-Bowl starter in 2015, and Elliott is the best running back prospect in this class—and a complete player. He won't just take what is given, but can gain significant yardage on his own, notching 1,050 yards in his final college season after contact and breaking 54 tackles. The former Buckeye is also a three-down back, having impressive hands and the ability to block that you just don't find in young running backs. In 108 pass-blocking snaps last season, he allowed just a single QB pressure. It may be putting the cart before the horse, but given the situation he has landed in, I would make Elliott the odds-on favorite for Rookie of the Year.
(PFF Fantasy Insight: Elliott is a favorite on the fantasy side as well. He's the No. 4 running back in our staff consensus rankings, and is running in the single best situation for fantasy success in the league. We ran through the Dallas depth chart from a fantasy perspective as well.)
Receiving corps: 15

th
Getting Dez Bryant back at 100 percent might be as important for the Cowboys as getting Romo healthy. At his best, Bryant is a game-changing, elite receiver that can dictate coverages and open things up for other targets. Terrance Williams and Cole Beasley can be fine complementary pieces if Bryant can return to that kind of influential form, but they won't take pressure off without help. Tight end Jason Witten may be nearing the end of his great career, and his 2015 campaign was his lowest-graded season since PFF began grading (2007). He is only a year removed from being the NFL's second-highest-graded TE, but at his age, any significant drop will always be concerning.
Offensive line: 1

st
The Cowboys have arguably the best offensive line in the league, and certainly the best run-blocking unit in football. In Tyron Smith at left tackle, Travis Frederick at center, and Zack Martin at right guard, they have three players that are all All-Pro caliber, and two who have a good claim to being the best player in the league at their respective positions. Left guard La'el Collins was probably the weak link on this unit as a rookie, but that was more of a consistency and inexperience thing than actually being unable to get the job done. His highlight reel of pancake blocks would rival any lineman in the league and shows the kind of crazy ceiling his play has. If this O-line can replicate its 2015-season form, the O-line should make life much easier for both Romo and Elliott.
Front-seven: 24

th
If the Cowboys could start their best players every week, this wouldn't be a bad group, but suspensions are hitting hard and weakening a front-seven that isn't blessed with a lot of depth. Dallas is missing MLB Rolando McClain for 10 weeks and both starting DEs for four weeks, and then they have the cloud of potential injury hanging over LB Sean Lee, as always. Lee, if healthy, is one of the league's best and most complete linebackers, but a series of injuries have blighted his career. The pass-rush is looking like a potential problem for the Cowboys, with Tyrone Crawford as the top—and only—source of legitimate pressure for the first period of the season. Defensive tackle Cedric Thornton was a very good run-defender in Philadelphia, but it remains to be seen if he can expand his game as an every-down player in Dallas.
Secondary: 30

th
The returning secondary starters in Dallas allowed a combined 14 touchdowns and didn't intercept a pass on the other end, which about tells the tale for a unit that looks very weak. Getting Orlando Scandrick back should be a big boost, but he will need to hit the ground running, which is no guarantee after a knee injury. Byron Jones looked good as a rookie in multiple roles on that defense, but will need another step forward—and probably a defined job—to really live up to his billing. Brandon Carr and Morris Claiborne were supposed to be the CB-pairing that made this secondary great, but both have failed to deliver on that promise, yet are likely to still see significant time in 2016.