Making its grand return, the PFF College 50 highlights the best college players heading into 2018. Using our play-by-play grading on every snap of the last four FBS seasons, this list takes positional value out of the equation, so all positions are created equally when compiling the top 50.
1. Nick Bosa, Edge, Ohio State
Our highest-graded returning player, Bosa has dominated in his 896 college snaps, picking up 14 sacks, 18 QB hits and 71 hurries on 537 rushes.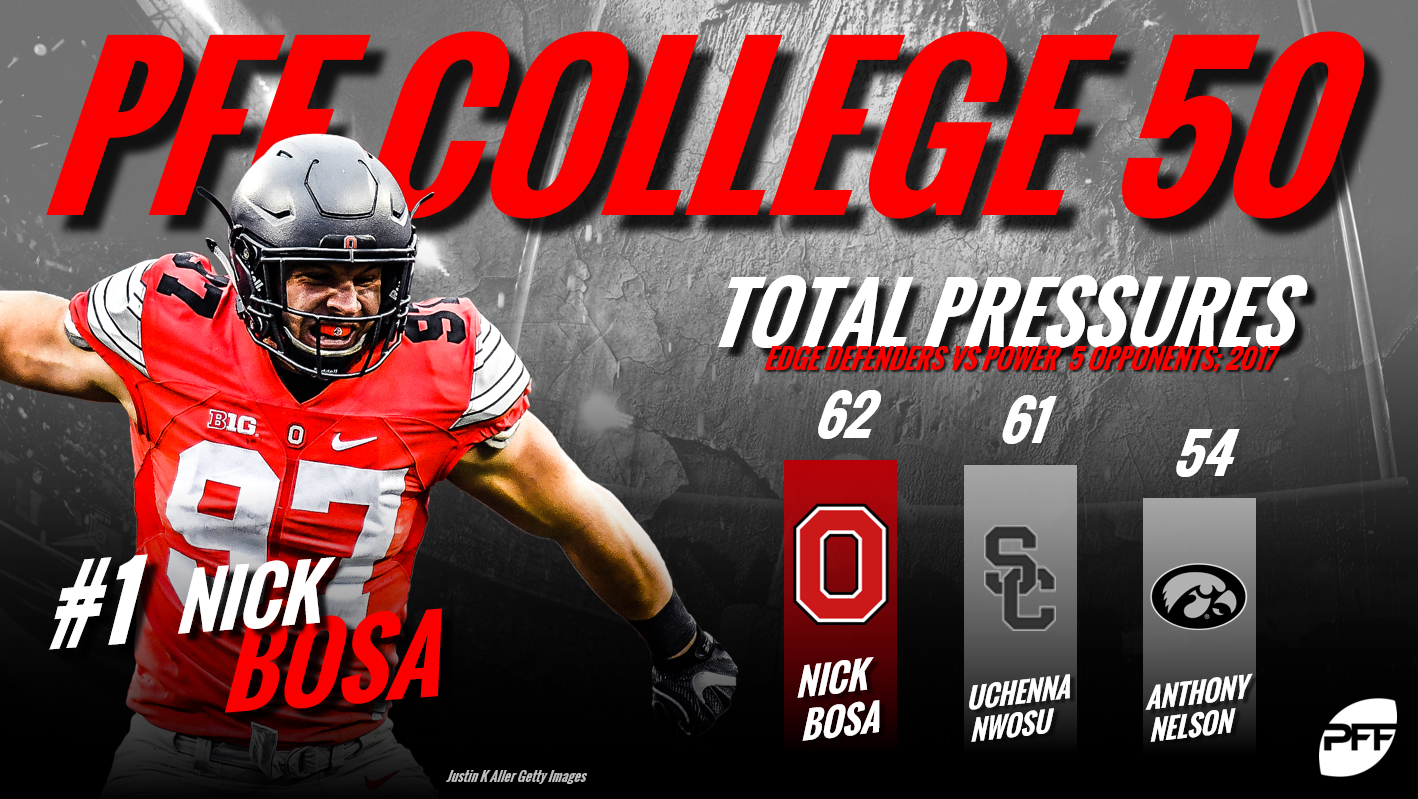 2. Ed Oliver, Defensive Interior, Houston
The best returning run defender in the nation, Oliver's 94.6 run-defense grade in 2017 is the third best we've seen in four years of grading. Last year, he graded at 91.4 overall, third best in the nation among returning defensive players.
3. David Montgomery, RB, Iowa State
A tackle-breaking machine, Montgomery broke 109 total tackles in 2017, the highest single-season total we have seen across college or the NFL since we have been grading games.
4. Sutton Smith, Edge, Northern Illinois
Consistently dominant and not solely due to his competition level. Smith registered five pressures against Boston College and eight against Nebraska last season.
5. Bryce Love, RB, Stanford
Speed to burn and the ability to turn any carry into a big play, Love led the nation in breakaway percentage (66.3) last season, with 35 runs of 15 or more yards.
6. Jonathan Taylor, RB, Wisconsin
Running behind one of the nation's best offenisve lines certainly helps, but Taylor did plenty of damage on his own last season as a true freshman as he averaged 4.5 yards after contact per rush, tied for seventh best in the country.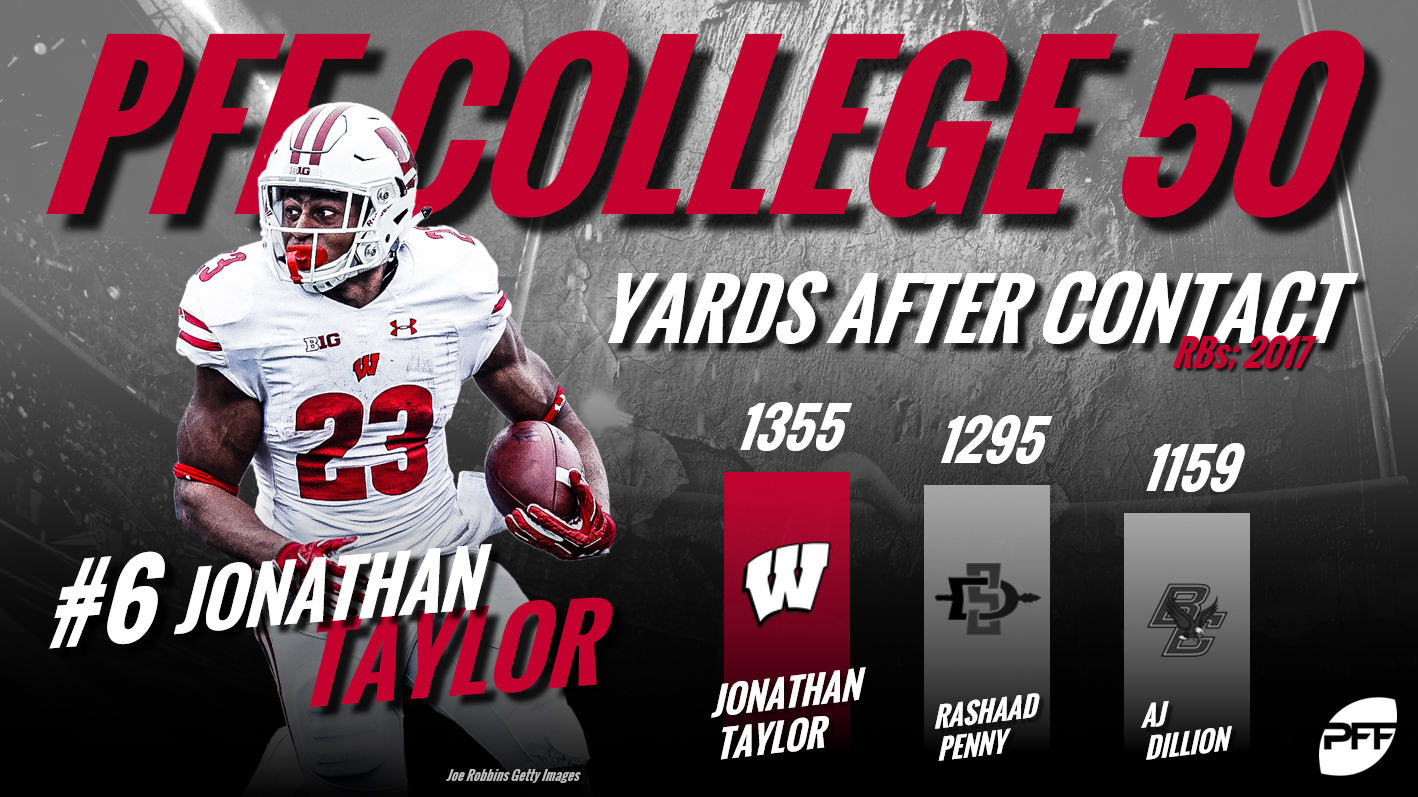 7. Deandre Baker, CB, Georgia
Baker is sticky in man coverage and he can make plays on the ball after breaking up 10 passes and intercepting three more last season on his way to an 86.8 overall grade.
8. Jeffery Simmons, Defensive Interior, Mississippi State
Perhaps the best interior pass-rusher in the nation, Simmons can also stop the run and he had the No. 2 grade among interior defensive linemen last season at 90.8 overall.
9. Greedy Williams, CB, LSU
Williams has great size, speed and length, leading to an 88.2 overall grade last season and a passer rating of only 19.4, the second-best mark in the nation.
10. Dalton Risner, OT, Kansas State
Risner has allowed a grand total of 24 pressures in his entire career (1,116 pass-blocking snaps). 69 tackles gave up more than that last season alone.
11. T.J. Edwards, LB, Wisconsin
One of the best linebackers in the nation in coverage, Edwards has graded well against the pass in multiple seasons and had four interceptions and six pass breakups last season.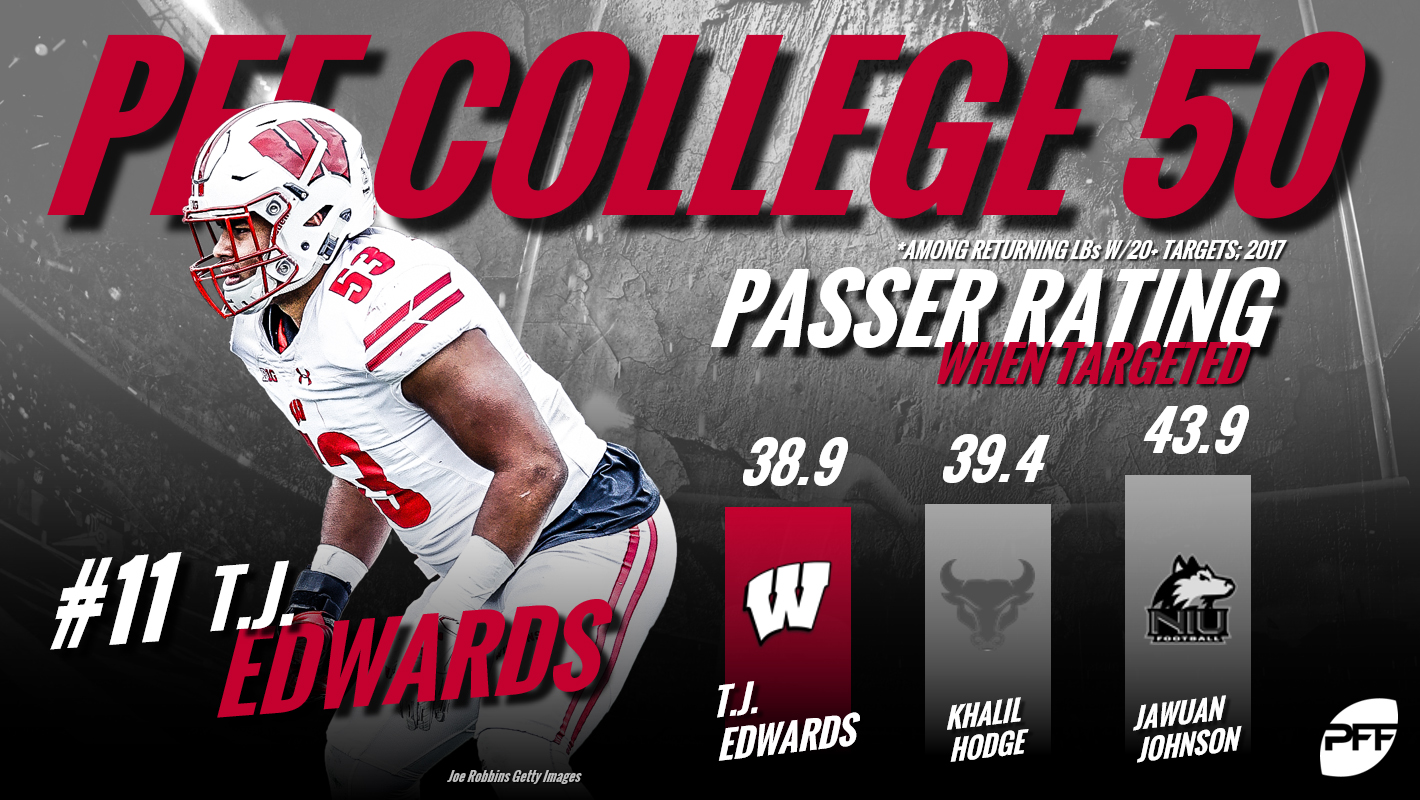 12. N'Keal Harry, WR, Arizona State
Harry is a monster at the catch point and he's strong after the catch, forcing 23 missed tackles on 140 catches over his first two years.
13. Bobby Evans, OT, Oklahoma
While teammate Orlando Brown got all the hype, Evans only allowed one more pressure (12) all season long and actually finished with a higher pass-blocking grade.
14. Joe Giles-Harris, LB, Duke
Giles-Harris is a defensive terminator — relentless in his pursuit of the ball carrier. He had 66 defensive stops in 2017, good enough for fifth in the nation behind two first-round NFL draft picks.
15. Lukas Denis, S, Boston College
The top-graded returning safety at 91.0 overall, Denis was one of the nation's best playmakers last season, picking off seven passes and deflecting seven more.
16. Devin Singletary, RB, Florida Atlantic
Singletary has outstanding balance and the ability to fight through contact, averaging 3.9 yards per carry after contact in 2017, breaking 83 tackles on 299 carries.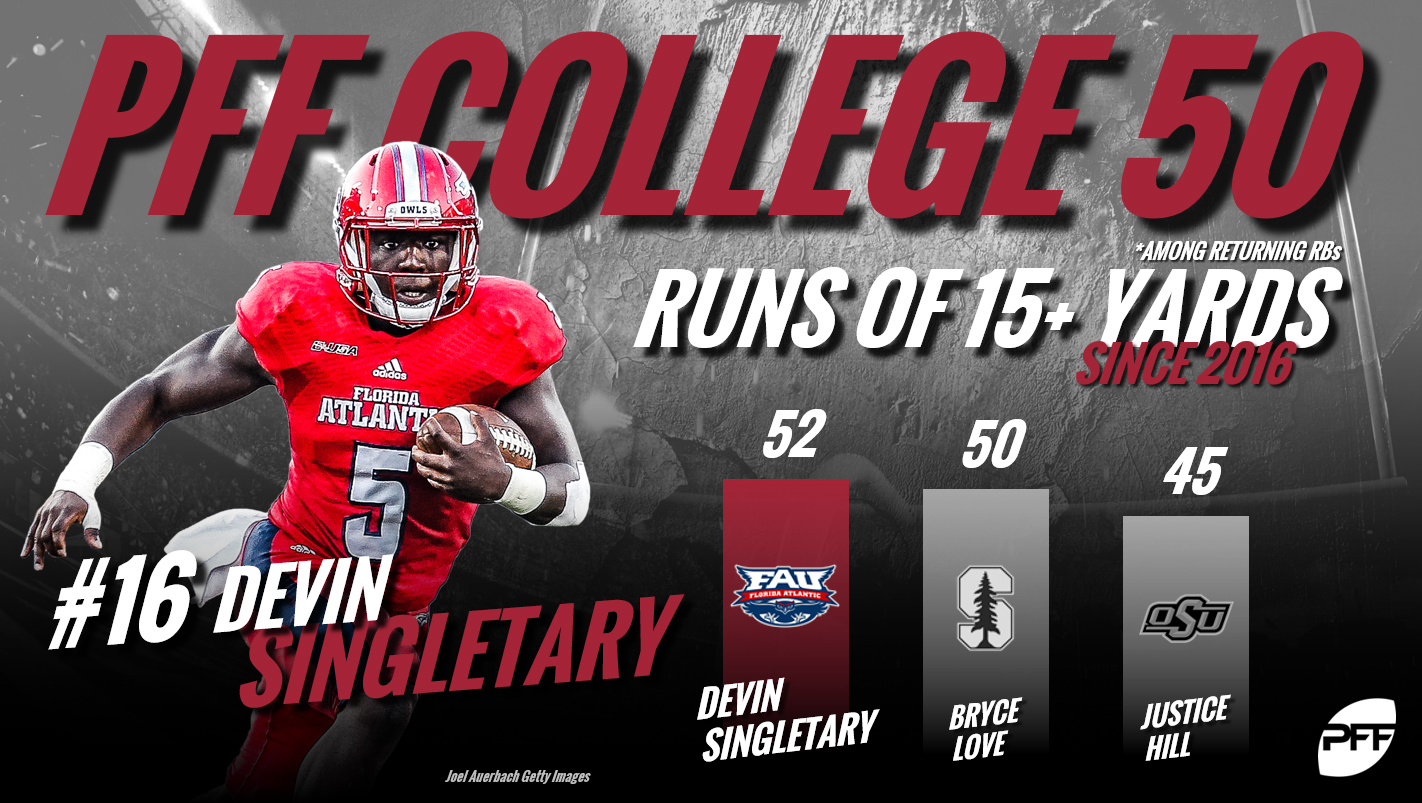 17. Anthony Johnson, WR, Buffalo
Johnson has excellent ball skills and he averaged 17.7 yards per reception while forcing an impressive 18 missed tackles last season. His 90.9 overall grade is the top mark among returning receivers.
18. Will Grier, QB, West Virginia
Grier's 91.0 overall grade is tied for the best among returning quarterbacks and he ranked fourth in deep passing yards with 1,506.
19. Jonah Williams, OT, Alabama
Through the gauntlet of Alabama's SEC schedule last year, Williams didn't allow a single sack or hit against any conference foe last season.
20. Dexter Lawrence, Defensive Interior, Clemson
One of the best run-stuffers in the nation, Lawrence can also get after the quarterback, leading to a well-rounded 90.3 overall grade as a true freshman and an 85.8 mark last season.
21. Khalil Tate, QB, Arizona
Tate wasn't only a weapon as a scrambler, he averaged 9.9 yards per attempt on designed runs as well last year.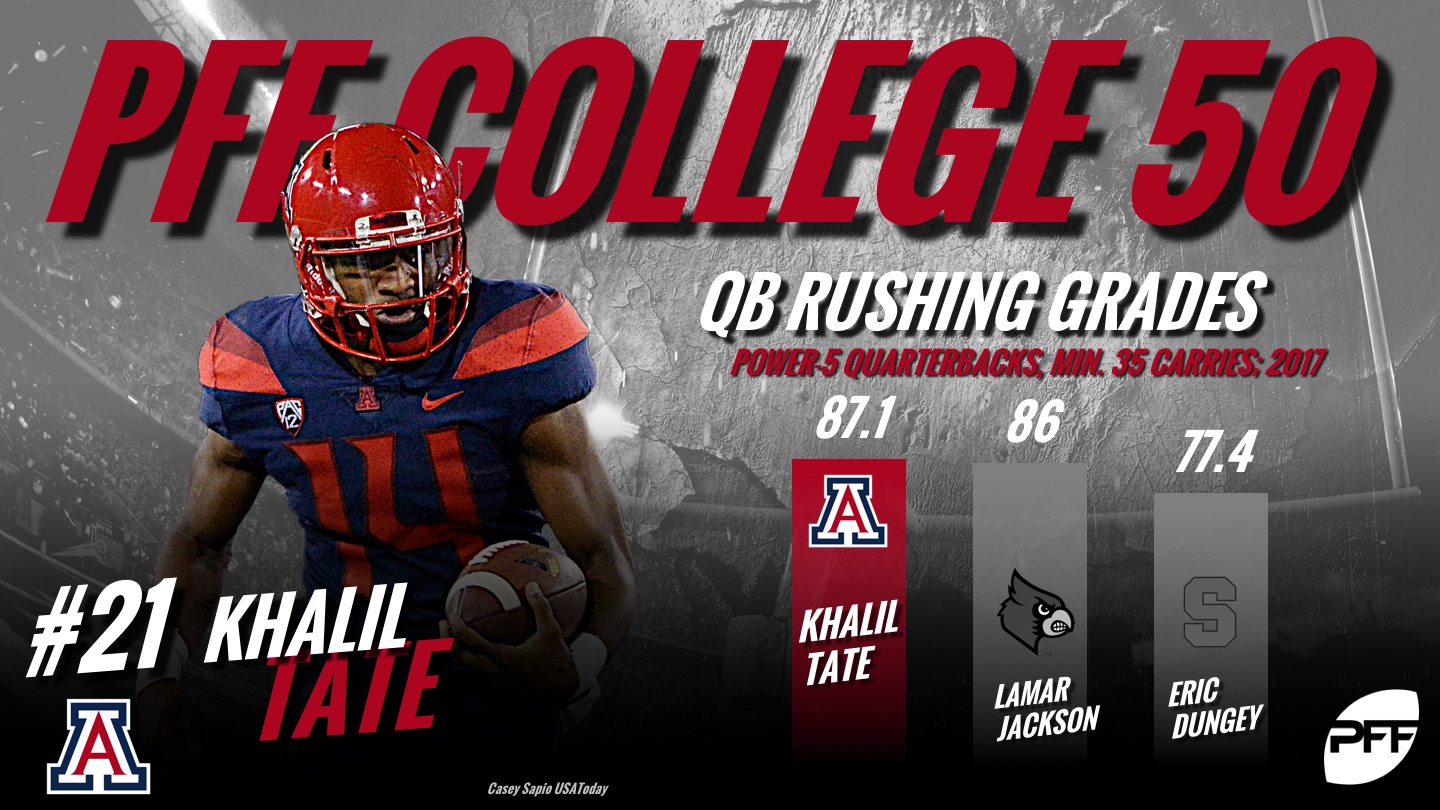 22. A.J. Brown, WR, Ole Miss
On 75 catches a season ago, Brown broke 23 tackles — the third most in the country.
23. McKenzie Milton, QB, Central Florida
Despite his lack of stature, Milton can make special throws and his 90.8 overall grade is third best among returning signal callers.
24. Caleb Wilson, TE, UCLA
Wilson was the best tight end in the nation last season before going down to injury after only five games. He had the top grade at 91.4 while averaging 12.9 yards per reception on 38 catches.
25. Paddy Fisher, LB, Northwestern
Another run-stuffing machine of a linebacker, Fisher needs to take a step forward in coverage to rank among the very best players in the nation.
26. Jaquan Johnson, S, Miami (Fla.)
Johnson has put together two straight solid seasons, showing well both in coverage and in the run game. He graded at 90.5 overall last season, second best in the nation among returning safeties.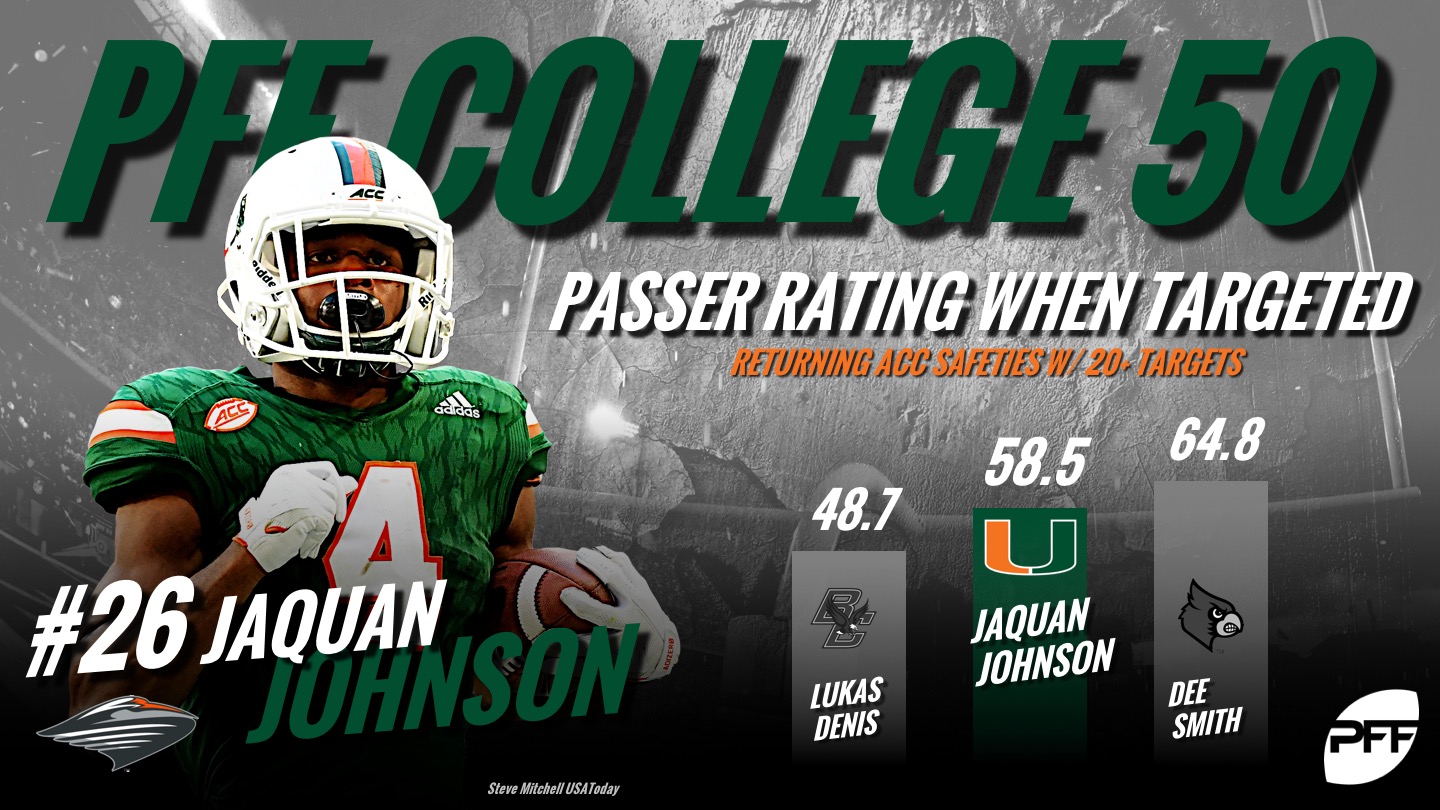 27. Chase Winovich, Edge, Michigan
Winovich has two outstanding years of production under his belt, picking up 16 sacks, 22 QB hits and 46 hurries on only 559 rushes.
28. Lavert Hill, CB, Michigan
Hill is comfotable in both man coverage and in zone as his 90.0 overall grade from last season is the best among returning Power-5 cornerbacks.
29. Dakota Allen, LB, Texas Tech
Allen has elite-level athleticism and speed to be able to make plays other linebackers can't. He has been a factor in coverage and is a player tailored to the modern game, allowing a passer rating of just 55.9 when targeted in 2017.
30. Devin Bush, LB, Michigan
Bush makes impact, flash plays in every game he is a part of. What he needs to do is iron out the inconsistencies and do it on a more regular basis down-to-down to become a superstar.
31. Jordan Wyatt, CB, SMU
An outstanding playmaker, Wyatt has a knack for blowing up plays and forcing fumbles while grading at 89.9 last season, fourth best among returning cornerbacks.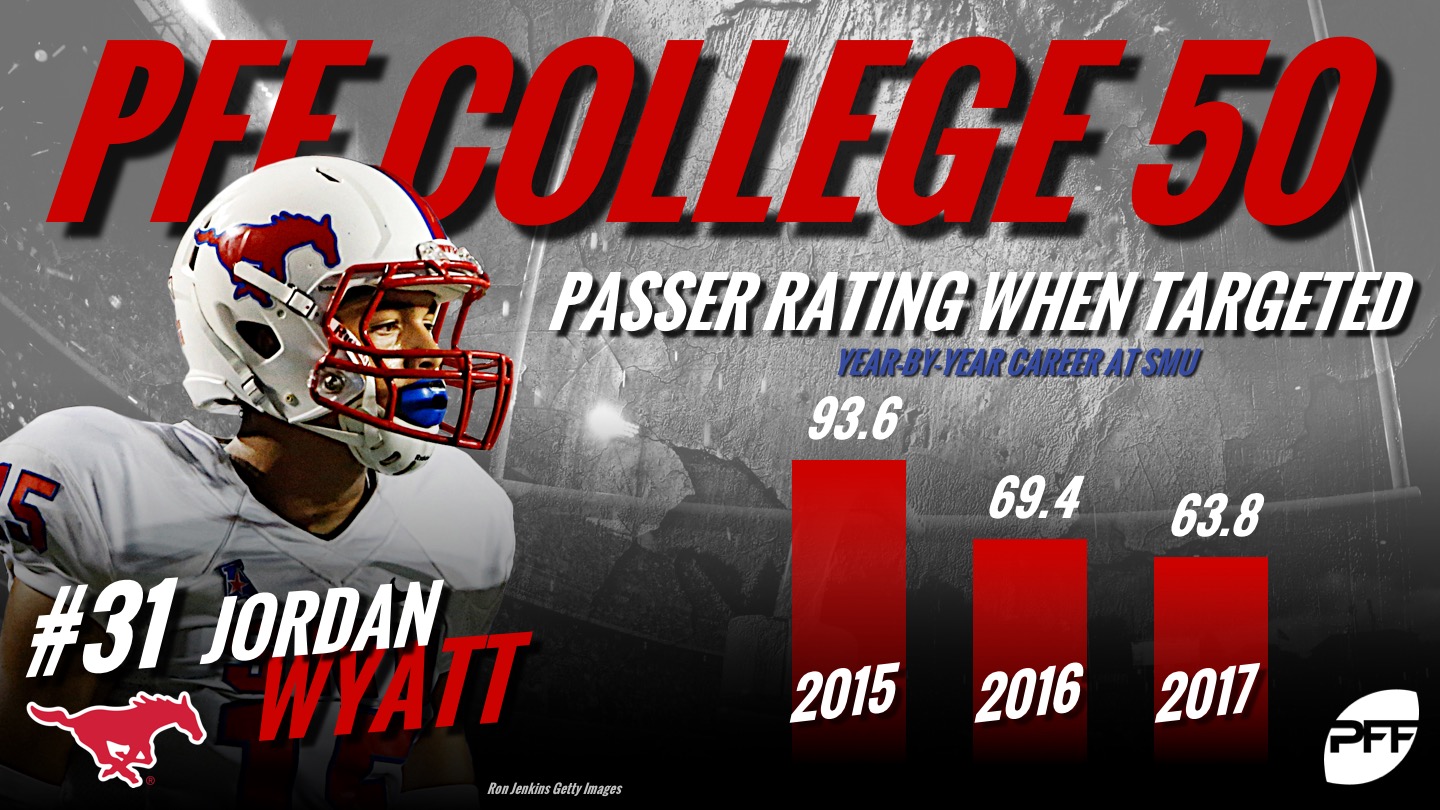 32. Justin Herbert, QB, Oregon
Herbert's may have the nation's best combination of size, arm and athleticism, all showing up in a 90.6 overall grade before losing time due to injury.
33. Deebo Samuel, WR, South Carolina
After missing most of last season, Samuel returns as one of the nation's best route runners. He's a dynamic threat after the catch as well, averaging 6.5 yards after the catch per reception in 2017.
34. Jalen Jelks, Edge, Oregon
Jelks is a tad miscast inside in Oregon's 3-down linemen fronts, but he was still one of the most productive linemen in the country. His eight batted passes were the second most in the nation.
35. Jamel Dean, CB, Auburn
Dean uses his massive frame to excel in press coverage and he allowed a completion percentage of only 37.1 percent last season, 17th best in the nation.
36. Damien Harris, RB, Alabama
Harris may be the best back to come out of Alabama in a while despite a conveyor belt of NFL talent there at the position. He broke 33 tackles on just 135 carries in 2017.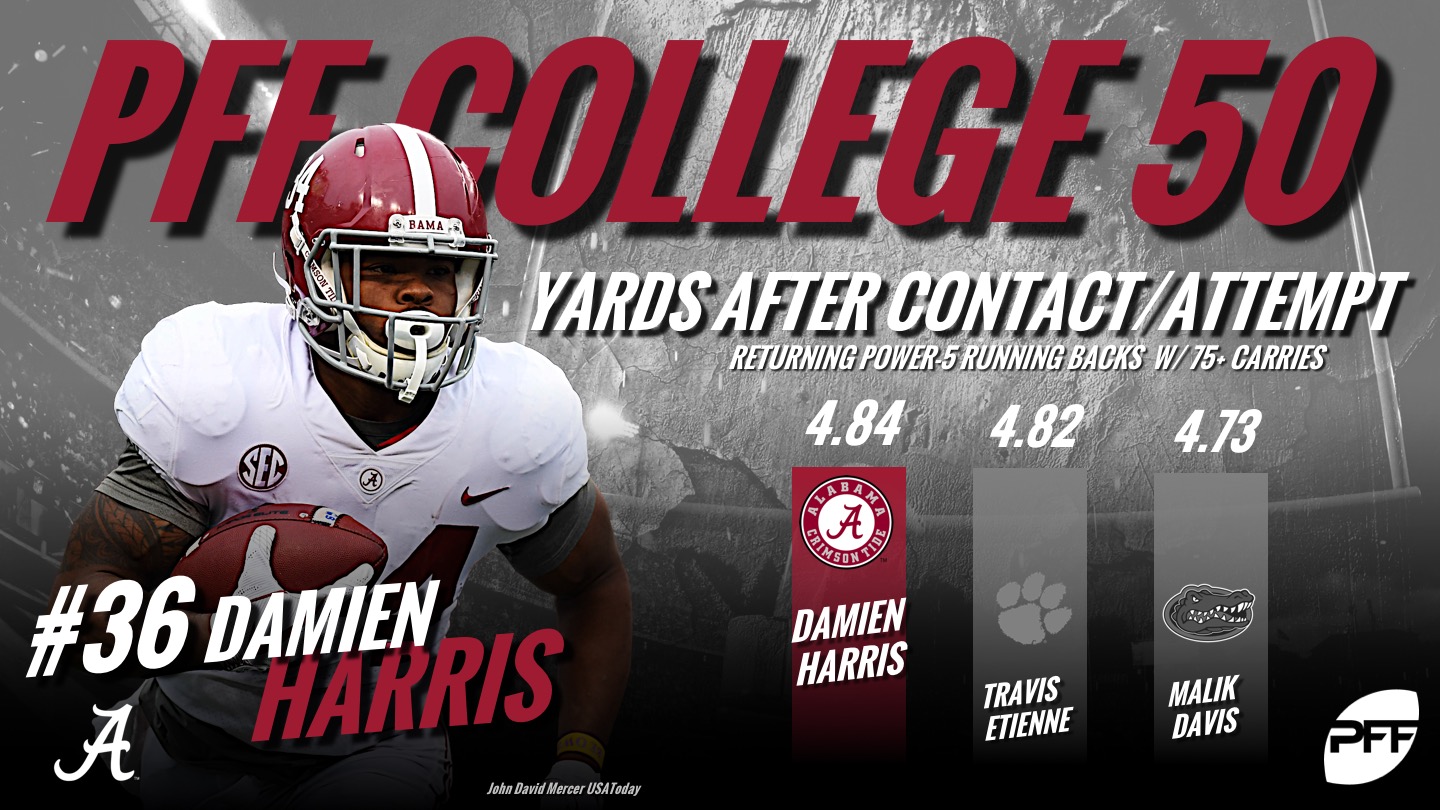 37. Max Scharping, OT, Northern Illinois
Scharping has three outstanding years of production and his 86.0 overall grade ranks third among returning offensive tackles. He's allowed only 21 pressures on 1,377 pass-blocking snaps in his three-year career.
38. JJ Arcega-Whiteside, WR, Stanford
Arcega-Whiteside is a downfield threat, averaging 16.1 yards per reception in his career and his 85.8 overall grade ranks second among returning Power-5 receivers.
39. Ricky Walker, DI, Virginia Tech
Walker is a disruptor in all phases, grading at 87.6 as a run defender and picking up six sacks, four QB hits and 22 hurries last season.
40. Taylor Rapp, S, Washington
Rapp has the best run-stopping grade among returning safeties at 89.0 and he's been a versatile coverage defender, playing both in the slot and as a traditional safety in his two years at Washington.
41. Diontae Johnson, WR, Toledo
Johnson broke out in 2017 to average 17.3 yards per reception, including 7.6 yards after the catch per reception and his 88.0 overall grade ranks third among returning receivers.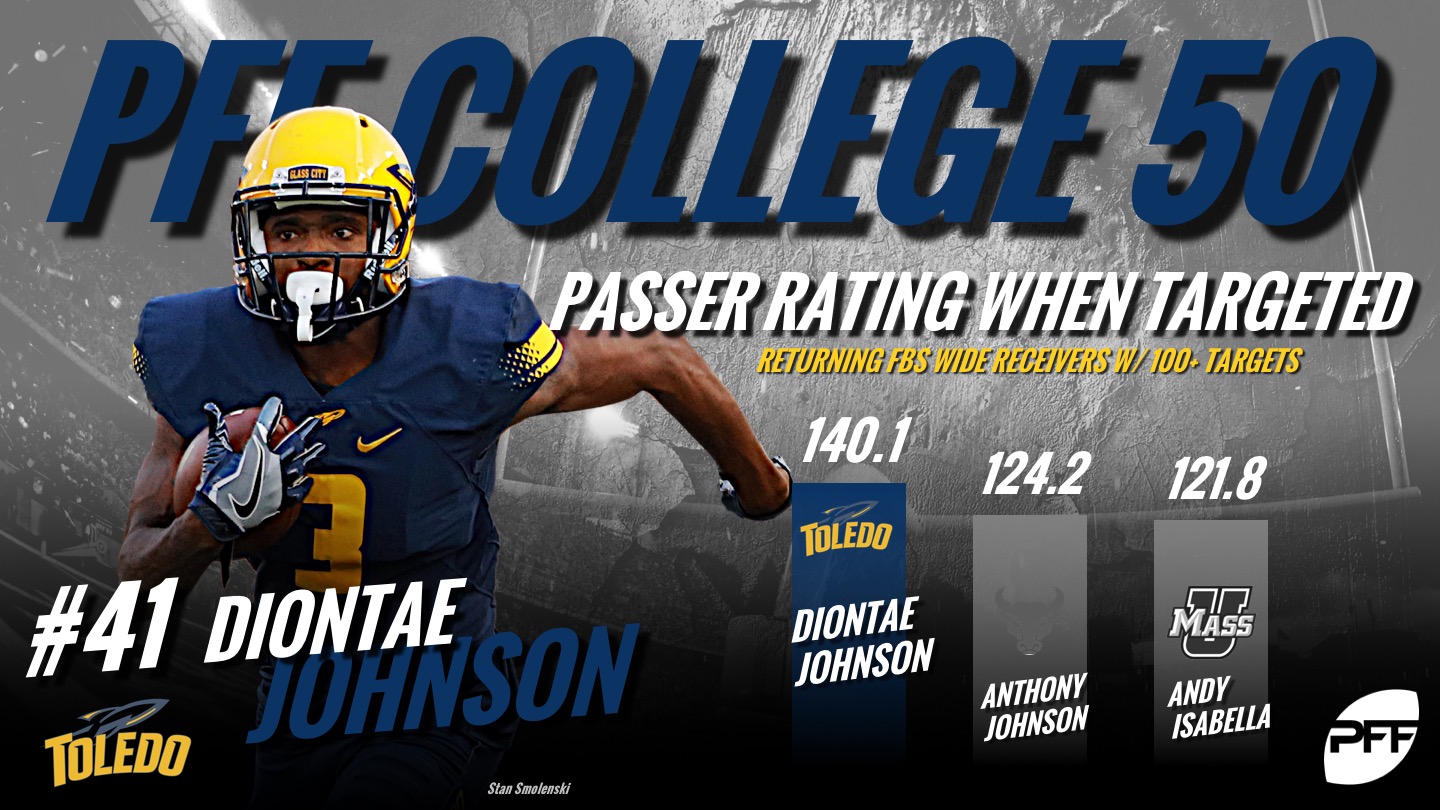 42. Cam Akers, RB, Florida State
As a true freshman, Akers brought an explosive playmaker to the Florida State backfield, forcing 40 missed tackles on his 193 carries. He'll take on an even bigger workload this season.
43. Anthony Nelson, Edge, Iowa
Nelson's immense size might suggest a run-first player, but his 56 pressures last season were the third most among Power-5 edge defenders.
44. Derrick Brown, Defensive Interior, Auburn
Brown had a breakout 2017 season, grading at 84.9 overall, good for seventh among returning interior defensive linemen.
45. Raekwon Davis, Defensive Interior, Alabama
An outstanding run-stopper, Davis posted the No. 5 grade in the nation in the run game among returning interior defensive linemen at 89.1 and he was a solid pass-rusher last season with seven sacks, one QB hit and 16 hurries on only 229 rushes.
46. Maxx Crosby, Edge, Eastern Michigan
One of the nation's most productive pass-rushers, Crosby finished with the nation's No. 3 grade among edge defenders last season and he picked up 10 sacks, 12 QB hits and 34 hurries on only 298 rushes last season.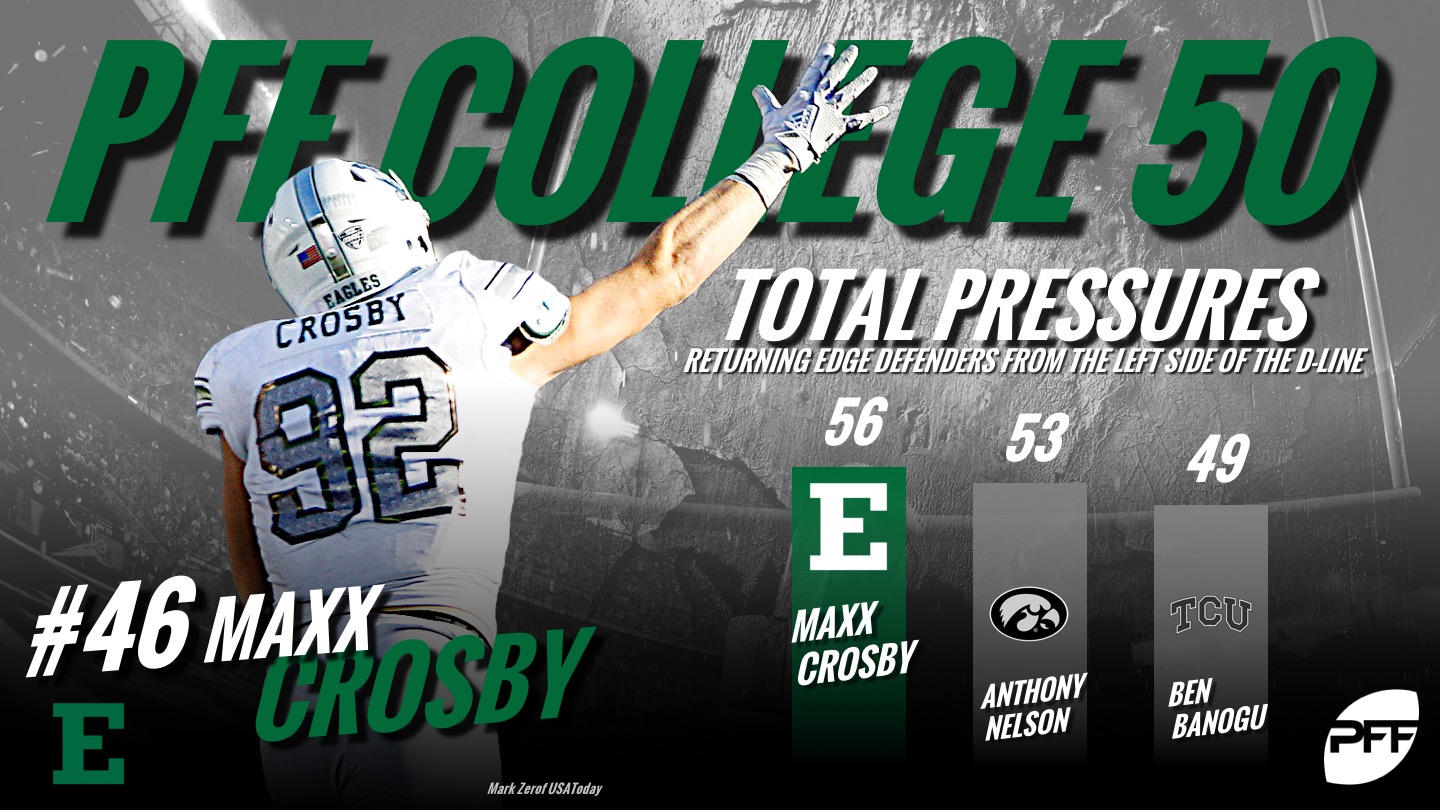 47. Tyler Biadasz, C, Wisconsin
The top-graded returning center, Biadasz was good as both a pass-blocker (83.3) and in the run game (82.2) last season.
48. Joe Bachie, LB, Michigan State
Bachie made plays all over the field last season, but he did his best work in the run game where his 90.4 grade ranks fourth among returning Power-5 linebackers.
49. Brian Peavy, CB, Iowa State
An undersized corner, Peavy has graded well in each of the last three years while breaking up 21 passes on 199 career targets.
50. Andrew Wingard, S, Wyoming
Wingard's 89.5 overall grade ranks third among returning safeties and his 44 stops ranked second in the nation last season.