• Two rookies performing admirably this preseason in QB Kenny Pickett and WR George Pickens makes the Pittsburgh Steelers clear winners so far.
• Seattle Seahawks QB Geno Smith appears to have the team's starting job all but locked up while in the midst of a strong preseason.
• First-round WR Treylon Burks, despite getting open on multiple preseason reps, has lacked production in his push for playing time.
---
With just one week of the 2022 NFL preseason left remaining, it's a good time to take stock and analyze who the winners and losers are at this point.
Some players have had outstanding training camps and preseasons, while others have faded away or been injured in the process.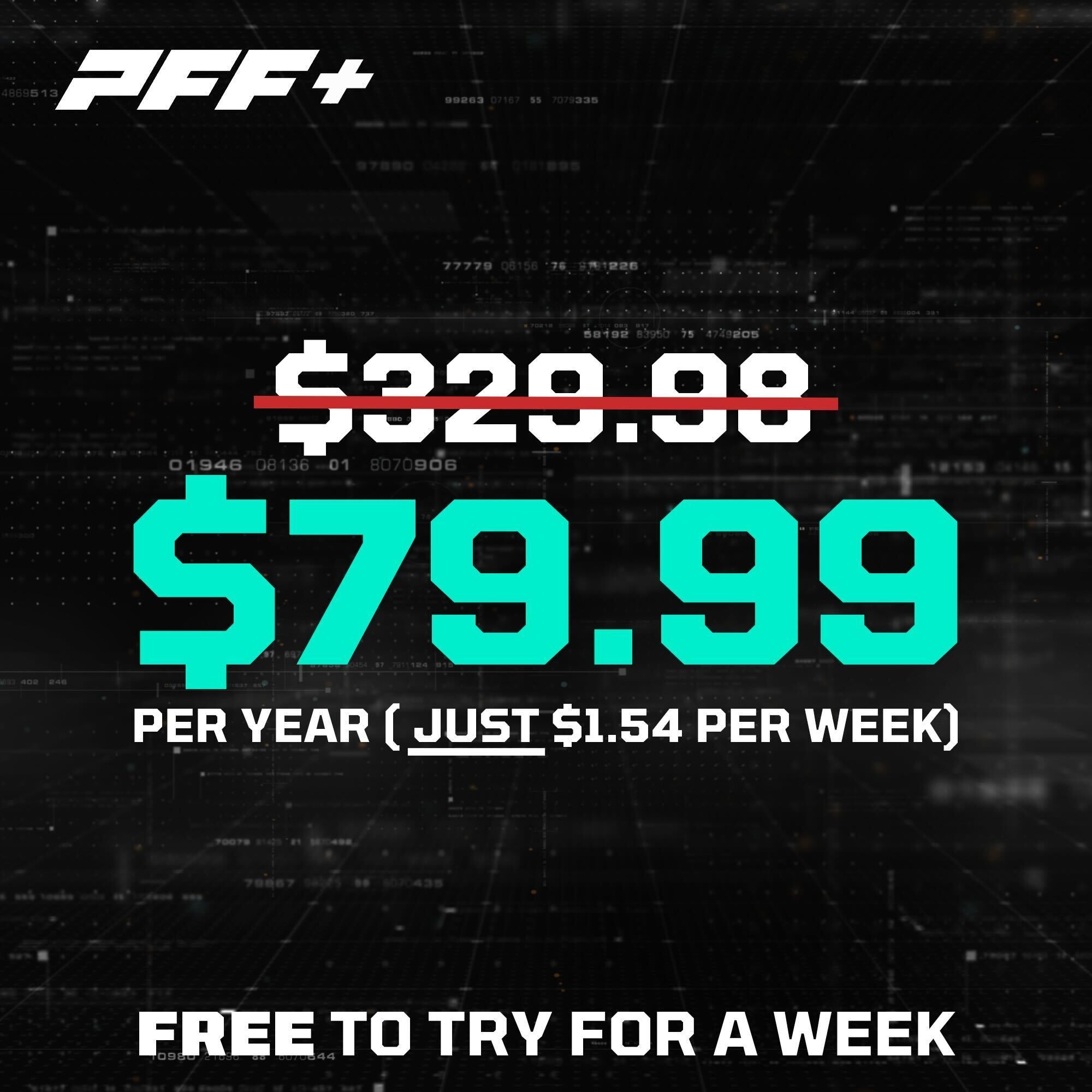 WINNERS
Both quarterback Kenny Pickett and wide receiver George Pickens could have appeared on the list in their own right, but since each has looked good, it stands to reason that the real winners are the Pittsburgh Steelers.
Pickett has demonstrated he can speed up his process at the NFL level. After taking an average of 3.2 seconds to throw last season in college, he is down to just 2.5 seconds in preseason with an average depth of target of 5.4 yards. He will need to do more if he starts, but proving he can operate at the required pace of the professional game was a big hurdle to clear.
Meanwhile, Pickens looks like a legitimate No. 1 talent at receiver with the physical profile and hands to dominate immediately. He has caught five of the seven targets thrown his way (71.4%), including both contested targets.
---
The Seahawks entered training camp with an even battle at quarterback between Geno Smith and Drew Lock, but Smith seems to be a heavy favorite now to earn that starting job for the regular season. He benefited from a bit of luck, with Lock getting COVID-19 and missing a preseason game, but he has also played well. Smith has a PFF grade of 90.6, the third-best in the entire league over the course of preseason. He's made five big-time throws and no turnover-worthy plays, but his box score numbers don't look as good thanks in large part to five drops from his receivers.
---
Another team with multiple young players looking much better than their draft position, the Packers are winners thanks to the play of wide receiver Romeo Doubs and tackle Zach Tom, both of whom are fourth-round rookies.
Tom has played 75 snaps in preseason, 40 as a pass-blocker, and has yet to surrender any pressure or be flagged for a penalty. He has also earned an 87.5 run-blocking grade.
Doubs has been the star of Packers camp, and that's carried over into the preseason. He has shown an ability to get open and make plays, generating 2.38 yards per route run despite dropping three passes — one fewer than he did all last season in college.
---
The Jets can't convince anybody in the preseason to test Sauce Gardner. Their top draft pick has now played 27 total snaps and has yet to see the ball come his way. On several of those snaps, he has been in lockdown coverage either in a deep zone playing in Robert Saleh's Cover 3 shells or in press-man coverage at the line of scrimmage. Gardner looks every bit as good as advertised but will have to wait for his first NFL target.
---
Another player looking to be a mid-round steal, Isaiah Likely is sending people back to the tape to find out why they overlooked him. At Coastal Carolina, Likely's grades improved each year and his final two seasons were above 90.0. He generated at least 2.70 yards per route run in each of the last two seasons and dropped only nine passes in four years while averaging almost 7.0 yards after the catch over the last couple of seasons. Likely might not be much of a factor as a blocker, but he is polished and dominant enough as a receiver that it doesn't matter.
---
Lil'Jordan Humphrey is battling to be a factor for the Patriots' offense as a receiver, but he went viral for a play that will help him stick on the roster — on special teams:
This will be in every team's Special Team meeting this coming week

"You guys want to know how to make the team?? When you guys are like 'oh, coach what do you want me to do i'm getting doubled.' Watch 83 here. You think he complains??" pic.twitter.com/vbQzXyhSiG

— Willaerys III Compton (@_willcompton) August 20, 2022
That kind of effort play will endear him to Patriots coaches, but his work on offense has been impressive, too. He has PFF game grades of at least 76.0 in each game, catching 84.6% of the passes thrown his way and generating a 134.9 passer rating when targeted.
LOSERS
The Browns traded for Amari Cooper this offseason, but they also saw Jarvis Landry walk out the door. As such, depth beyond Cooper is still a major issue. They would love Anthony Schwartz to build upon his elite speed and bring more to the table, but it just doesn't look like it's going to happen. He has dropped three of the six targets thrown his way this preseason and averaged just 1.25 yards per route run. Schwartz has blazing speed but isn't adding enough to a team that will have been hoping to see a step forward in his development.
---
Bryce Hall has been battling to keep rookie Ahmad "Sauce" Gardner on the bench for at least the start of his NFL career, but while Gardner has been erasing receivers in the preseason, Hall has given up a catch every time he has been targeted (four) for 90 yards, a touchdown and another huge play that was only stopped short of a touchdown because of an underthrown pass. He also has a penalty across 43 snaps. Targeting Hall this preseason has generated a perfect 158.3 passer rating for opposing quarterbacks. As Gardner's stock goes up, Hall's is headed in the wrong direction.
---
Alex Leatherwood was a liability as a rookie, surrendering more pressures (65) than any NFL offensive lineman despite being moved inside to right guard after a month of play to try and limit the damage. This preseason, he has been back at tackle and still struggling. Across 106 snaps, he has allowed seven pressures — including a sack. He sports a 57.3 PFF pass-blocking grade, which may be 10 points higher than this time a year ago but is still a problematic number in preseason given the competition. Leatherwood may have to move inside to guard to have any chance of success at this level.
---
Geno Smith looks to have taken control of the quarterback competition in Seattle, with Lock losing ground as a result. Catching COVID-19 put him out for one of the preseason games and has caused the Seahawks to delay their decision to name a starter out of fairness, but the lost opportunity leaves him needing to do something special to change the current course. Lock's numbers looked good in his lone preseason game, but he didn't have any big-time throws and was sacked on 40% of the snaps he felt pressure on. 
---
Washington's defense underachieved in a massive way last season but was abnormally bad in high-leverage situations. This preseason, the unit has still been managing to bust coverages and surrender big plays at a rate far beyond the talent level of the group. Players like William Jackson III still don't appear to be playing to the level they are capable of, and having players who can affect the quarterback isn't offsetting the holes in the secondary.
---
Treylon Burks has struggled to make an impact in the preseason — which would have helped him in the eyes of the Titans' coaching staff — but it hasn't all been his fault. He has just one catch for four yards, but in both games he has been open behind the defense only for Malik Willis to fail to put the ball in the air and give him an opportunity to make a play. Burks has big-play ability but needs a bigger run with the first team, as Ryan Tannehill may be able to help him put that on full display. He can only hope that the coaches are watching the tape and giving him credit for those open plays, because his lack of a tangible impact is undermining his push for playing time.